City Located: Mysore/Mysuru – Karnataka State – India
Google Maps Location: Karanji Lake
Located 140 km from Bangalore( around 3 Hrs Journey), Karanji Lake is another attractive place in Mysore. Other attractions are Mysore Palace, Mysore Zoo, Sri Chamundeshwari Amma Temple, KRS or Brindavan Gardens, Bonsai Garden, Jayamahal Palace, Mysore Railway Museum, and many others. And don't forget to witness the glory of the Royal Mysore Dasara celebration if you plan to visit Mysore during October/November.
Karanji Lake Mysore
Karanji Lake Mysore, also called Karanji Kere by Mysoreans, is 3 Km from the famous Mysore Palace(Which used to be the residence of the Wadeyar Dynasty), placed in Chamundeshwari foothills. Spread over 90 hectares of luscious greenery and a diverse array of wildlife. Of those 90 hectares, 55 hectares are used for the spread of the water, and the remaining 35 hectares are used for the foreshore.
Karanji Lake was initially built to serve its purpose as a "Percolation Tank" by the Mysore King around 100 years ago. It was built to provide residents with drinking water for other purposes like bathing and washing. Karanji Kere is considered part of the Mysore Zoo and is controlled by the authority of the Mysore Zoo. Being a top-rated tourist attraction, Mysore Zoo earns around Rs. 50,000 daily and even more on the weekends. And Karanji Lake, located beside the Mysore Zoo, adds to its earnings.
On-site Attractions – Speciality of Karanji Lake:
Your mind and spirit will undoubtedly be refreshed and relaxed after a leisurely stroll around the lake in this stunning natural setting. In addition to its spectacular natural beauty, Karanji Lake provides a variety of amenities. They even provide a designated kid's area to keep your kids entertained throughout the stay.
Families can enjoy a picnic there, and there is also a coffee bar. Visitors can enjoy their free time here in solitude, along with the aviary, Butterfly Park, waterfall, and museum. Keep reading to explore more about the attractions at Karanji Kere Mysore.
India's largest Aviary: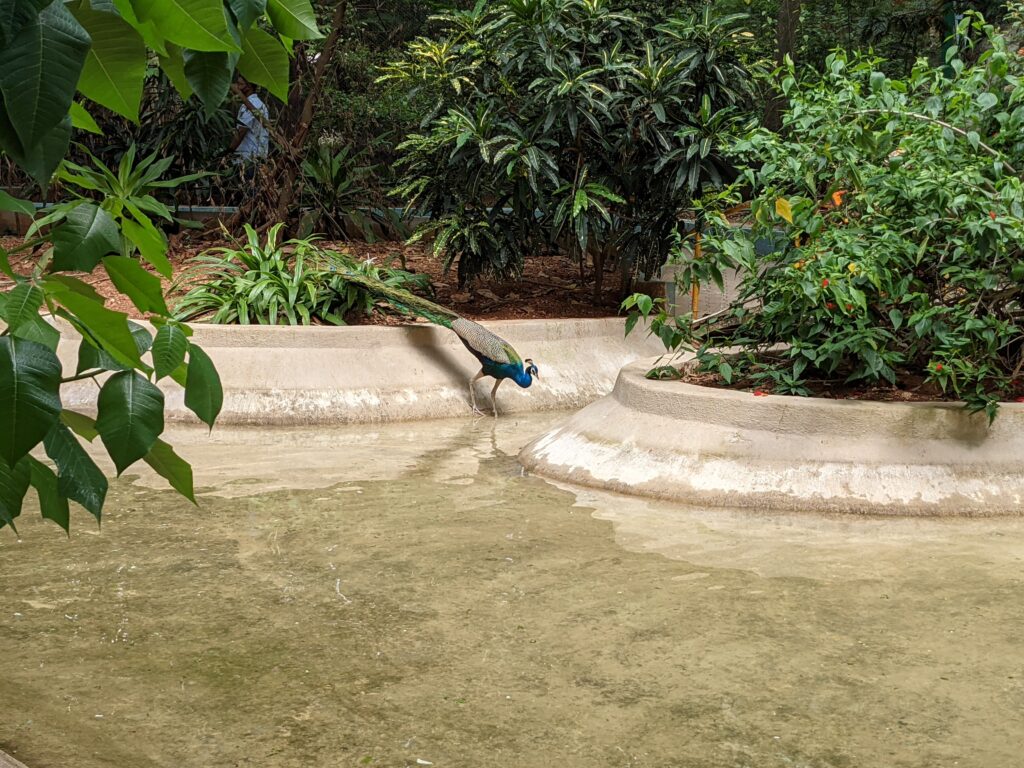 Karanji Lake has India's Largest walk-through Aviary built in it, with a length of 60 m, a height of 20 m,  and a width of 40 m. And for those wondering what an Aviary is, it is an artificial enclosure, mostly used to confine birds. Aviaries, also called flight cages, give birds a bigger living area where they may fly. To mimic a natural environment, plants and bushes are also included in this Aviary.
And my favorite part of visiting this Aviary is my twinning moment with this beautiful peacock.
This Aviary at Karanji Kere takes the shape of a huge net enclosure that is as tall as a large tree. And has an artificial waterfall built into it, along with two other water bodies/ponds for the birds. The water supply to this Aviary is pumped from the lake, and used water is pumped back to the lake.
Visitors can walk through the Aviary and witness the beauty of around 40–50 bird species. The species in this aviary include hornbills, peacocks, white peacocks, turkeys, and black swans. This aviary was temporarily closed to stop the spread of avian flu in the year 2006.
Bird-watching:
Karanji Lake is great for birdwatchers and tourists looking to unwind amid nature. A tower with a view of the lake and birds is also there. There are also about 147 different species of birds in this area. Some common migratory species seen here include painted storks, ibis, egrets, cormorants, grey pelicans, etc.
This area offers endless possibilities to see birds like Sandpipers, Asian open bill storks, herons, egrets, greenish warblers, rose-ringed parakeets, brown shrikes, red-whiskered bulbuls, red-wattled lapwings, booted warblers, black drongos, and sunbirds, among others.
Karanji Lake Boating:
Karanji lake boating is another activity visitors may take in the gorgeous lake. Boating at karanji lake is quite refreshing and enjoyable. You travel in a boat around the shady islands in Karanji lake. Halfway around the park is where you'll find the boating spot. Both pedal boats and boats with boatmen to row for you are available for hire.
Pedal boats are the most common type of boat rented at Karanji Lake. They are easy to use and provide a good workout as visitors pedal around the lake. Rowboats are also available for those who prefer a more traditional boating experience. Motorboats, on the other hand, provide a faster and more thrilling ride. Visitors can choose the type of boat that suits their preferences and enjoy a leisurely ride around the lake.
Karanji Lake Boating Time and Charges:
The usual entry time to Karanji Lake for visitors is 8.30 AM daily. And on Tuesdays, it is closed for maintenance purposes. Boating time at karanji Lake is from 8.30 AM to 5.30 PM in the evening, and time may vary depending on the boat type. Charges start from 25 Rs for a 20 minutes ride. Each ride type (boat type) charges and group size vary. And the karanji Lake boating charges for motor boats are slightly higher than the other two boats.
Boating at Karanji Lake is a fun activity and an opportunity to spot various species of birds, including migratory birds that visit the lake during winter. A beautiful garden also surrounds the lake, and visitors can enjoy the scenic views of the garden and the surrounding hills from the boat.
Overall, boating at Karanji Lake is a must-do activity for visitors to Mysore, especially those interested in nature and birdwatching.
Butterfly Park Mysore:
The butterfly park was built on a tiny island in Karanji lake, over 90 acres. This butterfly park in Mysore is home to over 150 species of butterflies in Karanji Lake. Visitors can see various stages of a butterfly's life cycle, including eggs, caterpillars, pupae, and adult butterflies.  Appropriate species of host plants and nectar plants required for butterfly rearing were chosen and planted on the island with the assistance of a botanist.
Additionally, these plants have been brought from hillsides and other places like Malnad. Overall, the Butterfly Park Mysore is a must-visit attraction for nature lovers, especially those interested in butterflies and their ecology.
Karanji Lake timings
Karanji Lake is open for visitors 6 days a week, all days, excluding Tuesdays. It is open from morning 8.30 AM to 5.30 PM in the evening.
Karanji Lake Entry Fee
They charge a minimal entry fee of Rs.10 for Adults and Rs.5 for children between the ages of 5 to 15. And if you carry a Camera, there is a separate fee of Rs.25 for the Video camera and Rs.10 for a still camera.

Best time to visit Karanji Lake Mysore:
Mysore weather is mostly pleasant throughout the year. Still, the best time to visit Karanji Lake is during winter. During winters, Mysore's temperature ranges between 15 degrees to 30 degrees Celsius, making it calm and pleasant weather for tourists to roam around.
How to reach Karanji Lake:
Karanji Lake is well-connected and situated around 5 km from the Mysore railway station and city bus station. You can hire a cab or an auto at affordable costs to reach Karanji Lake. There is a good facility for city buses. Also, that has well communication with all the tourist attractions in Mysore. If planning to visit other places, the best option is to hire a daily Mysore Rounds bus, which takes tourists to some well-known places in Mysore.

Karanji Lake Distance from other Mysore tourist places: