Sterling Wayanad – is the most beautiful hill station in the Western Ghats, Kerala, and has high rainfall. Surrounded by mountains and forests makes, it a green paradise for nature lovers and one of the famous honeymoon destinations in India. Known for its natural resources, such as forests, mountains, rivers, waterfalls, and wildlife.
The district is a major tourist destination with its natural beauty and rich cultural heritage. Many places of interest attract tourists to Wayanad every year.
Wayanad tourist places list includes,
Edakkal Caves – Prehistoric carvings

Vythiri town – Famous for its coffee plantations

Kuruva Island – Offers scuba diving opportunities

Meenmutty Waterfalls – Located on the border with Karnataka

Ancient Jain temple – One of the oldest temples

Ambalavayal Museum – Oldest archaeological Museum in Kerala
During our 4 day stay in Wayanad, Kerala, we visited many places and enjoyed local traditions and cuisine. So, Ready to check out my experiences at Wayanad tourist places?
Kantanpara Waterfall
Located around 10 km from Kalpetta, Kantanpara is a small scenic waterfall and a must-visit among Wayanad tourist places. Falls from 30ft, making a wonderful view from the top. Also famous for its isolated and quiet atmosphere. The cool, sparkling waters of this lesser-known destination soothe those seeking rejuvenation in a quiet environment. Surrounded by beautiful greenery on all sides, it is worth a picnic in a cozy hug of nature
Waterfalls are accessible by trekking through dense forest, for about two hours from Peringalkuthu village.
Above all, this place was a big surprise to us as we didn't plan and expected it to be that good.
A well-built area with several points and levels to reach the mainstream where you can safely enter the water.
One of the cleanest and most easily accessible waterfalls in Wayanad, parking space is available nearby. You can walk from there, and even small children and the elders can enjoy the fall of cold water. There are safety blockers in place just in case an accident occurs. In summary, Kantanapara waterfalls is a good weekend gateway for families with kids and among the top places to visit in Wayanad.
What do you have at waterfalls?
Restroom
Car Parking
Small refreshment shop
Changing room
Quick information about the place:
Located in the Wayanad district of North Kerala near Kalpetta.

The best time of the year to visit is October to May to avoid heavy rain days.

Nearby towns are Meppadi and Kalpetta, where one can find many accommodations.

One can reach the place by Cab/Auto/Bus.
Edakkal Caves:
Yes, you heard it right. If you have seen the "Edakallu Guddada mele," a popular Kannada movie, it's the same place where these movie scenes were shot. And we didn't know this fact until we reached there.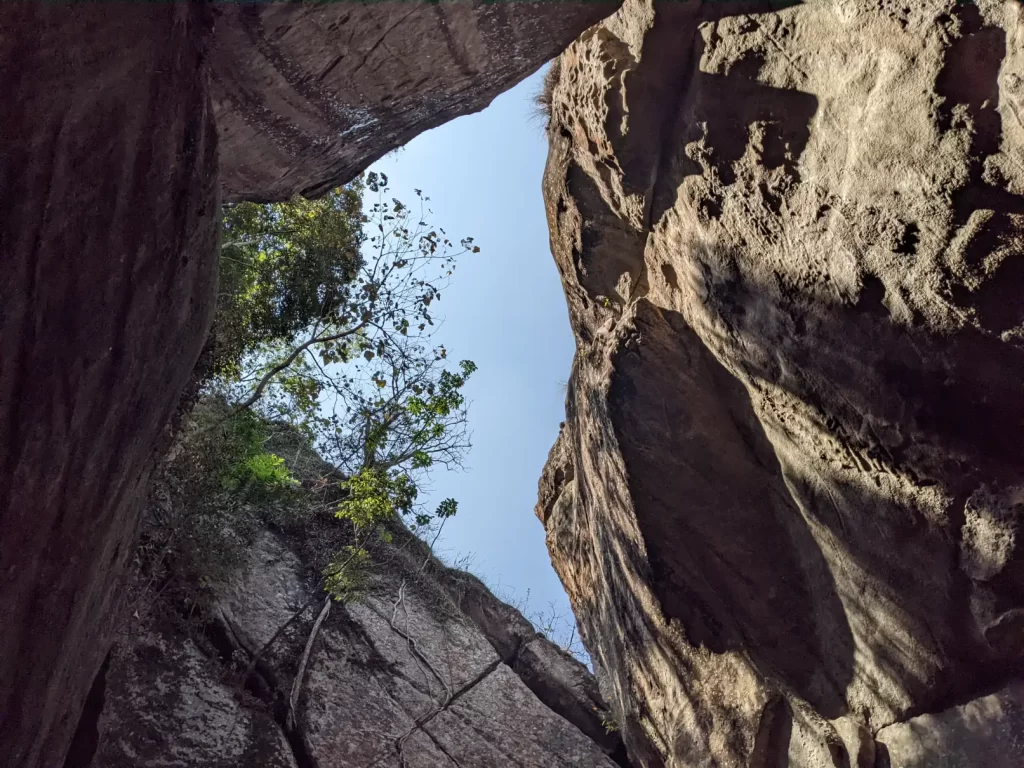 The Edakkal Caves are a major tourist attraction(an archaeological site) in Wayanad. These are natural caves in a remote location at Edakkal, 10 km from Sulthan Bathery in the Wayanad district of Kerala. The caves are not very deep, and they contain ancient carvings. They are at an altitude of 1,200m above sea level on Ambukutty Mala.
These contain cave paintings/carvings that date back to at least 5000 BC and are associated with Neolithic man. It is believed that the paintings were created by hunter-gatherer societies belonging to the prehistoric civilization that existed on this land before the Aryans conquered it in 2000 BC.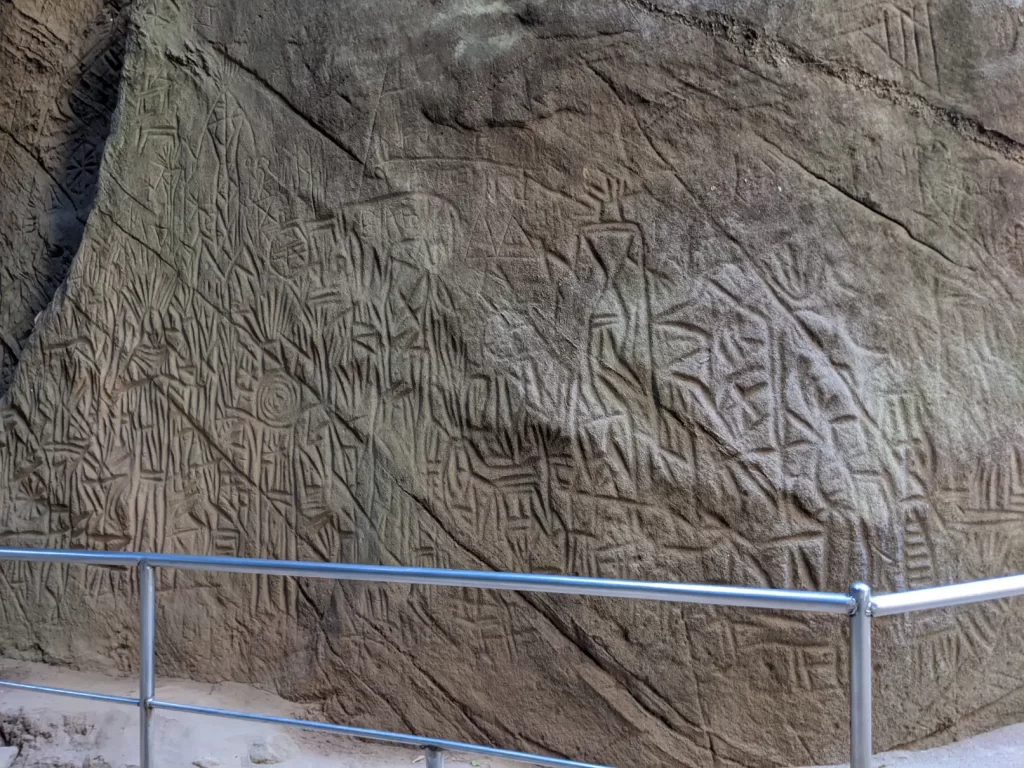 That also indicates the presence of ancient human settlements here. One of the stories says that these caves are said to be formed from arrows shot by Lava and Kusha, sons of Lord Sri Rama and Seeta.
Caves are located at 1.5 km of a steep slope above. And it also includes around 380 steps to be climbed to reach the top of the caves, making it difficult for the elders to climb. Getting to the top is a bit tiresome, but the view after reaching the top is truly mesmerizing. It will all be worth it to get to the cave.
Wayanad and many other peaks can also be seen from this high cave top. Better to go in the morning to avoid the crowd and hot Wayanad weather. Also, they allow only a limited number of visitors a day till 5 PM.
Good to know the information
Rs.40 tickets per person, and they take Rs.20 for any plastic bottles you carry, which will be refunded once you return(only if you show the plastic bottle back).

The cave is located at the mountain top, not recommended for the older and people with cardiac issues.

Accessible parking facilities at the place.

They issue only 2000 tickets per day to visitors.

Refreshment shops available – eatables, juices, and famous local fruits marinated in honey.
Ambalavayal Heritage Museum
Ambalavayal Museum is a must-visit among Wayanad Tourist places. Also known as "Wayanad Heritage Museum," it is one of Kerala's best-kept museums and the largest archaeological Museum in Kerala. Located 12km from Sulthan Bathery, Wayanad, and managed by the Tourism Council of Kerala. Established to showcase the rich cultural heritage of Wayanad and its people through various exhibits of artifacts and photographs.
The Museum is built in a Kerala-style building constructed using traditional architectural styles and materials. The exhibits showcase the lifestyle, culture, arts, crafts, architecture, and other aspects of Wayanad's history.
The Museum's exhibits include:
Many stone weapons.

Stone carvings.

Sculptures from the 14th to 16th centuries.

Megalithic Age potteries.

Hunting equipment.

Clay sculptures.

Other interesting artifacts.
The Museum also houses idols made of hard and soft rocks believed to be worshipped by the ancient people. The exhibits here are preserved in four galleries representing the different aspects of human life's existence in the hilly region: Veerasmruthi, Gothrasmruthi, Devasmruthi, and Jeevanasmruthi.
Veerasmruthi: Represents the heroic age of bygone eras

Collections at Veerasmruthi Gallary
Veerasmruthi primarily consists of various types of pictorial rock edicts known as Veerakkallu or Hero Stones, which tell the stories of warriors from a bygone era. Hero Stones are carved on warriors' tombs to memorialize their heroic deeds. Whether in a war or an attempt to kill wild animals like tigers. The gallery displays remnants of prehistoric wars and hunting games depicting early man's life.
Gothrasmruthi: Represents the prehistoric tribal traditions

Collections at Gothrasmruthi Gallery
This section is related to articles about tribal life. Several unique relics, such as bags used to collect fish, cowbells, and many other items that depict the lifestyle of early Wayanad tribal communities, can be seen in the Gothrasmruthi gallery.
Devasmruthi: objects of worship
The artefacts in the Devasmruthi gallery date from the Neolithic period to the 17th century. As the name says, it has stone idols worshipped by them, terracotta figurines, and local artworks discovered in the Malabar region. Idols are made from stones dating from the 12th to 16th centuries.
Jeevanasmruthi: represents the livelihood, tools, and vessels
Jeevanasmruthi gallery has a wide variety of once-used ear ornaments, hunting traps, necklaces, and bangles.
How to reach the Museum?
The Museum is about 12 kilometres from Sultan Bathery in Ambalavayal. Buses run directly from Sulthan Bathery to there. Most buses connect Sultan Bathery to most of Wayanad's nearby cities and districts. The nearest railway station is Kozhikode, where direct buses to Sulthan Bathery depart.
Ancient Jain Temple:
The The Ancient Jain temple of Wayanad is one of the most important temples in Kerala. It is located in the heart of Wayanad, a Kerala district. Built around 2000 years ago. It has a lot of significance to the Jain community.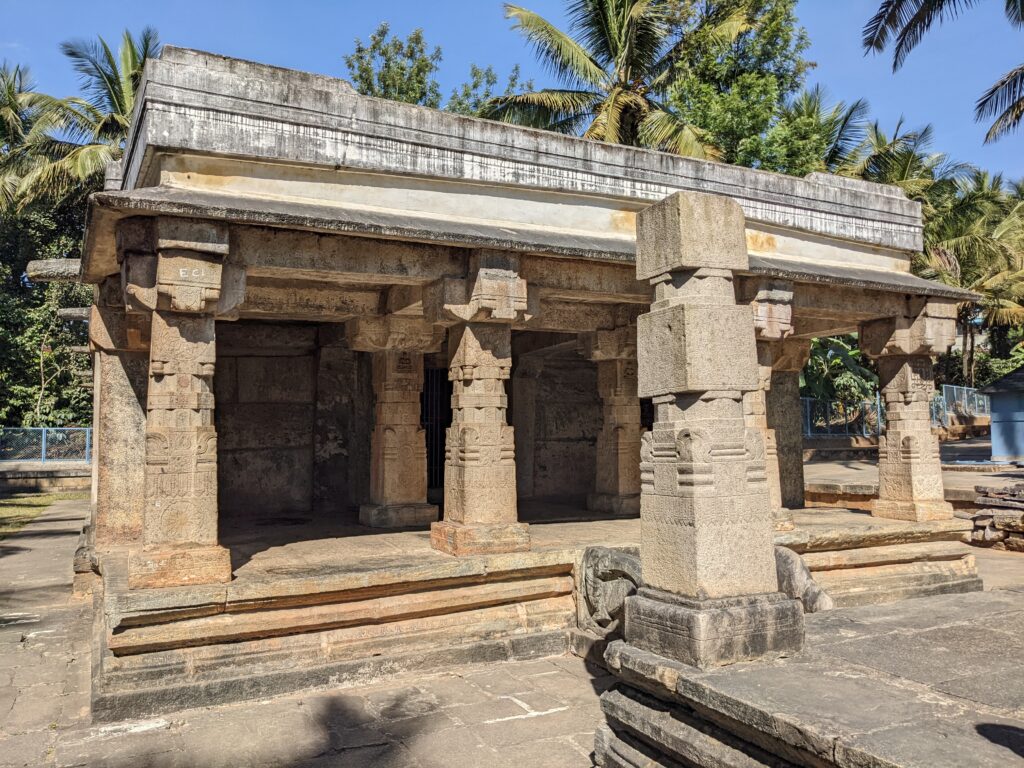 Temple is built in a rectangular shape with granite. It has a small shrine in the front, with an image of Nandi at its entrance.
The temple's architecture is influenced by the Vijayanagar architectural style of the time. Constructed using huge, detailed carved granite pillars. With a few lovely carvings in the inner half, the temple appears generally simple from the outside.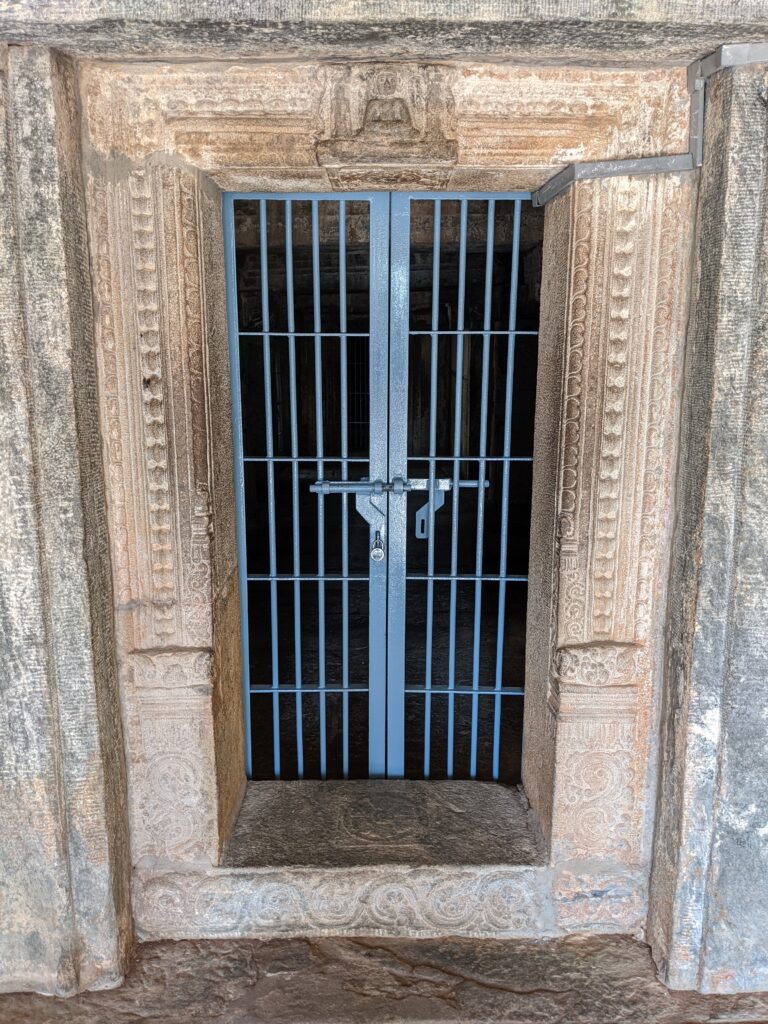 The Namaskara mandapa, a separate mandapa with pillars and no roof, is located on the front side of the temple. The Mukha mandapa is the first construction, followed by the maha mandapa and the sanctum.
It has a few statues of Jain Tirthankaras in the sanctum, but no poojas are performed here. The main seat of the sanctum is unoccupied. Sacred Jain figures adorn the maha mandapa and doors. The doorway's lower section is decorated with lovely flower designs. The pillars feature various designs, including sarpabandhas, floral patterns, Thirthankaras, and others.
Temple timings: 8 AM to 6 PM
Entry fees: Free
Wayanad Kerala is one of India's top ecotourism destinations. These features combine with a very cool climate to make it the greatest travel location. The cost per person to visit this location may be as per preferences. But one can travel on a very low budget also. Travel options include bus, train, and aeroplane.
There are many resorts in Wayanad for all kinds of budgets and tastes. And most of the Wayanad resorts are located near hill foot, which makes your stay memorable with pleasant Wayanad weather.
Some good Wayanad Resorts suggested by travellers:
Jungle Beats Resorts
Vythiri Resort Wayanad
Lakeside Wayanad Resort
Sterling Wayanad
LakeRose Wayanad Resort
Wayanad Silverwood
Zostel Wayanad
Besides, the budget of these Wayanad resorts varies depending on the amenities they provide or you choose. The Woods Resort Wayanad – A Wayanad resort with a pool and a separate organic farm, is one such beautiful resort at an affordable cost. I had a very pleasant stay during my recent travel to Wayanad, Kerala.
If you are planning for your next destination, do count on Wayanad. Have anything to say about my article "Wayanad tourist places"? Leave me your comment below.