The Sanskrit term "Jyotirlinga" may be dismantled into its parts, "Jyothi," meaning "radiance or Light," and "linga," meaning "phallus or Shrine or symbol of lord shiva." Many different self-manifestations of Shiva are said to reside inside these 12 jyotirlingas in India. And Lord Shiva himself is said to be manifested here in these 12 jyotirlingas in India for his devotees.
As part of their religious rituals, Hindus from across the nation journey to each of the 12 Jyotirlinga in India, or sacred shrines. These jyotirlingas are as majestic as the presence of the all-powerful God. Therefore they are an excellent place to start if you are also interested in a spiritual journey in India. And there is a great belief in India that people who visit all the 12 Jyotirlinga in India will attain the ultimate Moksha, be blessed by Lord Shiva, and fulfill their desires.
12 Jyotirlinga Name with Place Details
These sacred places are beautiful and peaceful and provide many spiritual advantages. No matter which of the 12 Jyotirlinga in India you choose to see, a picture can never do justice to the real thing. So we have made a list of 12 Jyotirlinga in India with their place and significance in this article. Review this 12 Jyotirlinga list with states in India to see which of these sacred sites you have yet to visit.
India – 12 jyotirlinga name and place list

12 Jyotirlinga Name
Located Place
Located State
Somnath Jyotirlinga
Kathiawad, Saurashtra
Gujarat
Mahakaleshwar Jyotirlinga
Ujjain
Madhya Pradesh
Omkareshwar Jyotirlinga
Shivpuri, Khandwa
Madhya Pradesh
Mallikarjuna Jyotirlinga
Srisailam
Andhra Pradesh
Vaijnath Jyotirlinga
Parli, Beed District
Maharashtra
Kedarnath Jyotirlinga
Kedarnath
Uttarakhand
Nageshwar Jyotirlinga
Darukavanam
Gujarat
Trimbakeshwar Jyotirlinga
Nasik
Maharashtra
Bhimashankar Jyotirlinga
Pune
Maharashtra
Rameshwaram Jyotirlinga
Rameshwaram
Tamil Nadu
Grishneshwar Jyotirlinga
Aurangabad
Maharashtra
Kashi Vishwanath Jyotirlinga
Varanasi
Uttar Pradesh
12 Jyotirlinga Map in India:
Below are the 12 Jyotirlinga locations listed with their original names on the India Map – 12 jyotirlinga names and places on map.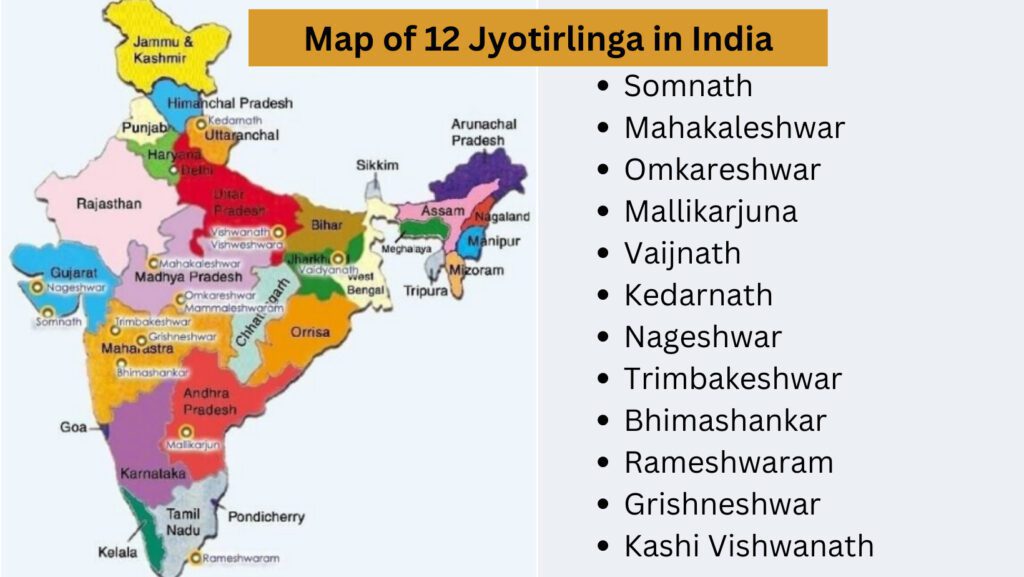 Gir Somnath Jyotirlinga
This JyotirlingaJyotirlinga is one of the most well-known temples in India. Being the first of the 12 Jyotirlinga list, Somnath is one of the holiest Hindu pilgrimage sites in the country. According to legend, Lord Shiva appeared at this temple as a blazing shaft of light, and the temple's design is reminiscent of the Chalukyas'.
Shiv Purana mythology claims that Moon married all 27 of Dakshin Prajapati's daughters. Prajapati criticized Moon for leaving his wife behind, except Rohini. To reverse the effects of the curse and restore his former beauty, he prayed to Lord Shiva. The Supreme Being granted his wish, and he remained as Somnath forever. Located in Kathiawad, the Somnath jyotirlinga temple has been rebuilt almost sixteen times. It was earlier said to be invaded and destroyed many times, yet it has stood again without losing its significance and beauty. Also called the "Lord of Moon" of the 12 Jyotirlingas, this temple is undoubtedly the most important.
Nageshwar Jyotirlinga
Also called Naganath Jyotirlinga, it is located in Daarukavanam on the Saurashtra coast of Gujarat. It is a short distance from both Gomati Dwarka and Bait Dwarka. According to Shiva Purana, a demon called Daaruka abducted Supriya (Lord Shiva's devotee) and took her to one of his cities, Daarukavanam. Like many other women, Supriya prayed to lord Shiva to free them from the demon Daruka. Lord Shiva then protected them all by destroying the demon and residing there in the form of JyotirlingaJyotirlinga.
Thousands of devotees visit the Nagnath temple daily to seek blessings from the hallowed shrine of Nageshwar Mahadev, located in an underground sanctuary. A large park, a 25-meter-tall statue of Lord Shiva, and unobstructed views of the blue Arabian Sea draw many curious visitors. This JyotirlingaJyotirlinga is one of the most powerful in India and is said to provide immunity to any poison.
Bhimashankar Jyotirlinga
In the Indian city of Pune, located on the banks of the Bhima River, lies the majestic Bhimashankar Jyotirlinga or the Bhimashankar temple. It is a Nagara-style temple made of black granite. A designated wildlife sanctuary surrounds it. The Hindu holiday of Maha Shivratri draws the most worshippers, yet the temple is always busy. The Kamalaja Temple, devoted to a manifestation of the goddess Parvati, is located close to the Bhimashankar Temple. This JyotirlingaJyotirlinga is renowned across India as a sacred site.
The JyotirlingaJyotirlinga here results from the mythological fight between Bheem ( the son of Kumbhakarna and Karkati) and Lord Shiva. Bheem, after learning the truth about his father's death, in a war between Rama and Ravana, becomes furious. He starts praying to Lord Brahma to get immense power and his blessings. After Lord Brahma's blessings, Bheem fights with everyone to defeat, including other Gods.
All Gods, along with Lord Brahma, start praying to Lord Shiva and save them from Bheem. Lord Shiva then defeated and destroyed the demon Bheem and resided here in the name of Bhimashankar, which is why he called Bhimashankar Jyotirlinga.
Trimbakeshwar Jyotirlinga
Trimbakeshwar Jyotirlinga is placed in Nashik in the Indian state of Maharashtra. Godavari River, also called Gautami Ganga, begins at Brahmagiri Mountain, near Trimbakeshwar Jyotirlinga. It is said in the Shiv Purana that Lord Shiva appeared as Trimbakeshwar because the Godavari River and the sage Gautami asked him to come to this place. The most distinguishing feature of this Jyotirlinga is its shape, which has three faces. Brahma, Vishnu, and Maheshwar. The three supreme gods, are represented by the three pillars.
Sage Gautama meditated here and was blessed with Varuna, a never-ending source of food grains. In this place, the Gautam Rishi is said to have received a boon/ curse from the lord Varuna for killing a cow for grazing in fields. Since then, he started praying to Lord Shiva to wash out his sins and place. Lord Shiva then asked the Goddess river Ganga to flow from this place to eradicate Gautam Rishi's sin. On the request of river Godavari, Gautam Rishi, and other Gods, Lord Shiva manifested here in the name of Trimbakeshwar Jyotirlinga.
Grishneshwar Jyotirlinga
Also called Dhushmeshwar Jyotirlinga, it is one of the 12 jyotirlinga names of Shiva Purana. The Grishneshwar temple can be found near the caves of Ajanta and Ellora. It has magnificent red sandstone Shikhara-style architecture, statues of Gods and Goddesses, and a giant Nandi Bull in the central court hall. Ahilyabai Holkar built the temple today, often referred to as Gru Someswara or Kusum Eswarar. Every person who comes to see the Dashavatar of Vishnu carved onto a red rock is mesmerized by its immense beauty. This is also one of the best things to see and do in Aurangabad.
In the mountains of Devagiri, a couple named Sudeha and Sudharm were childless for many years. Then Sudeha convinced her husband Sudhaam to marry her sister Ghushma. Then they were blessed with a son soon after their marriage, which made Sudeha jealous of her sister. Sudeha threw the baby into a lake where Ghushma used to pray and discharge the Shiva Lingams. On the prayer and request of Ghushma and Sudharm, lord Shiva returned their son and manifested there in the form of Grishneshwar Jyotirlinga.
Vaidyanath Jyotirlinga Or Baidyanath
Among the 12 Jyotirlinga in India, Vaidyanath-Deoghar Vaidyanath, Baidyanath, or Vaijinath is among the most revered since it is one of the 52 shakti pethas temples dedicated to Sati. Ravana, Shiva's longtime fan and host in myth, reportedly welcomed him to Lanka. Shiva, in the shape of Shivalinga, went with Ravana and warned him not to settle until he reached Lanka. It is a famous Jyotirling in India.
When Vishnu disguised himself as a Brahmin boy, he encouraged him to stop and rest the Shivalinga for a moment. As per lord Shiva's condition, the Shivalinga is rooted in this place forever. Due to his defiance against Shiva, Ravana was reborn as Vaidyanath and exiled to Deoghar. During the month of Shravana, pilgrims swarm to this temple to gain salvation and escape their tribulations by worshipping Shiva.
Mahakaleshwar Jyotirlinga
The Mahakaleshwar Temple in Ujjain is another important 12 Jyotirlinga in India. The Mahakal forest completely encloses the area. Supposedly inspired by the purity of King Chandrasena of Ujjain, a young boy named Srikar constructed the temple at Mahakaleshwar, home of one of the famous jyotirlingas of central India. Located on an island in the middle of the Kshipra River, the Mahakaleshwar Jyotirlinga is one of the 18 Mukti-stals in India.
Omkareshwar Jyotirlinga
One of India's holiest sites is Omkareshwar, which translates to "Lord of the Om Sound." This temple is located on the island of Shivapuri in the Narmada River and has significant mythological significance. The legend goes that the devas fought the Danavas in the past and prayed to Lord Shiva to grant them victory when they were losing against the demons. When the gods asked for help, Shiva appeared as Omkareshwar to fight with them and defeated the Danavas.
Kashi Vishwanath Jyotirlinga
The Golden Temple of Varanasi, or Kashi Vishwanath, is another famous temple on the list of 12 Jyotirlinga temples. It was the Maratha queen Maharani Ahilyabai Holkar, in 1780, who constructed this JyotirlingaJyotirlinga, making it an important pilgrimage place for Hindus. Followers believe that Lord Shiva resides in this area and bestows happiness and liberty to everybody. It's also considered one of the first Jyotirlingas in India since it burst through the ground and ascended into the sky, proving its superiority to other deities.
The main deity worshipped here is lord Vishwanath, which means "the lord of the Universe" or "The ruler of the universe". There is a belief from the centuries that those who dip in the Ganges and pray to lord Vishwanath attain Moksha. They also believe that lord Shiva utters the salvation mantra in the ears of his devotees who attain natural death here.
Kedarnath Jyotirlinga
One of Hinduism's four holiest sites, Kedarnath Jyotirlinga, sits at an altitude of 12,000 feet in the Rudra Himalayas. Because of the extreme winter weather and frequent snowstorms, the temple is closed from November to April. Kedarnath Jyotirlinga is one of the 4 Dhams or Char Dham yatra, again a famous spiritual journey of India. It is customary for pilgrims to stop at Gangotri and Yamunotri on the way to Kedarnath to collect holy water to offer to the shiva linga at Kedarnath.
Some believe that if they visit the Kedarnath temple and pour water over the JyotirlingaJyotirlinga, they will be freed from their problems and misfortunes forever. The steep and often treacherous path to Kedarnath is conquered with walking sticks, mules, and dolis. The Samadhi of the great Hindu saint Shankaracharya is located just below the main Kedarnath shrine. At the request of Nara and Narayana, lord Shiva resided here in the form of Kedarnath.
Rameswaram (or Rameshwaram) Jyotirlinga
The holy site of Rameshwaram Jyotirlinga, often known as the "Varanasi of the south," is accessible from Madurai in the Indian state of Tamil Nadu. Lord Rama, during his war with Ravana, killed a Brahmana. He then started praying to lord Shiva to wash out his sin of killing an innocent Brahmana. Sita then made a Shivalinga from the sand and prayed to it here, which is said to be the Rameshwaram Jyotirlinga now.
It is said that Lord Rama visited the Rameshwaram Jyotirlinga after his incredible victory over Ravana. The temple is recognized for its stunning design, elaborate halls, and 36 theerthams; it is also notable for being the southernmost JyotirlingaJyotirlinga in the country. Dhanushkodi beach, from whence Lord Rama and Sita, escaped Lanka through the Ram Setu, is also visited by pilgrims on their way to this Jyotirlinga.
Mallikarjuna Jyotirlinga
The Mallikarjuna Jyotirlinga Temple in Srishshailam, also known as Kailash of the South, can be found atop Shri Saila Mountain on the banks of the Krishna River. One of Sati's / Parvati's Shakti peethas is the only place in India that is both a shakti peetha and JyotirlingaJyotirlinga. The temple of Mallikarjuna houses the deities Shiva and Bhramaramba or Parvati. Incredible artwork and sculptures adorn its halls, courtyards, and gopurams. Mallikarjuna jyotirlinga is, without a doubt, one of the most revered Shaivite temples in India.
We are willing to wager that you have never heard of all 12 Jyotirlinga names. Do you have a newfound desire to go to India and see the sacred JyotirlingaJyotirlinga in India? Help us design a personalized itinerary that will make your vacation unforgettable. If you want to surprise your loved ones, think about planning a vacation to one of these spots. It is impossible not to be impressed by the intricate design of these temples.
An interesting fact about the 12 Jyotirlingas in India
Ever tried to draw a line along the 12 Jyotirlingas on a map? A progressive spiral pattern can be seen if you link the locations of all 12 Jyotirlinga temples in India on a map. The outcome will be the Fibonacci pattern or the shape of a conch shell. They claim that this pattern is nature's hidden code, which is found in all the beautiful creations in nature. Fibonacci series are found throughout nature, like Sunflower seeds, pine cones, spider webs, Aloe Vera, and conch shell shapes are arranged in various ways.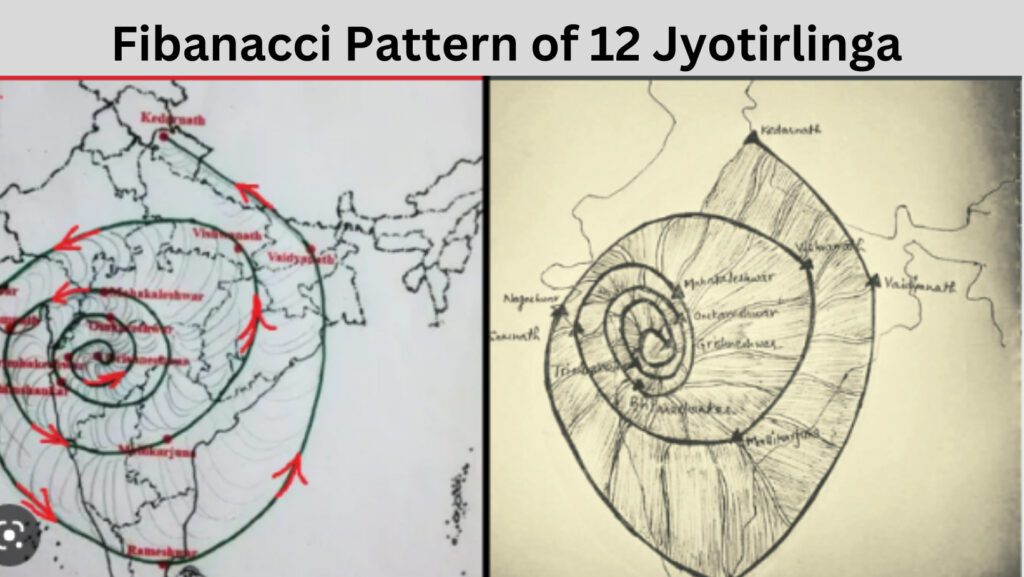 What is Jyotirlinga?
Jyotirlinga is a sacred monument or shrine where people come to worship Lord Shiva. The word Jyotirlinga is derived from Sankrit words – Jyoti means Light or Radiance, and Lingam is the symbol of Lord Shiva. Which means the "Radiance or light of lord Shiva." These 12 jyotirlingas are thought to be "Swayambhu," or self-manifested. Lord Shiva appeared in these locations specifically for his followers.
How many Jyotirlinga are there in India?
There are 64 total Jyotirlingas in India, of which 12 are said to be very prominent and sacred ones. And all these 12 Jyotirlinga indicate different self-manifestations of Lord Shiva.
What are the 12 Jyotirlingas in India?
12 Jyotirlingas in India are situated in different places (states) of India, which are self-manifested (Swayam) by Lord Shiva – Somnath Jyotirlinga, Mahakaleshwar Jyotirlinga, Omkareshwar Jyotirlinga, Mallikarjuna Jyotirlinga, Vaijnath Jyotirlinga, Kedarnath Jyotirlinga, Nageshwar Jyotirlinga, Trimbakeshwar Jyotirlinga, Bhimashankar Jyotirlinga, Rameshwaram Jyotirlinga, Grishneshwar Jyotirlinga, Kashi Vishwanath Jyotirlinga.
 If you plan your next spiritual trip, don't miss out on visiting at least some of this 12 Jyotirlinga in India. Along with this, there are other awesome and best places to visit in India. Plan your trip accordingly and find the best time to visit India and its different states.