India has a beautiful coastline of 7,517 kilometers (4,671 miles) with around 3,000 beaches. It is one of the longest coastlines in the world. India's most famous beaches are in Goa.
Beaches in India are perfect for sunbathing and swimming. The water is warm and clear blue because it has been protected by coral reefs that have developed over time. There are also a lot of different activities to do while you're on the Beach, like renting a boat or going on an excursion to explore the area's natural beauty.
Among the best beaches in India, Kaup beach, located in Karnataka, is among the best. It is known for its cool climate and peaceful atmosphere. Besides, it has high tides, which make it an ideal spot for surfers. It is also home to a historic black and white lighthouse built in 1901. A visit to this lighthouse will allow you to climb up the lighthouse, which has breathtaking views of the surrounding sea.
Kozhikode beach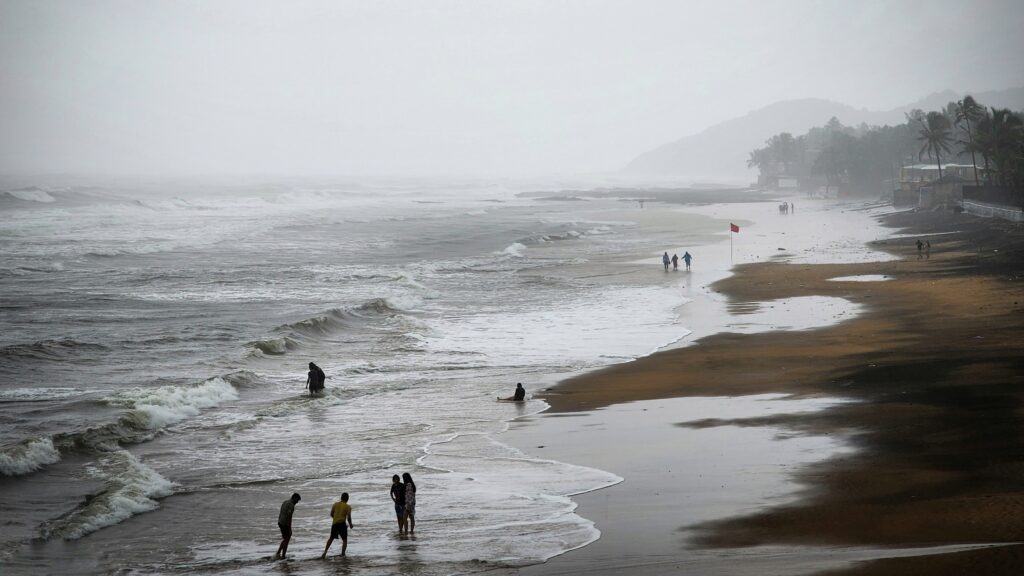 Kozhikode beach is an idyllic spot famous for its sunset. This seaside city was once the main port for Arabian and Chinese traders, and the old dock, which still stands today, tells the story of the area's history. The city is also home to an old lighthouse and children's park.
The Beach has an abundance of restaurants and food stalls, and you'll be able to find an authentic Keralan meal. Local cuisine is renowned for its herbs and spices. You can also grab a bite from a food shack and enjoy the fresh seafood.
The Beach is a historical site with a lighthouse and two old piers. Vasco Da Gama landed in Kozhikode on May 20 1498, establishing a sea route between Europe and India. This voyage also heralded the arrival of European merchants, leading to the establishment of the East India Company. After that, it was colonized by the British.
Kozhikode is known as the "national spice capital" of India. It is located on the southern coast of the Malabar region. It is accessible by four bridges from Kozhikode Railway Station, which is well-connected to major cities in India. The town is ideal for tourists from Mangalore, Kannur, Thrissur, and Coimbatore.
Another beach popular with tourists is Chaliyam, which lies on the outskirts of Kozhikode. Its large rocks and viewpoint make it a popular sunset spot. This Beach is also well connected by road and closest to the Beypore Railway Station.
Agonda Beach:
Agonda Beach is a small village in South Goa, India. It is situated about 30 km from the capital city of Panaji and is the Perfect Holiday Destination For Couples. An unspoiled setting to spend their honeymoon in Goa. Agonda beach is one of the most popular beaches in Goa. The Beach has a beautiful view, and dolphins play in the sea while watching the sunset.
This Beach's wonderful combination of azure waves and golden sands makes it a great place to relax. The fact that tourists do not overrun this Beach is its best feature. By doing this, you may relax while on your honeymoon in Goa. You can also investigate the activities close to Agonda Beach, including boat tours, adventurous pursuits like hiking and jeep safaris, and much more. The best thing about this Beach is how reasonably priced it is to spend your honeymoon in Goa.
You can read my blog on Goa Tourist Places for your next Goa trip.
Kovalam beach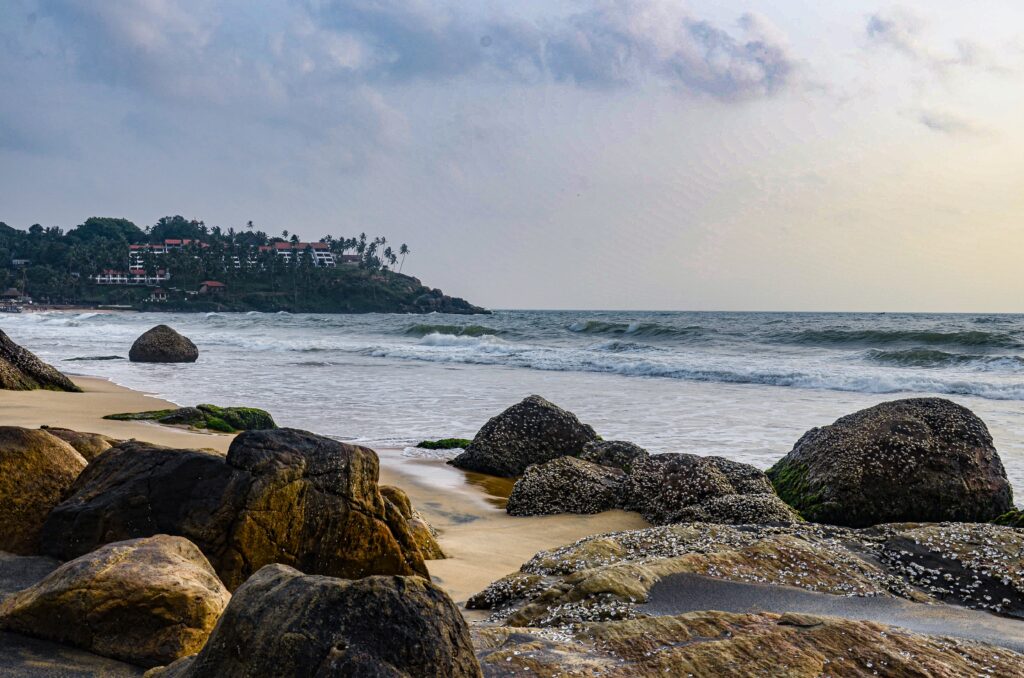 You'll love Kovalam beach in Kerala if you're a beach lover. This scenic Beach is surrounded by lush palm plantations and trees and boasts an impressive lighthouse. It is also very tourist friendly, with chic cafes and restaurants nearby. There are also many water sports available. The Beach is also popular for sandcastles.
Kovalam beach has two main beaches – northern and southern. The northern Beach has a mosque and small shacks that offer various types of seafood. A large peninsula separates the south of Beach. Visitors can also visit Samudra Beach, which is perfect for fishing and shoreline sightseeing. The Beach is also a popular destination for beach picnics and lazing around.
Another beautiful beach is the picturesque Kozhikode beach. Previously known as Calicut, Kozhikode has a fascinating history. It is a seaport and the birthplace of the Indian spice industry. Portuguese explorer Vasco da Gama landed in Kozhikode in 1948 with 170 men. From here, the spice trade was born, and today thousands of tourists visit this unique Beach each year.
Unlike other beaches in India, the Kovalam beach is special. Its name comes from the temple that is on the Beach. The Beach is a popular destination among tourists, and the area is also home to an ancient temple dedicated to Lord Shiva. The temple is near the Beach and has a fascinating history spanning three centuries.
Anjuna beach
If you're looking for a beach in India that has it all, look no further than Anjuna. This city is known for its vibrant nightlife and its dazzling Trance Parties. The Beach offers various activities, including full moon parties, trance parties, fire shows, dining, and dancing. After the sun goes down, the party atmosphere continues, with hippies, trance DJs, and a whole package of fun.
Anjuna is also a great place for families. The beaches are lined with palm trees, making them ideal for strolling around. You can even enjoy local activities, such as parasailing and jet skiing. The party scene in Anjuna used to be legendary, but the government cracked down on all-night music. However, the Beach has a variety of clubs where big-name DJs play sets throughout the day. While the Beach used to be a hub for hippies, it is also a popular destination for families.
The weather is pleasantly mild all year around. The temperature does fluctuate, but only slightly. The winter season is the most pleasant for beach vibes, water sports, and sightseeing. Temperatures are mild and breezy in this period, making it the perfect time for swimming, surfing, and other beach activities.
Velneshwar beach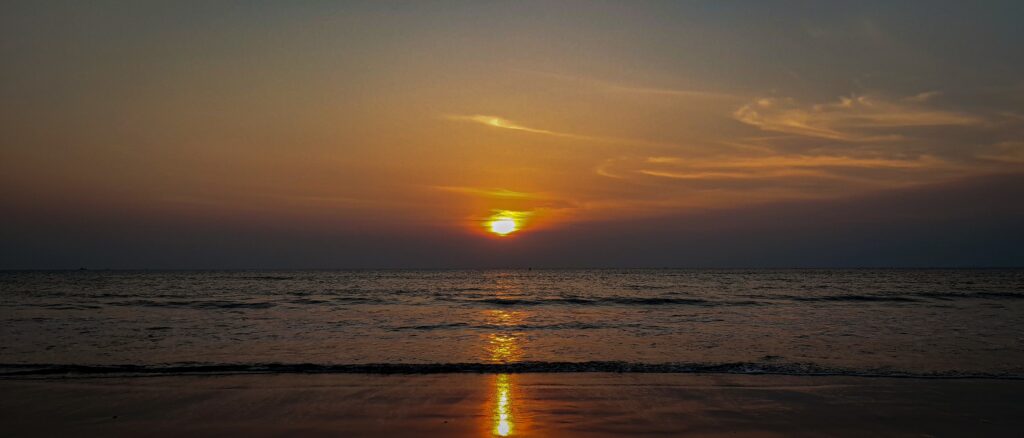 Velneshwar beach is a quiet and unspoiled beach in Maharashtra, ideal for swimming and sunbathing. It is situated on the north bank of the Shastri River and is surrounded by coconut trees. This Beach is also popular for its rock-free sea and clean atmosphere, which makes it a great place for a peaceful holiday. Velneshwar is also home to a temple dedicated to Lord Shiva, a popular destination for pilgrims.
The Beach is located on the Konkan border and offers a serene atmosphere and an unspoiled seashore. You can ride a boat to explore the sand and fish and try water sports. You can also see the historical monuments of the Maratha
Kingdom. This Beach is great for a family outing or a romantic getaway.
There is an island nearby called Ross Island, which is home to many wildlife. You can see turtles and dolphins. A natural sandbar in the middle of the sea connects the islands. The island is a popular attraction and is an excellent place for a romantic getaway.
Goa offers a lot of beautiful beaches. Travelers can experience serene solitude, exciting parties, and thrilling water sports. The Beach is perfect for honeymooners and is renowned for its pristine water.
Majorda beach
The pristine Majorda beach has a long sandy coastline and is one of the best beaches in India. It is also located near Chandor, a projecting village. The village was once the capital of Chandrapur rulers and is celebrated for its temple and ancient fort. Nearby attractions include the Damodar Temple, a temple dedicated to Lord Shiva and located close to the Beach. The Beach can be reached by air from Dabolim Airport or Majorda Railway Station, 11 km away.
The Majorda beach is located in South Goa, between Utorda and Betalbatim. The Beach is a half-kilometre long and is home to many beach shacks and restaurants. Visitors can try Russian and Konkani cuisines and drink their favorite drinks at the beach shacks. It is free to use the Beach, and you can sunbathe. However, you have to purchase drinks from the huts.
Compared to the beaches that are more popular with tourists, Majorda offers a less-known yet equally beautiful beach. It is not as crowded as other beaches; locals make world-class bread on the shore. These bread are made from coconut milk, called toddy, which is kneaded with flour to give the bread a soft, chewy texture. This tradition has been carried on for generations by the local people.
There are numerous water sports that you can try at Majorda beach. The sands here are clean and pristine, so you can enjoy the water without worrying about a crowd.
Radhanagar Beach:
The Beach at Radhanagar is not just a famous beach in India but is regarded as one of Asia's most stunning. Due to its breathtaking beauty, it draws many tourists and is ranked as the seventh most beautiful Beach in the world. It's a treat to see the dawn and sunset over Radhanagar Beach.
What state is Radhanagar Beach located in? In the Andaman and Nicobar Islands union territory, Radhanagar Beach is situated on Swaraj Dweep Island (Havelock Island), which is part of the South Andaman District.
If you are searching for a romantic getaway that will take you back to your childhood, then Beach is the perfect place. With its beautiful beaches and lush green forests, you can explore various adventure activities like trekking, rock climbing, adventure sports, nature walks, and much more. Beaches also offer a wide range of activities. So you can explore the culture and architecture of this region by booking a heritage tour.