Couples worldwide are always looking for honeymoon destinations that are affordable and affordable. But they always have to sacrifice something to get it.
When you think of the word honeymoon, you usually think of an exotic destination, a romantic getaway, or an activity you may not have tried before. They can be a way to reconnect with your spouse, explore the culture in that country, or a fun way to see some of the sights without the hustle and bustle of a larger city.
Every couple has a list of honeymoon destinations they dream about going on. However, sometimes, because of budget constraints, couples are forced to settle for less than their dream destination. Do not fret, though, because you can choose from many budget-friendly Honeymoon destinations in India.
This article will explore the topic of honeymoon destinations in India. I'll share some of India's best honeymoon destinations for couples. I'll also explain what to expect from these destinations and how much they cost.
India – A Famous Honeymoon Destination:
India is a world-renowned destination for honeymooners – known for its rich culture, beautiful landscapes, beaches, and amazing food. The country has the best of everything that you need to create the perfect honeymoon experience. It is well-known for its beaches, wildlife, and the grandeur of its monuments. It is also a popular honeymoon destination in India for its cultural diversity. You can enjoy the local cuisine, visit famous monuments, and learn about the country's history. The country is also known for its vibrant nightlife. You can enjoy a romantic dinner, dance the night away, and soak in the country's beauty.
 So, if you are planning to travel with your significant other, you should consider visiting India for your honeymoon. But where do you go and what do you do there? I have created a list of ideas and Honeymoon destinations in India for couples who want to honeymoon in India.
Best Honeymoon Destinations in India:
Goa:
Goa is a South Asian island and one of the most popular destinations in India. It's known for its beaches and bustling nightlife, where you can get lost in a crowd of people doing the same thing. The best parts of Goa are, without a doubt, its beaches—they're so gorgeous! And if you want to get away from crowds, head to Baga Beach and Agonda Beach. You'll find yourself surrounded by turquoise water and palm trees. There are plenty of other beaches around as well; just be sure to bring plenty of water!
Goa is a nice area where you will meet friendly people. It boasts amazing beaches, great food, heritage monuments, and many more. Goa offers a variety of activities that will make your honeymoon a memorable one. Together, you can stroll along the beautiful beaches, listen to the waves calming roar, and quench your thirst with the refreshing sweetness of coconut water. Visit the well-known tourist destination with your better half using Goa holiday packages to have the time of your life.
Ideal honeymoon duration for Goa: 5-8 Days
Best time to Visit Goa:  November to March
Must experience things in Goa: Sunset/Sunrise on Beaches, Vibrant Night Life in Goa clubs, Water Sports like scuba diving, snorkelling, parasailing, and kayaking, Cruise in the Mandovi River
Manali:
Manali, considered a honeymooner's heaven, tops the list of snowy honeymoon locations in India. Here, you can enjoy the breathtaking views and breathe in the refreshing mountain air. The location appeals to people who don't want to limit their honeymoon to the comforts of the accommodation because it offers a variety of adventure activities.
The snowcapped Pir Panjal and Dhauladhar mountains offer paragliding, rafting, and mountaineering opportunities, while the Solang Valley and Parvati Valley include trekking trails. Additionally, this small paradise is one of India's most romantic locations and is blessed with incredible natural beauty. You and your soul mate will be transported to the land of dreams by the lush forest, waterfalls, meadows, and historic monasteries on the mountain slopes.
Manali is easily accessible by Bus via Chandigarh or Delhi and by air by deplaning at the Bhuntar (Kullu) airport. Plan your visit during November/December so you can enjoy the snowfall and the ultimate life of the hill stations.
Ideal honeymoon duration for Manali: 4-6 Days
Best time to Visit Manali: Throughout the year
Must experience things at Manali: Beas River, river rafting, trekking, hiking, paragliding, Historic temples, shopping, the Dhauladhar and Pir Panjal Ranges, snow, Yak Riding
Agra: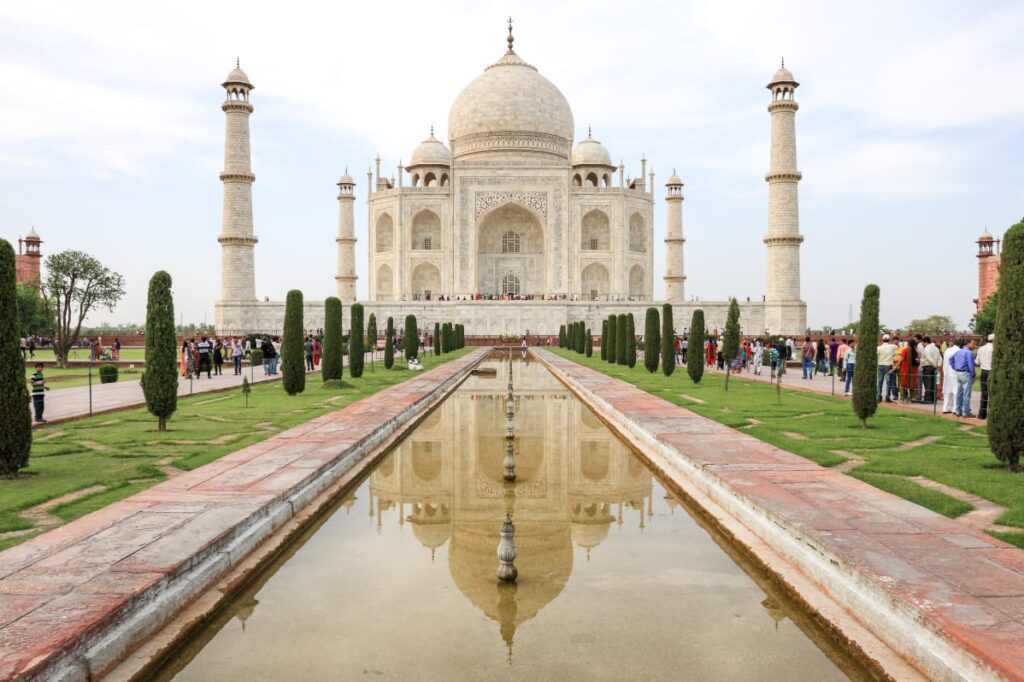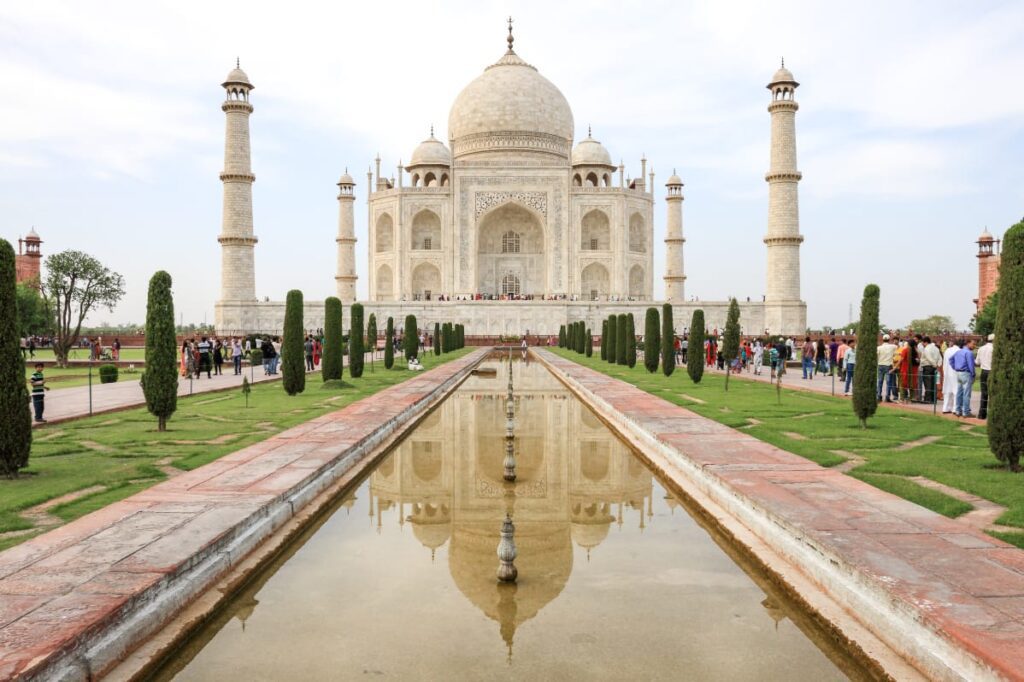 There is no denying that the Taj Mahal and Agra go hand in hand. The Taj Mahal, a representation of love, makes this lovely city the perfect honeymoon location. The Taj Mahal's magnificent vista and the lush green surroundings add to the romantic ambience of Agra. Visitors can explore its rich history by visiting the Taj Mahal and other Mughal monuments or just enjoy a scenic ride through its beautiful countryside at sunset.
If time permits, you can visit nearby places like Jodha Bai Palace, Buland Darwaza, Mehtab Bagh, and Archeological Museum. You can plan for nearby destinations like Mathura and Vrindavan as well.
Ideal honeymoon duration for Agra: 2 days
Best time to Visit Agra: November to March
Must experience things at Agra: Sunset at Yamuna river bank, Local cuisine of Agra, Historical monuments, and Agra fort
Kerala: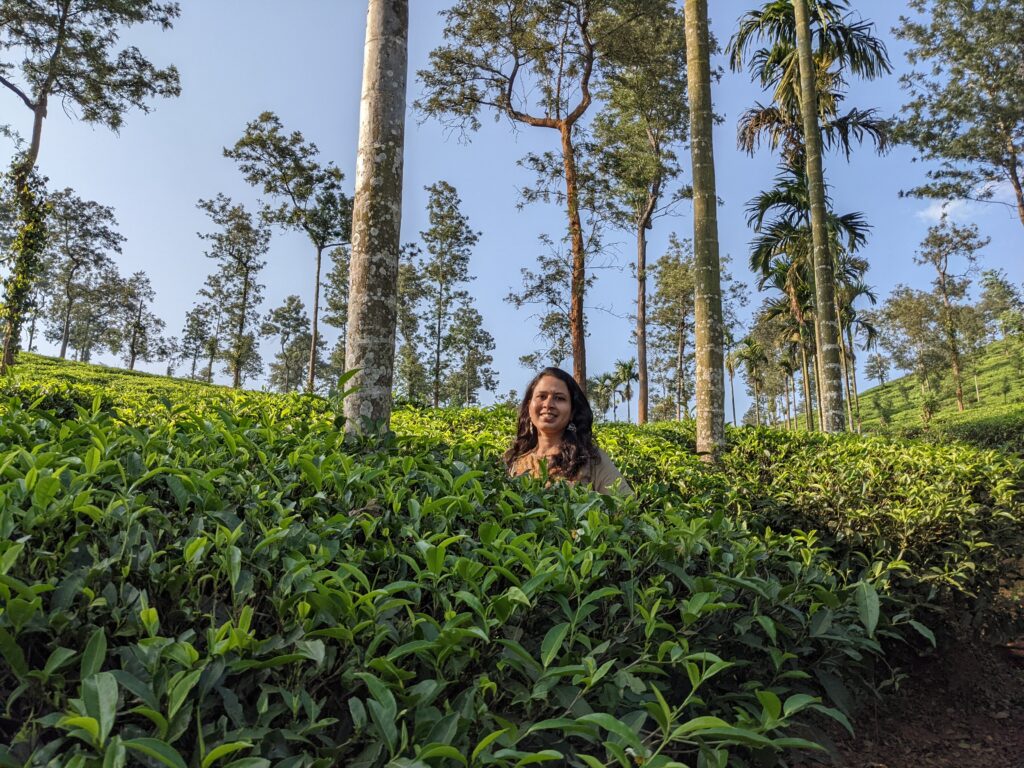 Kerala is one of the most popular Honeymoon destinations in India & South Asia, with many beaches and backwaters to explore. One of the best hill towns for a romantic trip is Munnar, which is connected to the state of Kerala. This is one of the best locations in South India for a honeymoon since it offers a tranquil environment with lush vegetation, lovely views, and comfortable weather.
The exciting thing about Kerala is its backwaters and houseboats. The houseboat is a wooden house built on boats, with all the amenities like a normal house. You can book a houseboat for a few hours or days. For newlywed couples, taking a houseboat ride through Alleppey's tranquil backwaters while passing by picturesque villages, verdant rice fields, and pine forests is a truly romantic experience. You can float in the backwaters and share those loving moments with your special ones. Food-wise, a speciality of these houseboats is they catch fresh fish and cook for you there.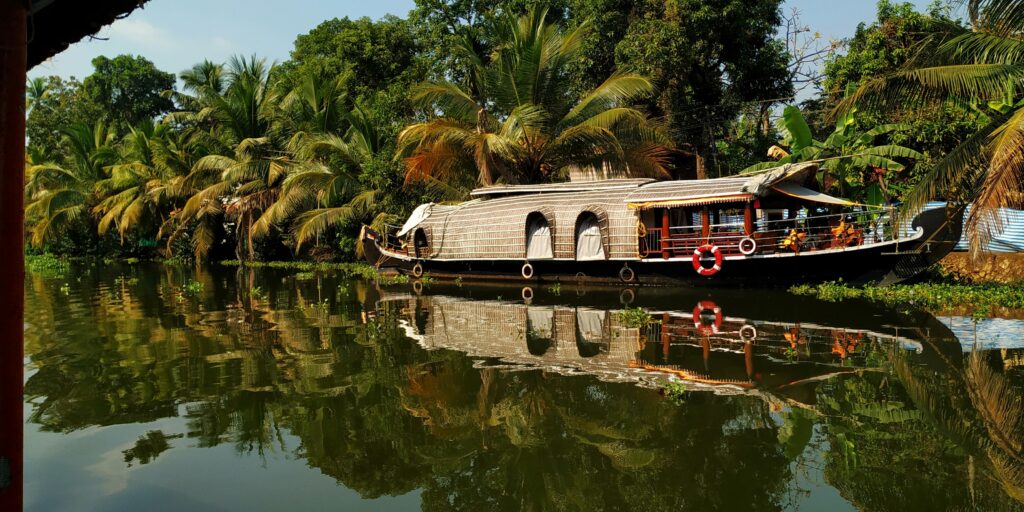 Couples spend time together, celebrate love, and engage in their surroundings. The Aluva train station and Cochin International Airport are both near Munnar. To get to the town, tourists can easily hail a taxi.
Ideal honeymoon duration for Kerala: 4-6 Days
Best time to Visit Kerala: throughout the year
Must experience things in Kerala: Houseboats, backwaters, beaches, lakeside resorts, ayurvedic treatments, surfing, food markets, shopping, tea gardens, the Western Ghats, and national parks
Shimla:
Shimla, a well-known hill station in India, is the ideal destination for newlywed couples seeking a romantic getaway. One of the top honeymoon destinations in India is, without a doubt, the capital city of Himachal Pradesh, which exudes an old-world charm. While Chandigarh and Delhi Airport are the closest airports, Kalka Railway Station is the closest railway station to Shimla.
How about adding Mall road, the ridge, and a toy train to the picture of your perfect honeymoon location? Exciting right? You can enjoy trekking, Ice Skating, Shopping at Mall Road, and Long walks with your spouse on snow-filled roads.
Ideal honeymoon duration for Shimla: 4-5 Days
Best time to Visit Shimla: Throughout the Year
Must experience things at Shimla: Ice Skating, Shopping, Trekking, Yak Riding
View this post on Instagram
Coorg:
The region of Kodagu, also known as Coorg, is characterized by a swath of teak and sandalwood trees, flowing rivers, and breathtaking coffee and tea estates. It has become a popular honeymoon destination in India because of its landscape's resemblance to Manali's, its isolation from city life, and its good climate.
Coorg, known as the Scotland of India, experiences nice weather all year. Visitors leave here with enduring memories. Cardamom and other spices and coffee and pepper provide a typical flavour. The best honey and aromatic sandalwood are also produced in Coorg.
Aside from its plantations for coffee and spices, Coorg is renowned for its delicious, pulpy oranges. Oranges from Coorg are distinctive because they are simple to peel and have a hint of sweetness and tangy citrus flavour. Here, local wines and sweets are also quite popular.
Ideal honeymoon duration for Coorg: 2-3 Days
Best time to Visit Coorg: October to May
Must experience things at Coorg: wildlife safari, Waterfalls, elephant Rides, Plantation walks
Darjeeling:
If you'reyour romantic vacation destination is Darjeeling, you'll be happy to learn that it is one of India's most romantic locations. On the mountainside slopes, there are tea gardens and a cool climate. Visit historic monasteries and ride a toy railway through undulating hills. Enjoy shopping as well, and on a clear day, you might be mesmerized by the breathtaking view of the Khangchendzonga (Kanchenjunga).
Along with showing your spouse your love, surprise them with a lovely arrangement of orchids and rhododendrons. Bagdogra Airport and New Jalpaiguri Railway Station are both located close to Darjeeling.
Ideal honeymoon duration for Darjeeling: 5-6 Days
Best time to Visit Darjeeling: April to June
Must experience things at Darjeeling: Mountains, Tea Gardens, Shopping, Hiking, Toy Train, Views of Khangchendzonga, Calm Monasteries, Best Momos and Thukpa in the World
Udaipur (Rajasthan):
Well, it still on my bucket list since 2015. Udaipur is the most beautiful city in Rajasthan. Also called as city of Lakes and palaces. The city of lakes, sometimes known as the "Venice of the East," Udaipur is surrounded by sparkling lakes and the verdant Aravalli Mountains. One of the most stunning attractions in Udaipur is the well-known Lake Palace, which is situated in the centre of Lake Pichola.
The area is known for its stunning lakes encircled by spectacular forts perched on hilltops, earning the name "Venice of the East." You can experience a regal exotic honeymoon with your soul partner in Udaipur.
Ideal honeymoon duration for Udaipur: September to march
Best time to Visit Udaipur: 5-6 Days
Must experience things at Udaipur: Remote and quiet beaches, five-star resorts, scuba diving, snorkelling, water sports, historical sites, museums, and the Fateh Prakash Palace Sunset Terrace. Boat rides on Lake Pichola and the Mewar Sound and Light Show
India is a wonderful place for couples looking for a romantic getaway. It is a country full of culture, tradition, and beautiful beaches. If you plan a honeymoon in India, you should consider visiting one of these places for a perfect romantic getaway.