To begin with, This was my second visit to Kerala. Though I had traveled before also, this time, it was more exciting and fun-filled to travel with my better half. As I said in my previous blog, I always prefer staying countryside. So we booked this resort called "The Woods Resorts Wayanad" in Chethalayam, expecting a memorable stay.
The Woods Resorts Wayanad is a resort that provides its guests with a peaceful and beautiful experience. It is located in the heart of Wayanad, one of the most beautiful districts in Kerala. The resort offers a wide range of amenities to suit all tastes and budgets.
Amenities:
1. Rooms/cottages
Spacious cottages with balconies overlooking the property's swimming pool, gardens, farms, and hills.
Woods Resort provides 5 types of cottages/stays to its customers. One can choose as per their budget and taste. And, as the name indicates, it specifies the type of wood used to build those cottages.
Rosewood, Cedar, Teak, and Oak cottages are 4 types of cottages among 5 that offer minimalist design aspects and blend nature with modern conveniences so brilliantly that you will have a pleasant, comfortable, and serene stay in the cottage. The prices vary a bit as per the amenities they provide with each cottage and the type of stay you choose.
Focusing on a simple design point of view, they have organized these cottages well. Every cottage has a private entrance and a balcony with garden seating that provides couples and families with the utmost exclusivity and independence.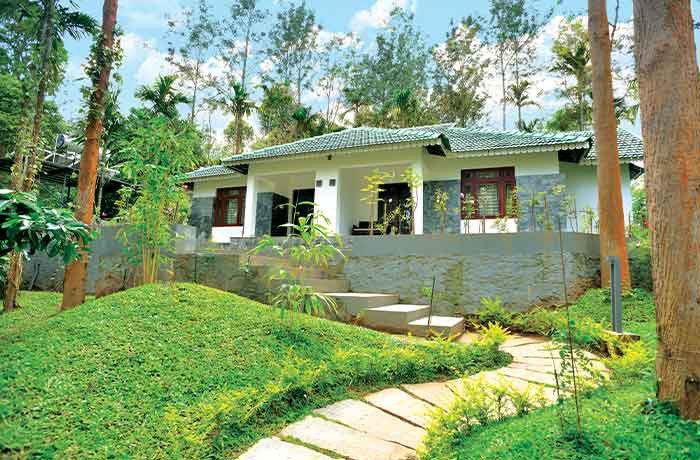 The sofa set in the room creates a space to sit together while the gentle breeze of nature caresses you. One can order a coffee/beverage from room service or make their own using the electric kettle provided in a room. Be yourself and revel in the beauty of nature.
Ebony Cottages: A blessed and romantic stay for newly married. Set of 2 cottages, built with "Tree House" concept. Ebony cottages are elevated wood houses that will give you a close-up view of the surrounding wild scenery. It's like being in nature. They have installed exclusive safety devices to ensure the safety of customers.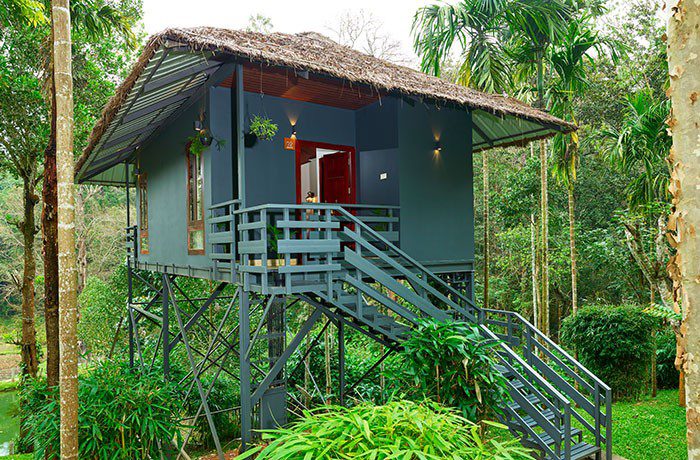 These are positioned high above the ground, following the tree house concept. This category includes two separate cottages in the center of a thick forest and provides close-up views of the surrounding nature. It gives an unparalleled feeling. Ebony has been designed to create a good stay for our esteemed guests.
Located nearby, guests can also view the cottages' fish pond and organic farm. Private balconies provide space to sit with your spouse, weaving in moments that will stay in your memory for a lifetime.
2. Variety of dining options:
From buffet breakfast to multi-course dinner with live cooking stations for vegetarian dishes and BBQ. They bring out the pleasant flavors of Wayanad, local cuisine, and in other words using organically grown grains, vegetables, and spices.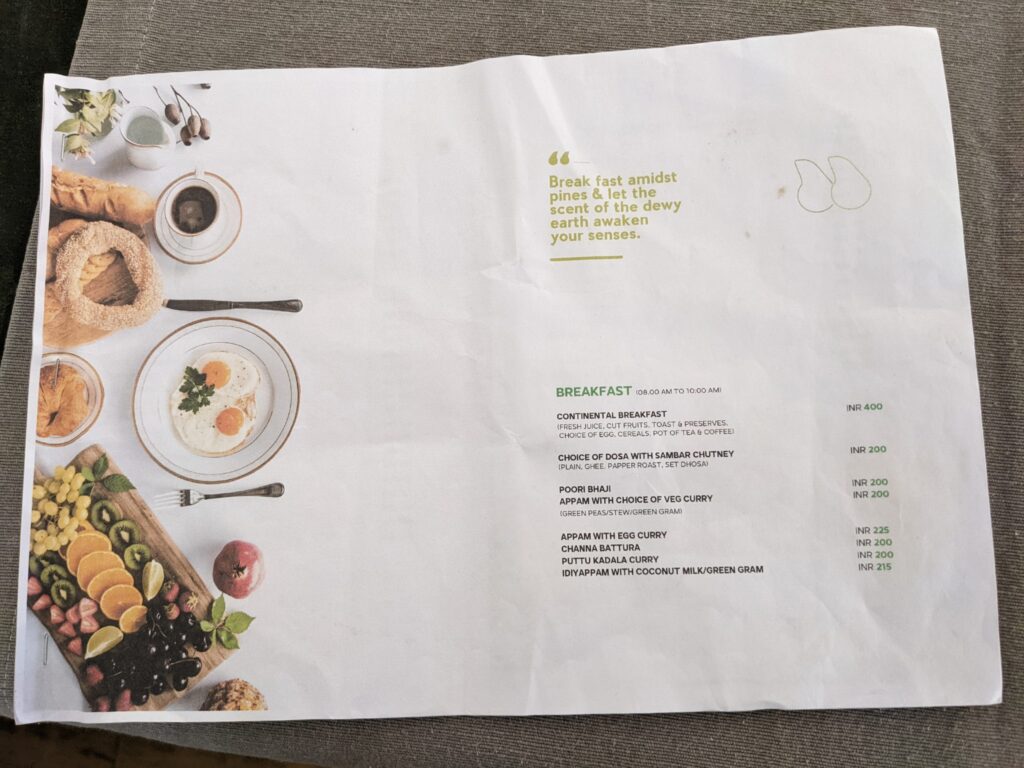 The resort offers a Buffet breakfast to the entire guest, with various dishes every day, ranging from delicious local South Indian cuisine to English/Continental breakfast options. Likewise, they provide kids'/elderly-friendly healthy recopies options and fruits/salads/cornflakes for diet-conscious guests.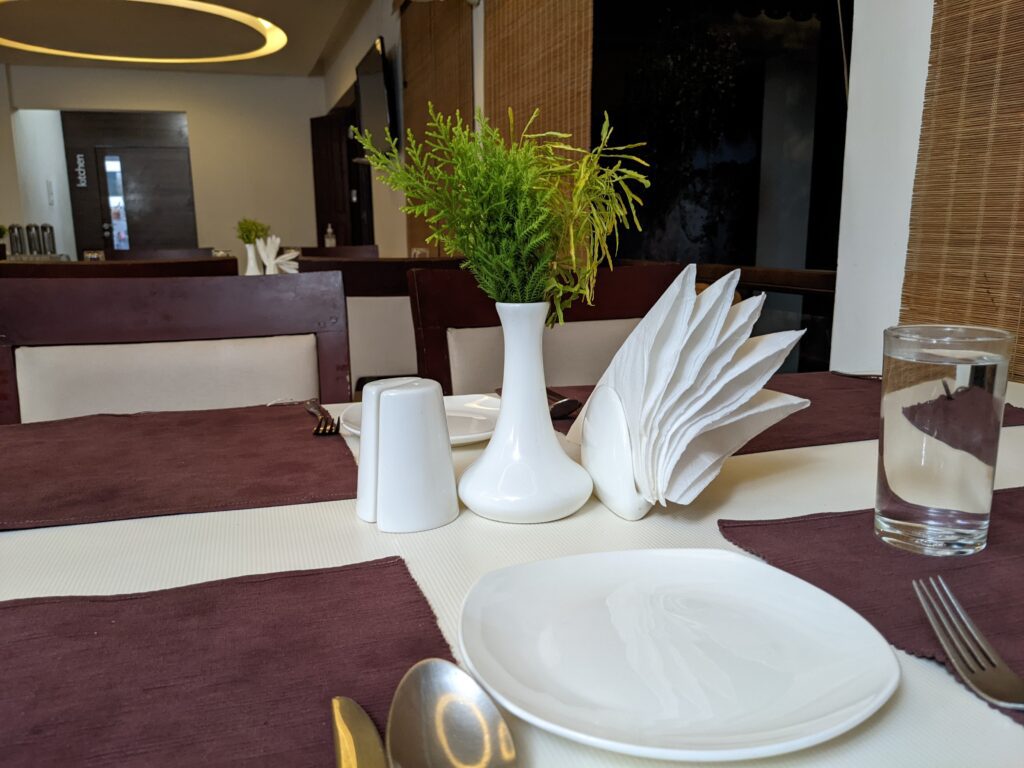 The restaurant is in mid of the resort near the pool, with transparent glass windows, so guests can enjoy delicious meals amid nature. They use their farm-grown vegetables and spices for cooking, giving food a fresh and healthy feeling.
3. An exclusive spa featuring Ayurvedic treatments, traditional Kerala massages and therapies, and a badminton court near the swimming pool.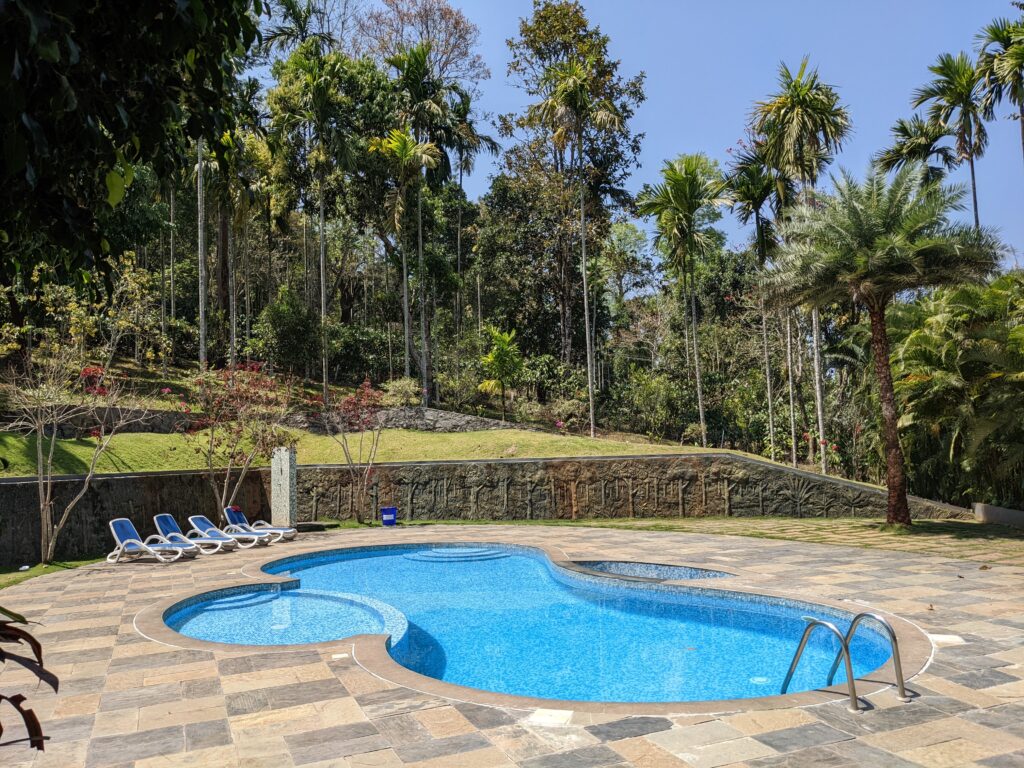 4. Campfires:
Every evening, from 7 PM to 8 PM, resort boys arrange a campfire in the resort's best place for the guest. The campfire place is built so that guests can get their Tea, Snacks near the area and enjoy their evening by sitting on benches near the campfire place.
One can experience wonderful moonlight evenings with a DJ, all language songs, and some guests/kids dancing around the fireplace. Occasionally, they also arrange for local tribe/folk people dances also.
5. Indoor games club
Stays are open from morning to evening, and guests can enjoy playing these indoor games without extra charges. Club has Table Tennis, Snooker, Carom, Chess, foosball, and other setups installed in a spacious room with attached toilets to allow guests to have a hassle-free time.
6. Organic Farm, Fishing, and tribal tour:
Woods Resort Wayanad has its organic farm and fish pound. Resort staff frows various vegetables and spices here, which they later use for cooking in their restaurant. Guests can take fresh morning walks on the green farms and sit in on-farm tents.
Near the farm, they have a fishing lake and archery facilities also. People who keep interested in fishing can enjoy fishing here. And bows-arrows, at least for photo lovers.
The resort is located near a tribal village; one interested can take a tour of the tribal village and witness their lifestyle. Resort management encourages guests to stay at the resort and take time off the complete resort one day to their organic farms and tribal village.
7. Handcrafted merchandise:
The resort also promotes many handcrafted and beautiful wood merchandises made by nearby tribal people. Guests can purchase these products and encourage their local art and hard work. One can find locally produced pure, 3-5 years old honey at an affordable price (obviously lesser than many branded honey).
 House rules –  Woods resort Wayanad:
Check-In & Check-Out: Like other Hotels/Resorts, Woods Resorts has strict timings for Check In and check-out of 1 PM and 11 AM.

Guests travelling from distant cities can place a special request for early Check-In, which entirely depends on availability. As we crossed from Bangalore and reached the resort by 7 AM, resort management allowed us for early check-in as we placed requests before we arrived there, and a room was also available.

The property does not allow pets.

No age restrictions to stay at the property. Children aged 6+ years are considered adults and have to mention in the booking.

They provide extra beds/cots and allow additional guests per room at different charges that depend on the availability of beds and room space.
To summarize, I had a memorable and pleasant 4 days stay at Woods resort. Explored every nook & corner of the resort, did all the activities, and bought some organic honey.
One can spend a whole day just exploring the resort and its farm. I would consider visiting back there in the monsoons. Visit their official site for more details, booking info, and facilities.
View this post on Instagram
You may want to explore my other travel stories :
My recent visit to Wayanad Kerala
Top Hill Stations in India that one must explore
Manali – A famous hill station in the Himalayas