Butterfly Beach Goa – First thing First!!!! There is no Butterfly Island in Goa; it's only Butterfly Beach. Yet many people call it Butterfly Island. It is due to its unique semi-circular shape and the fact that it can only be accessed by a boat ride, giving visitors the impression of being on an island. It provides a peaceful experience of an island – you may call it Butterfly Island Goa also.
Butterfly Beach – A Tranquil Escape from the Crowded Beaches of Goa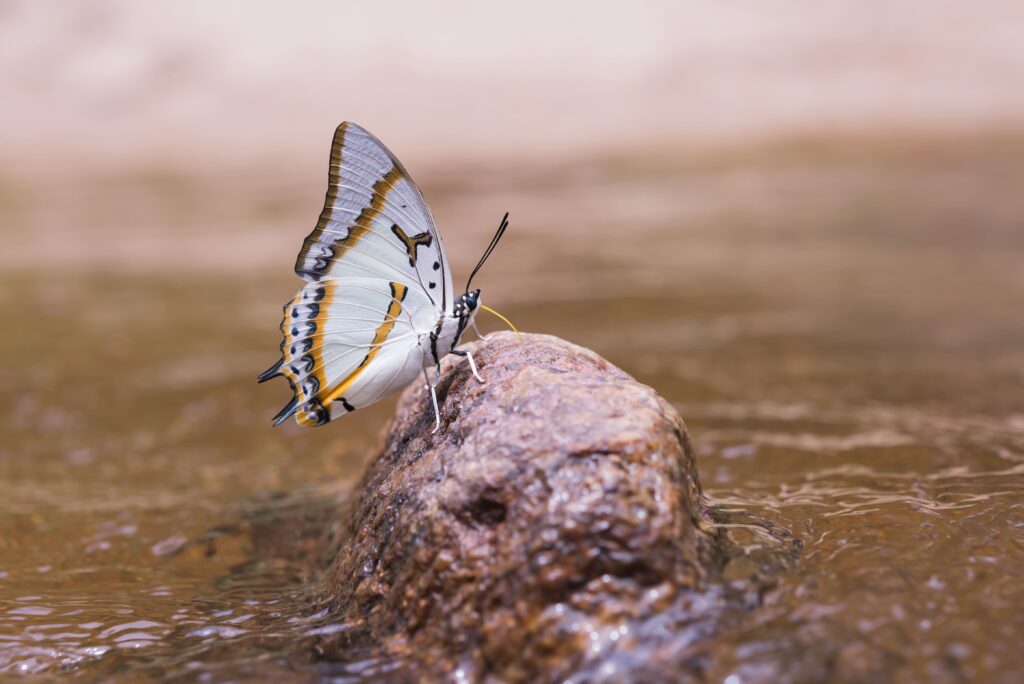 Goa is renowned for its vibrant nightlife, great seafood, and beaches. But not every traveller has the same priorities. Some people choose to take in the peace and quiet of nature and avoid the busy tourist destinations. Butterfly Beach is the ideal location if you belong to that group.
This isolated beach, which is immediately south of Palolem Beach, is a treasure waiting to be found. Of course, you can call it Butterfly Island Goa, also.
Visitors can also swim or snorkel in the crystal-clear waters of the Arabian Sea. There are no commercial establishments on the beach, so visitors are advised to carry their food and water.
The Name: Butterfly Beach
Between South Goa's stunning Palolem and Agonda beaches sits Butterfly Beach. I've wondered how the beach earned its name since I first heard about it. Let me explain this to you.
The name "Butterfly Beach" or "Butterfly Island": is due to its shape when seen from afar. Also, another reason is it attracts a variety of colorful butterflies due to its location(surrounded by dense forest). It's also called honeymoon beach. It is home to various butterfly species, including the Blue Mormon, Crimson Rose, Common Jezebel, and Indian Sunbeam.
Visitors can take guided butterfly walks to explore the island's lush forests and learn about the different species of butterflies that inhabit the island.
However, that isn't the sole explanation for the name of this stunning beach. It wouldn't be incorrect to say that Goa's Butterfly Beach is a visual treat. It is one of Goa's most attractive locations, with scenic beauty and abundant marine life. In addition to its unique shape, the beach is well-known for the dolphins nearby and the millions of butterflies that glide over the hilltop.
Due to its scenic and romantic ambiance, Butterfly Island is also called Honeymoon Beach.
How to reach Butterfly Island Goa: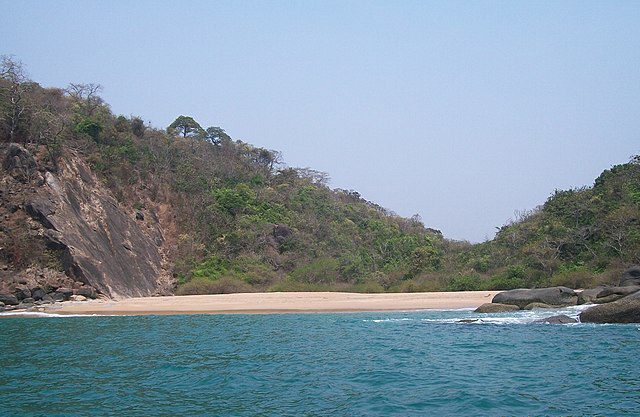 One cannot reach the beach by car, bus, or other transportation options. It sits between two valleys. The only way to get there is by boat from Palolem Beach or Agonda Beach. If you want to enjoy the scenic beauty of the broad Arabian Sea and aquatic life and touch the water – go by boat.
Boat guys will charge between 1000 to 1500 rs(To and fro). But that is all worth it once you reach the beach. We paid around 1200 for two and took our seats on boats, waiting for the dolphins to show up.
Trek to the Butterfly Beach Goa:
There is one more way for trekking freaks. Trekkers can reach the beach by going through a forest route. Starting from Agonda beach road, you can take vehicles to Leopard Valley. Beyond this point, vehicles are not allowed. And the actual trek starts from this point.
The route is densely jungled from Leopard Valley, with many climbs and rough roads. It takes around 1.5 to 2 Hrs to reach Butterfly Beach Goa, which covers around 2 km.
Facts of Interest about Butterfly Beach Goa:
Butterfly Beach is accessible only by boat. It is a secluded and romantic spot, so they call is "Honeymoon Beach."
Variety kinds of butterflies may be seen throughout the island.
This cove island is still one of the lesser-known places to visit in Goa. It is isolated, lovely, and an excellent location to relax.
When visiting this beach, do not miss the spectacular sunset view. A truly amazing experience; the sun appears to be disappearing between an invisible line separating the sky and the sea.
On occasion, dolphins will leap on the water's surface joyously. Butterfly Beach is one of the best spots in Goa to witness dolphins in their natural habitat. Many boat operators offer dolphin-watching tours from the beach.
Going on a short hike around the island is also great fun. You can also engage in other sports like rock climbing, canoeing, etc.
The water at Butterfly Beach is crystal clear and perfect for swimming, snorkeling, and other water activities.
Butterfly Beach Goa is a perfect spot for couples who want to escape the crowds and enjoy a romantic getaway in a secluded and tranquil setting.
Butterfly Beach – Open Timings and Entry Fees
The beach is open throughout the year, and visitors can plan their visit based on their preferences and convenience. As the place is a little isolated, open timings are strictly followed.
| | | |
| --- | --- | --- |
| Day | Timings | Entry Fee |
| Monday | 9 AM-5 PM | Free |
| Tuesday | 9 AM-5 PM | Free |
| Wednesday | 9 AM-5 PM | Free |
| Thursday | 9 AM-5 PM | Free |
| Friday | 9 AM-5 PM | Free |
| Saturday | 9 AM-5 PM | Free |
| Sunday | 9 AM-5 PM | Free |
Key points to note before visiting Butterfly Beach Goa:
Plan your trip during less rainy or non-monsoon seasons. As this place receives heavy rains during monsoons, boatmen may not be allowed to take boats to butterfly beach.
Speak to the boatmen and try to stay for a long time(at least 2 Hrs) at the beach. Otherwise, they will be in a hurry for their next trip.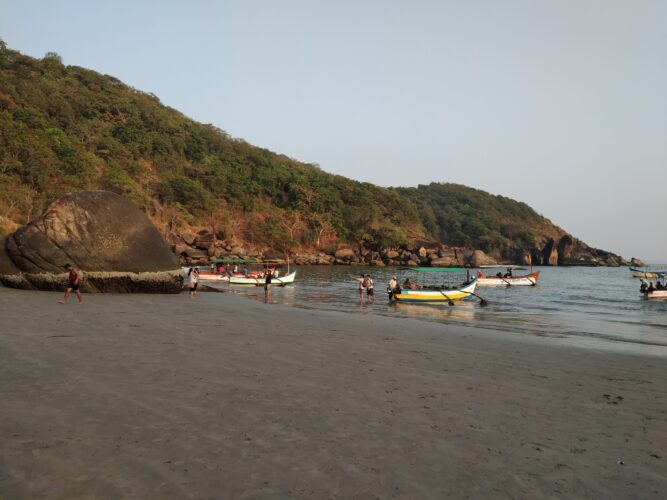 Make sure to pack your necessary things before visiting. A blanket to sit on or for a small picnic, eatables, and water bottles, as the beach has no restaurants and refreshments shops.
The best time to visit is from 7 AM to 9 AM. Avoid staying late evenings here, as the beach is isolated, and you may not get any boats to return.
Tourists attractions near Butterfly beach Goa:
Leopard Valley

Palolem Beach

Conco island

Yoga Land
Butterfly Island Goa – A Sustainable Tourism
Butterfly Island/Beach is an eco-friendly destination, and visitors are encouraged to follow sustainable tourism practices. The island has no facilities, and visitors must carry food, water, and other essentials. Visitors are also urged to avoid littering and to leave the island as they find it.
Butterfly Island is a must-visit destination for nature lovers, adventure enthusiasts, and anyone looking for a peaceful getaway. The Butterfly Island's natural beauty, diverse wildlife, and serene surroundings make it an ideal destination for those seeking a break from the hustle and bustle of city life.