Ganagapur dattatreya temple sri kshetra ganagapur – Greetings to Ganagapur Dattatreya Temple, a serene haven nestled in Karnataka, India. This sacred site shares a profound bond with Lord Dattatreya and Nrusimha Saraswathy Swamy. Join us as we uncover the past and explore the enchanting allure of this divine sanctuary.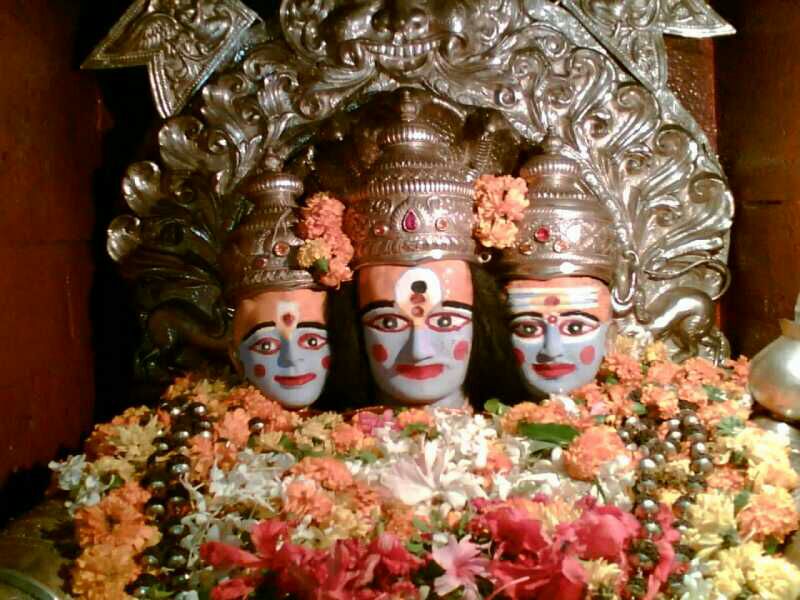 A Glimpse into the Past
In ancient times, Nrusimha Saraswathy Swamy, a significant form of Lord Dattatreya, graced this land with his presence. He pledged to remain in Ganagapur, visiting the village each day at noon for sustenance. Remarkably, this promise continues to be honored today, as devotees offer food with unwavering faith. A touch of enchantment envelops this place, embracing those burdened with sorrow or ailments, bestowing solace and rejuvenation.
Ganagapur dattatreya Temple Pooja Timings
For devotees, a pilgrimage to Ganagapura is not just a journey but an odyssey of devotion, as they immerse themselves in the rituals and ceremonies that guide their connection to the divine. The temple's daily schedule is a symphony of devotion, offering introspection, prayer, and gratitude moments. Here's a glimpse into the sacred routine:
| | |
| --- | --- |
| Seva / Pooja | Timing |
| Kakad Arathi & Darshan Begins | 2.30 AM – 3:00 AM |
| Laghunyasa Purvak, Saura Mantra, Ganapati Atharvasheersha, Purushasukta, Laghu Rudrabhikshek to Shaligram & Guru Sphatikaling From Pujari's of temple as a parampara (Bhakt Kalyanartha) | 3:00 AM – 5:00 AM |
| Keshar lepan to Nirgun Paduka by priests of temple and Mahapooja to Nirgun Paduka and paduka poojan and Chintamani Ganapati Pooja | 5:00 AM – 6:00 AM |
| Guru Arathi or Paduka Arathi (1st Arati) Theerath & Panchamruta Distribution | 6:00 AM – 7:00 AM |
| Devotees Rudrabhishekam, Laghurudrabhishek in Abhishek Hall & Pooja to Suvarna Paduka And Milk Abhishekam to Sphatikalinga and Nirgun paduka Free darshan | 7:00 AM – 11:30 AM |
| Maha Mangala Arathi, Maha naivedya & Annadan (Madukari/Bhiksha) Seva (2nd Arati) | 11:30 AM – 12:30 PM |
| Devotees Pooja to Suvarna paduka continues | 12:30 PM – 2:00 PM |
How To Reach Sri Kshetra Ganagapur Dattatreya Temple
Train: Ganagapur Road Railway Station – 22 km
Road: Gulbarga – 40 km, Solapur – 105 km, Hyderabad – 250 km, Mumbai – 515 km, Pune – 356 km
By Air: Hyderabad – 275 km, Pune – 364 km
Real Stories of the Occult Practice At Ganagapura Dattatreya Kshetra
Within the hallowed confines of the Dattatreya Temple, a veil of mystique descends during the new and full moon days. Devotees are believed to be possessed, engaging in unusual and often spine-chilling acts. Their voices rise in chants and shouts as they hurl abuses at the deities – a ritual believed to expel evil spirits. Witnessing individuals climbing walls and ramparts while screaming is an eerie spectacle that sends shivers down one's spine.
Amidst this surreal scene, the temple's priests tirelessly recite mantras, conduct Hawans, and perform prolonged pooja sessions. Thousands of devotees flock to the temple daily, expressing their devotion through extreme acts such as chaining themselves to the walls. As the aarti commences, the air resounds with cries, screams, and dance, creating a powerful and paradoxical display of spirituality.
The Paradox of Power and Peace
Despite the seemingly otherworldly activities that unfold within its premises, the Ganagapura Dattatreya Temple remains a reservoir of blessings and profound energy. Visiting this sacred space promises inner tranquillity and an overwhelming sense of peace. It is whispered among the faithful that the temple's sanctity can alleviate problems related to black magic and evil spirits, making it an essential pilgrimage for those seeking protection and solace.