Goa is a state in India. It is mainly famous for its beaches and resorts. The state has been attracting tourists from all over the world for decades now. Still, more recently,, it has also become popular for its religious and cultural heritage and natural beauty. Apart from the Goa nightlife, Beach Huts, Parties and clubs, Water Sports, and tasteful delicacies, Goa tourist places have much more to offer to tourists. And there are hundreds of places to visit in Goa.
However, Goa is one of India's most popular tourist destinations for more reasons than its beaches. The area is home to distinctive cuisine with Portuguese influences, ancient churches and temples, vibrant fauna, and intriguing spice plantations. You'll always wish you had more time in Goa, no matter how long you stay there.
Anjuna Beach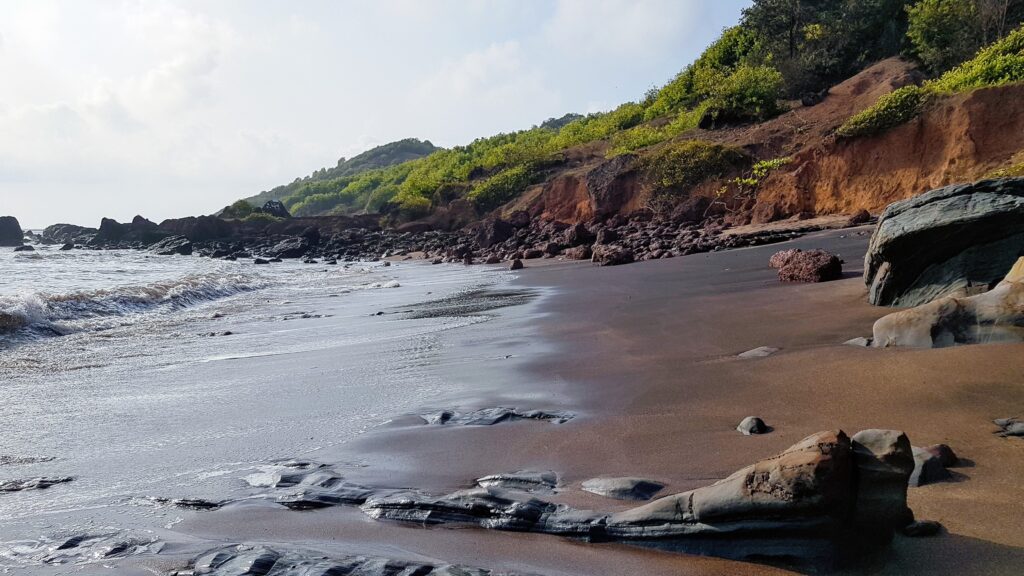 If you are looking for a beach that is not crowded with tourists, visit Anjuna Beach in Goa. This beach features golden sand and is 1.5 kilometres long. During prime season, the region is renowned for its trance and rave parties. There are plenty of nightclubs to go to in this area. It also hosts weekly flea markets.
Anjuna is also home to many tourist attractions. There are plenty of hotels in the area. The prices in Anjuna are much lower than those in other parts of Goa, making it a good choice for backpackers. However, consider staying at a high-class resort if you want a luxurious stay.
During summer, Anjuna is hot, with daytime temperatures reaching 36 degrees Celcius. However, during the monsoon season, there is a lot of rain and high waves. Suppose you like a more secluded setting, head to Butterfly Beach in south Goa. The rocky coastline bookends this beach, making it feel like an island.
Another great reason to visit Anjuna Beach is the party scene. The place is famous for its trance parties and is the ultimate destination for those who want to party. There is a wide variety of music and entertainment. If you enjoy dancing, there are many great nightclubs in the area. Anjuna is also the perfect spot for windsurfing, a great sport involving surf attached to a board or sail.
Anjuna Beach is popular with holidaymakers and locals. The best time to visit Anjuna is from October to February. The winter months are perfect for swimming, water sports, and sightseeing. Temperatures in winter range between 20 and 30 degrees Celsius and are relatively calm and breezy. You can also enjoy water sports and open shacks in this area.
Places to Visit in Goa near Anjuna Beach
Ozran Beach

Baga Beach

Nyex Beach Club

Anjuna Market

Splashdown Waterpark
Anjuna Flea Market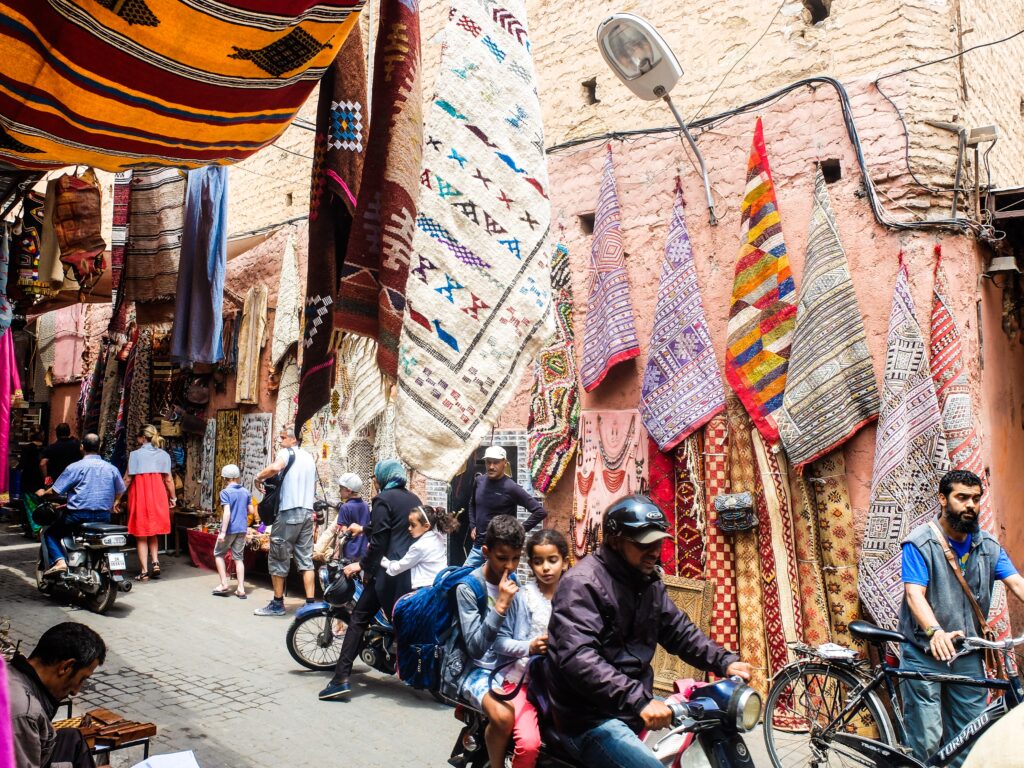 The Anjuna Flea Market is a hippie's paradise in Goa. It was founded as an open-air goods exchange market in the 1960s and has evolved to become a popular tourist attraction. The flea market is set between the golden sands of the beach and the paddy fields and is well worth a visit. You can purchase handcrafted items such as Tibetan artefacts and silver trinkets from the local Tibetan enclave. The articles are typically priced between Rs 400 and Rs 1500. Some pieces have beautiful glasswork. You can also get your body pierced.
In the 1960s, hippies first settled in Anjuna. They used the market to sell second-hand goods to buy new products. They often stayed in the area and resold their items for profit. Today, the market is a mix of expatriate hippies and local Indian vendors. The Anjuna Flea Market is set up every Wednesday at Anjuna Beach. It is open from 7 AM until midnight. If you go early, the market is less crowded than during the afternoon and evening. If you want to shop without the crowd, it's the best place to visit in Goa.
Whether you're looking for designer clothing or just something funky, this flea market is the place to go. Anjuna is also known for its colourful bikini stalls. Besides clothes, the market also features beautiful handicrafts. There's a vast selection of jewellery and silver trinkets.
Some of the places to Visit in Goa near Anjuna Flea Market
Chapora Fort

Nyex Beach Club

Club Cubana
Candolim Beach
Candolim is a popular and must-visit Goa tourist place with its beautiful beaches, nightlife, and cultural attractions. The town is also home to a popular annual festival called Sunburn, which happens in December. There are several fun activities for the kids, including Splashdown Goa and Melange Children Park. These water parks are filled with slides, pools, and live music. Nightclubs like Morina and Bom Sucesso are also popular in Candolim.
Those interested in water sports can also choose to spend their vacation at Candolim Beach. There are various water activities, including banana boat rides, parasailing, and jet-skiing. You can also go on dinghy sailing or paragliding if you are travelling with a group.
Candolim is home to many different restaurants and pubs. The Stone House, a charming old house with a courtyard, is a popular tourist hangout. The restaurant also hosts live blues performances in the peak season. While the beach is the main attraction of Candolim, you can also see some historical attractions in the town.
The beach is also home to the Museum Of Goa, where you can learn about the history of Goa and the significance of art in the present day. If you visit Goa on vacation, you'll find Candolim Beach ideal for a romantic getaway or a family vacation. Tour My India offers various holiday packages for this popular tourist place in Goa. Travelling to Candolim Beach can be easy. From the Dabolim airport, you can hire a car or taxi to reach the beach.
If you are looking for a luxury stay, there are several four and five-star hotels in Candolim. The Radisson Goa Shrem, Marquis, and 360 Degree Boutique Hotel are all good options. These hotels offer on-site dining, swimming pools, and luxurious accommodations. For budget travellers, there are also plenty of B&B-style accommodations available. Casa Almeida Guest House is a good choice, and the Backpacker Panda is affordable.
Some of the places to Visit in Goa near Candolim Beach
Church of Our Lady Of Hope

Grand 7 Casino

Kegdole Beach

Fort Aguada
Reis Magos Fort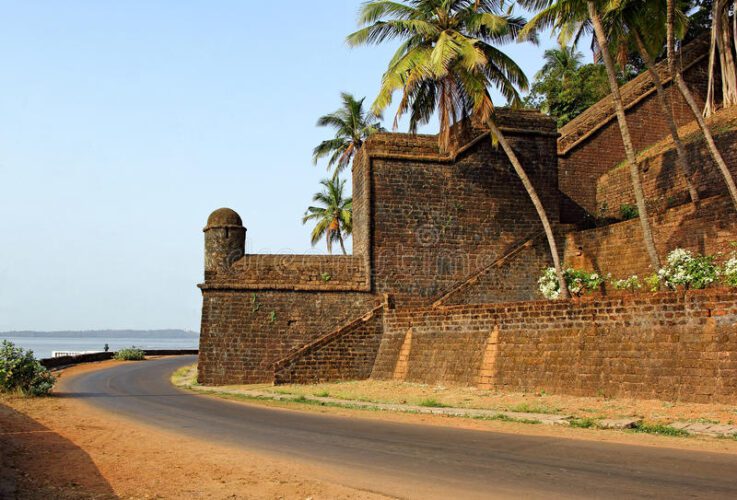 Reis Magos Fort is a beautifully restored 16th-century fort with panoramic river views and a cultural center. Located in the heart of the state, just south of Panjim, Reis Magos Fort is among the must-see places in Goa. The Fort was once a Spanish fortress but has been completely restored and is now a great cultural center and tourist attraction.
The Fort also has the Chapel of Our Lady of the Mount, located on a hilltop overlooking the Mandovi River. After he defeated the Muslim ruler Yusuf Shah in 1510, Alfonso de Albuquerque built this chapel. You can enjoy stunning views of the city, Chorao Island, and Divar Island.
Reis Magos Fort is located on the north bank of the Mandovi River and is only 9.5 km from Panaji. However, the local bus service can be slow. The Fort is open from 8 AM to 4:30 PM every day. Usually, it is not crowded, so it is best to go during off-peak seasons. It is one of the oldest forts in Goa. It was originally built as a defence fortress and served as a jail in its earlier years, which was recently restored but has been neglected for a while. The Fort is surrounded by beautiful red-coloured walls and is visible from Panjim.
Reis Magos Fort is a must-see Goa tourist place. The best time to visit is October and February when the weather is comfortable and pleasant. While you are at it, you should also visit Casino Paradise, one of the oldest casinos in Goa. Nearby beaches include Baga Beach, Chapora Beach, and Miramar Beach. It was important for the Portuguese because it offered a panoramic view of the estuary and protected the Portuguese territory from the Marathas. In the 18th century, it served as a ruler's residence and hosted various officials who came via Lisbon. One more must-visit Fort in Goa is Cabo De Rama Fort, a famous Goa tourist place.
Some of the places to Visit in Goa near 
Reis Magos Fort
Fontainhas Heritage Walk

Candolim Beach

Coco Beach
Dudhsagar Falls
The Dudhsagar Waterfall is located on the border between Goa and Karnataka, on the Mandovi River. This flows through a valley between two mountain ranges – the Eastern Ghats and the Western Ghats. The waterfall is one of India's most beautiful waterfalls and a major Goa tourist place.
Dudhsagar falls, is a four-tiered waterfall structure that is among the tallest in India. And the white water plunges off a sheer mountain face from a height of almost 1017 feet. Dudhsagar falls are part of Bhagwan Mahaveer Sanctuary and Mollem National Parks. Many youngsters prefer trekking to the waterfalls through the national park, but this trekking remains closed most of the time due to its risks.
 A safer way to reach Dudhsagar falls is to reach the Mollem National Park and take a ticket for the forest Van at the park authority. Based on the visitor count, the Park authority issued forest Zeep and a driver to visit the falls. And the visitors must return in the same jeep to the park gate. One more trekking route to reach Dudhsagar falls is from Castle Rock in Karnataka. The trekking route is difficult, and one must go with all the preparations. But it's all worth it once in a lifetime to visit this beautiful and scenic Dudhsagar falls, which is a must-visit Goa tourist place.
Some of the places to Visit in Goa near 
DudhSagar Falls
Mollem National Park

Tambadi Surla Mahadev Temple

Jeep Safari
 

Mangeshi  Temple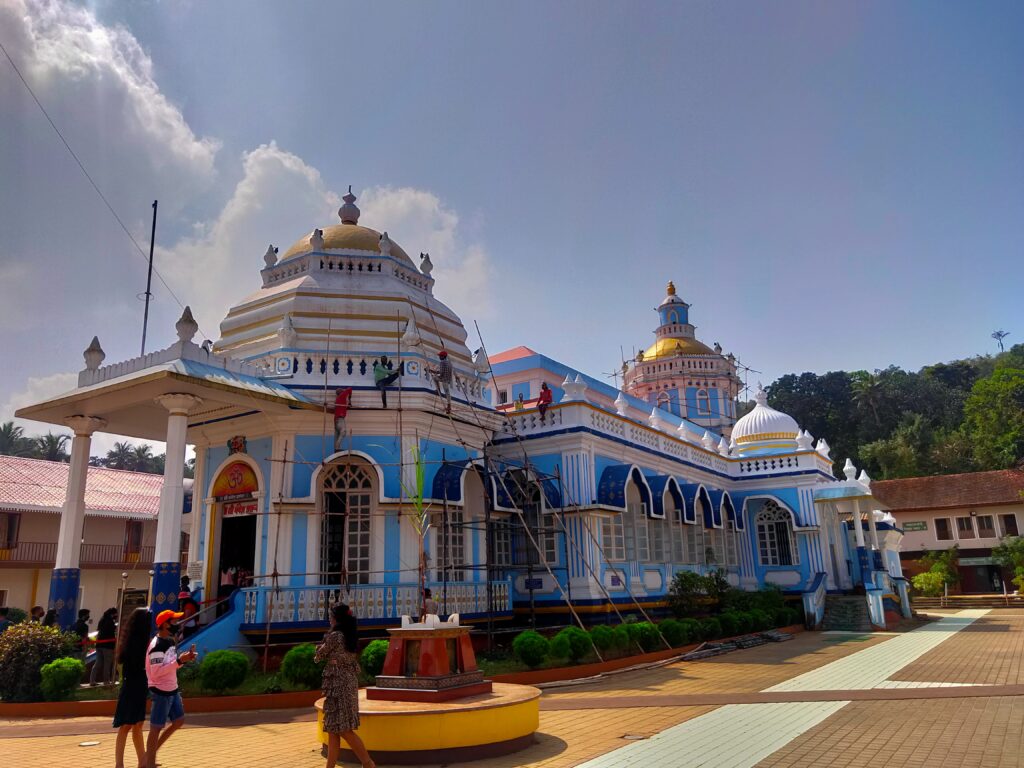 One of the best places to visit in Goa is the Mangeshi Temple. This 450-year-old temple features a seven-story tower dedicated to the Hindu god Shiva's incarnation, Mangeshi. Its structures surround a sacred pool of water. Every day, devotees perform pujas at this temple. If you arrive at the right time, you can catch the idol procession accompanied by music.
Mangeshi temple is among the best places to visit in Goa which allows the visitors to experience the authentic Goan life and their culture, apart from the westernized beach culture. They built this temple in 1560 when the Mangesh Linga was relocated from its original location in Kushasthali to Mangeshi. As a result of the Portuguese invasion. The building is reconstructed from a basic structure to the magnificent edifice it is now 150 years later, during the Maratha era.
Marked at the top of Goa tourist places, this temple is located in the Mangeshi village of Goa. The usual visiting time is 6 AM to 10 PM in the late evening. Located 20 km from Panaji, the capital of Goa, it is easily commutable by Bus/train. Mangeshi temple is between the lush green forests, making it a perfect place for spiritual and meditative retreats.
Some of the places to Visit in Goa near Mangeshi Temple
Basilica of Bom Jesus

 Anjuna Beach

Church

 of Our Lady
Palolem Beach:
This is one of the most popular tourist places to visit in Goa. It offers a great view of the Arabian Sea and is lined with palm trees. The beach offers many activities, such as surfing, kayaking, canoeing, or even relaxing on the sand under an umbrella. Located in Southern Goa, in Canacona village, Palolem beach offers a lot to its tourists.
Palolem beach is only a mile long but worth visiting for the scenic Arabian Sea. The southern part of the beach is a little unsafe as it receives high tides. If you are visiting with family, you should only stay and enjoy the north beach. Palolem beach has many beach huts and cottages, like Agonda Beach, overseeing the beach to give memorable stays to the guests.
Not much local street food is available at this beach, but many restaurants on the beach. They serve fresh seafood, along with other Goan delicacies. Other popular beaches nearby Palolem are Baga Beach, Anjuna Beach, Agonda Beach, and Butterfly Beach.
Some of the places to Visit in Goa near Palolem Beach
Palolem Island Reserve

Himalayan Therapeutic Studio

Butterfly Beach

Agonda Beach

Shiva & Shakti Healing Centre
Goa Airport:
Goa, too, has an International Airport named Dabolim International Airport – GO, located in Dabolim city of Goa. The nearest towns to Goa Airport are Vasco Da Gama (4 Km away), Margao (23 Km away ), and Panaji (30 Km away). It has good taxi services to reach any city in Goa.
Different Airlines offer regular flights to domestic and international trips from Goa. Some traditional airlines are Indigo, Spice Jet, Air Asia, Oman Air, Qatar Airlines, and many others. It has flights to almost all the major cities in India, like Bangalore, Lucknow, Chennai, Hyderabad, Kolkatta, Mumbai, Pune, Rajkot, Delhi, Ahmedabad, Nagpur, Surat, Indore, Mysore, and others.
Goa Railway Station:
You might have heard about the Konkan Railways, the fastest and offers a beautiful train route to Goa from other cities. Goa has 19 railway stations and two main junctions – Margao and Vasco-da-Gama. Both the main railway junctions are located in Southern Goa; the South Central Railway terminus is at Vasco-da-Gama, and the Konkan Railway terminus is at Margao.
Wantedly, tourists book trains between Collem Railway Station and Castlerock station as it passes through the beautiful Dudhsagar falls. One cannot get down there, no stop. But can experience the beautiful scenery of lush green forest and sprinkling waters of Dudhsagar falls for 20-30 secs while sitting in the train itself. The scenery looks like the below picture, which I took when a train was passing through Dudhsagar falls.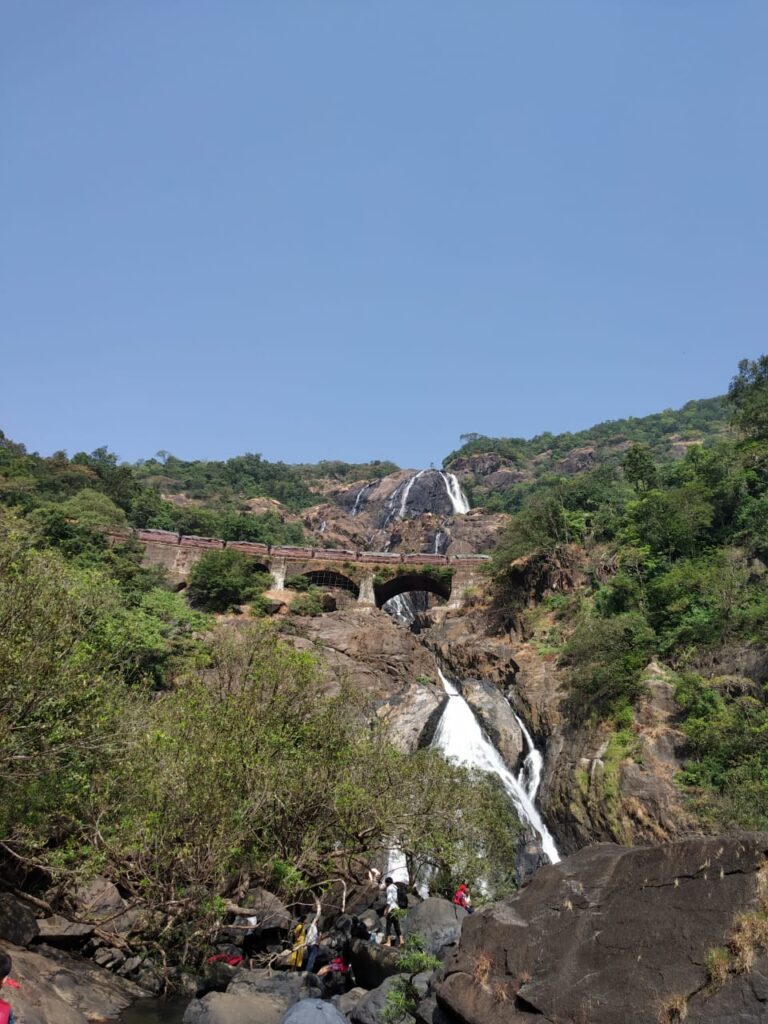 Bangalore to Goa:
The distance from Bangalore to Goa is about 550 KM, an 8-9 hours journey. One can choose any mode of transport – Train, Flight, Bus, or Cab to reach Goa from Bangalore.
Bangalore to Goa flights – Bangalore to Goa flight charges range between 2500 to 10,000 depending on the week's day and time one travels. And it takes around 1-1.5 Hrs to reach Goa from Bangalore. During long weekends and seasonal festivals like Sunburn, flight charges rise to twice or thrice their original price. Plan well before and book the tickets at least 2-3 months before your journey dates.
Bangalore to Goa train – You can also choose to travel by train from Bangalore to Goa, as it has direct trains running on regular bases – from Monday to Sunday. Bangalore to Goa train charges ranges between Rs. 150 (normal sleeper coach) to Rs. 2000 (for AC coach). It takes 10-14 hrs to reach Goa from Bangalore, and one can board a train from either KSR station (Majestic Bangalore) or YPR (Yeshwantpur Bangalore) to Goa stations – Margao and Vasco-da-Gama stations.
Banglore to Goa Bus – On daily bases, many bus operators run direct buses from Bangalore to Goa. Some travel operators are VRL Travels, Paulo Travels, SRS Travels, and Orange Tours. Bus charges again depend on the type of bus and day you choose to travel, ranging between Rs.600 to Rs.2000. It takes around 10-12 Hrs to reach Goa from Bangalore by Bus.
When I travel, I book a train to Karwar or Mangalore from Bangalore, spend a few hours (half a day to a day) visiting nearby beaches and temples, and then board the next train to Goa from Karwar or Mangalore. You can get small hotels near the railway stations to take a bath and freshen up at low prices ( Rs. 200 to Rs. 400).
 Goa tourism is famous throughout the year between its hot weather and humidity. Youngsters especially visit Goa to celebrate special occasions like Birthdays, Promotions, Batchelerate parties, Office Parties, etc. Though the best time to visit Goa is from September to February, you can visit any time of the year. It is better to avoid it in the peak rainy season as Goa, and surrounding cities sometimes get high rain.