What is Diwali? Diwali, also called Deepavali, is a festival of lights. People of many religions, like Hindus, Sikhs, and Jains, all over India celebrate this festival. The festival remembers the victory of light over darkness. It's also India's most important Hindu festival, just like Dasara. Deepavali is a five-day festival with many rituals and traditions. According to the Hindu religion, Diwali celebrates the victory of good over evil. Also known as the Festival of Lights because it celebrates the victory of light over darkness, good over evil, and knowledge over ignorance.
One of the most important rituals during this festival is lighting lamps and candles in every house, temple, public place, or business building. In some parts of India, people also use fireworks(crackers) to celebrate this occasion. In India, it is traditionally believed that the Goddess Lakshmi visits her devotees on "Deepavali/Diwali" and generously showers blessings. Often people donate money or other items to temples and charities in honour of Goddess Lakshmi.
Religious Significance and Beliefs around Diwali in India
Deepavali is widely celebrated in India by people of different religions. They have different faiths and religious significance, following different historical stories and events. Despite this, the festival symbolizes the same spiritual victory of light over darkness, knowledge over ignorance, and good over evil.
Hinduism:
One tradition connects the Diwali celebration to the Ramayana, a Hindu epic in which Rama, Sita, Lakshman, and Hanuman return to Ayodhya on this day after spending 14 years in exile after Rama's army of good defeated Ravana's army of evil. Another widely accepted story states that during the Dvapara Yuga period, Krishna, a Vishnu avatar, slew the demonic Narakasura, the evil ruler of Pragjyotishapura, close to modern-day Assam, and freed 16000 captive ladies.
Jainism
The Jain tradition celebrates Diwali in remembrance of "Mahavira Nirvana Divas," which commemorates Mahavira's actual death and ultimate nirvana. Many regions of India celebrate Jain Diwali, which follows similar customs to Hindu Diwali, including burning lights and praying to Lakshmi. However, the devotion to Mahavira continues to be the main focus of Jain Diwali.
The Jain legend states that this custom of lighting lamps dates back to the day of Mahavira's nirvana in 527 BCE when 18 monarchs who had assembled to hear Mahavira's final teachings declared that lamps should be lit in honour of the "great light, Mahavira." This widely held view of the history of Deepavali and its importance.
Sikhism
In remembrance of virtuoso Hargobind's liberation from the Gwalior Fort jail by the Mughal emperor Jahangir and the day he arrived at the Golden Temple in Amritsar, Sikhs observe Bandi Chhor Divas. virtuoso Amar Das, the third virtuoso of the Sikhs, constructed a well in Goindwal with 84 steps to foster a sense of community and welcomed Sikhs to bathe in its holy waters during Baisakhi and Diwali.
How To Celebrate Diwali?
How to celebrate Diwali? This can be answered directly by knowing How India Celebrates Diwali or Deepavali. Different religious people and states have their customs and traditions followed for years to celebrate Diwali. But, the most significant and general Diwali festivities that every religion includes are – Worship Goddess Laxmi, Lighting lamps, different Diwali Sweets, and Exchanging Gifts and Crackers.
When is Diwali 2022?
Deepawali is a complete 5 Days festival in India, with different activities performed each day, which falls in October or November. Diwali 2022 is celebrated from October 22 to October 26.
Diwali 2022 – Festivities Calendar
22nd October – Dhanteras or Dhan Trayodashi
23rd October – Narak Chaturdashi or Choti Diwali
24th October – Diwali or Deepawali
25th October – Govardhan Puja
26th October – Bhai Dooj or Bhau Beej
Day 1 of Diwali:
Dhanteras, Dhanatrayodashi, Yama Deepam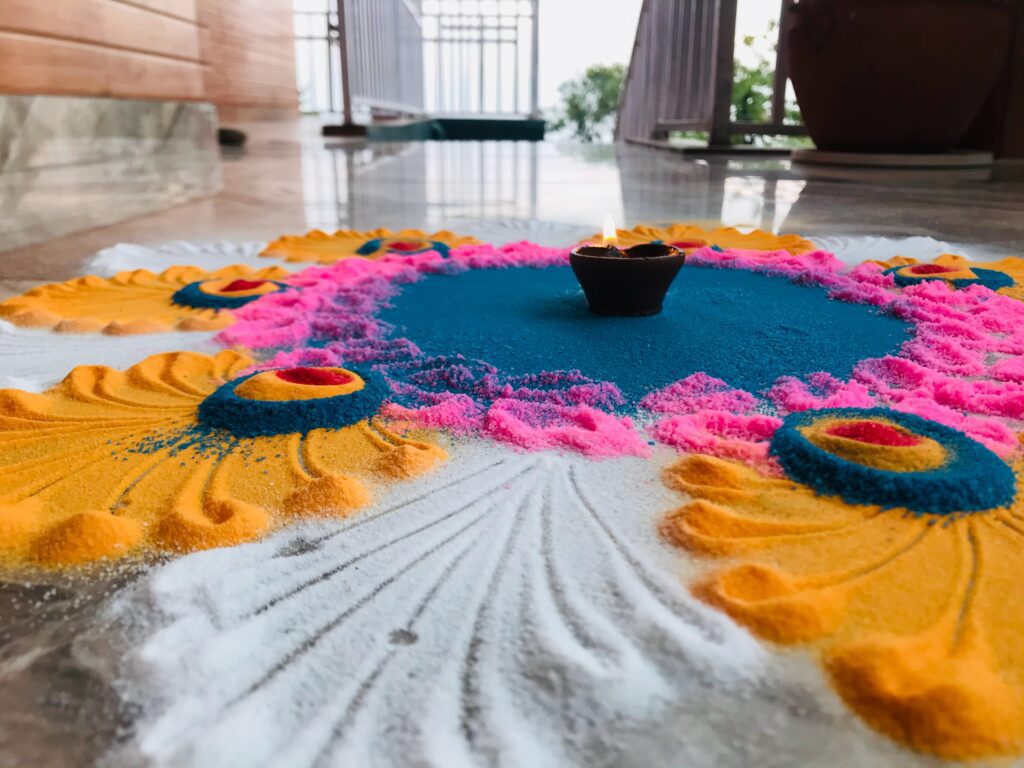 The thirteenth day of the dark fortnight of Kartik and the start of Diwali are celebrated on Dhanteras, which is formed from the words Dhan, which means wealth, and teras, which means thirteenth. Numerous Hindus clean their homes and workplaces on this day. They set up Diyas—small earthen oil-filled lamps—near Lakshmi and Ganesha statues, which they light for the following five days.
Boys and men decorate the roofs and walls of family houses, markets, and temples. At the same time, women and children adorn the entryway of homes and businesses with rangolis, colourful patterns produced from rice flour, flower petals, coloured rice, or coloured sand. This is believed to please the Yama, the death deity, and prevent an early demise.
Day 2 of Diwali:
Naraka Chaturdashi, Kali Chaudas, Chhoti Diwali, Hanuman Puja
The second day of celebrations, Naraka Chaturdashi, commonly referred to as Chhoti Diwali, falls on the fourteenth day of the second fortnight of the lunar month. Chhoti means tiny, Naraka means hell, and Chaturdashi means "fourteenth," respectively. The purpose of the day and its rituals is to free any trapped souls from "Naraka," or hell, and their misery.
To clean up and enhance their appearance, women use Ubtan, a special gram flour blended with herbs and turmeric. It also falls on Kali Chaudas Day. On the night of Kali Chaudas, it is thought that ghosts prowl the streets, and Hanuman, the God of force, strength, and defence, is worshipped to seek protection from the ghosts. Hindus in South India and Marathi customarily take a ritual bath before daybreak and then receive an oil massage from the family's elders. Many people go to their preferred Hindu temple.
Day 3 of Diwali :
Lakshmi Puja, Kali Puja
The third day—which also happens to be the final day of the lunar month's dark fortnight—is when the event is at its busiest. Puja rites are performed on the grounds of small businesses and shops. According to this perspective, the Diwali night's lights and fireworks signify a joyful and symbolic farewell to the departed ancestral souls.
The Jains' and Sikhs' rites and celebrations, where social and communal ties are strengthened, are comparable to those of the Hindus. Major temples and residences are illuminated, all share holiday fare, and friends and family are remembered and visited with gifts.
Day 4 of Diwali :
Annakut, Balipratipada (Padwa), Govardhan Puja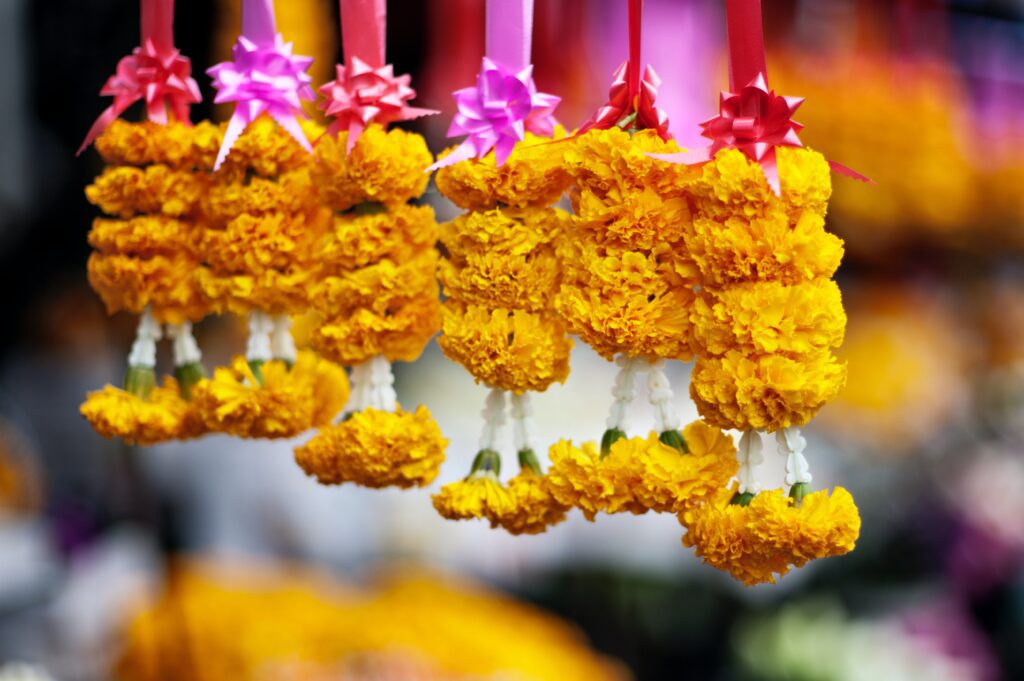 The relationship between a wife and husband is traditionally celebrated on this day, and in some Hindu communities, husbands will do so by giving gifts to their spouses. In some cultures, parents host a celebratory lunch and offer gifts to their newlywed daughter or son and their spouses.
The fourth day is Govardhan Puja in some rural communities in India's north, west, and centre. This celebration honours the mythical story of the Hindu god Krishna rescuing the farming and cowherd communities from endless rains and floods brought by Indra's wrath by lifting the Govardhan mountain. The first day of the new year, known in Gujarat as Annakut, is observed by buying necessities such as salt and other "good things in life," or sabras, praying to Krishna, and visiting temples.
Day 5 of Diwali:
Bhai Duj, Bhau-Beej, Vishwakarma Puja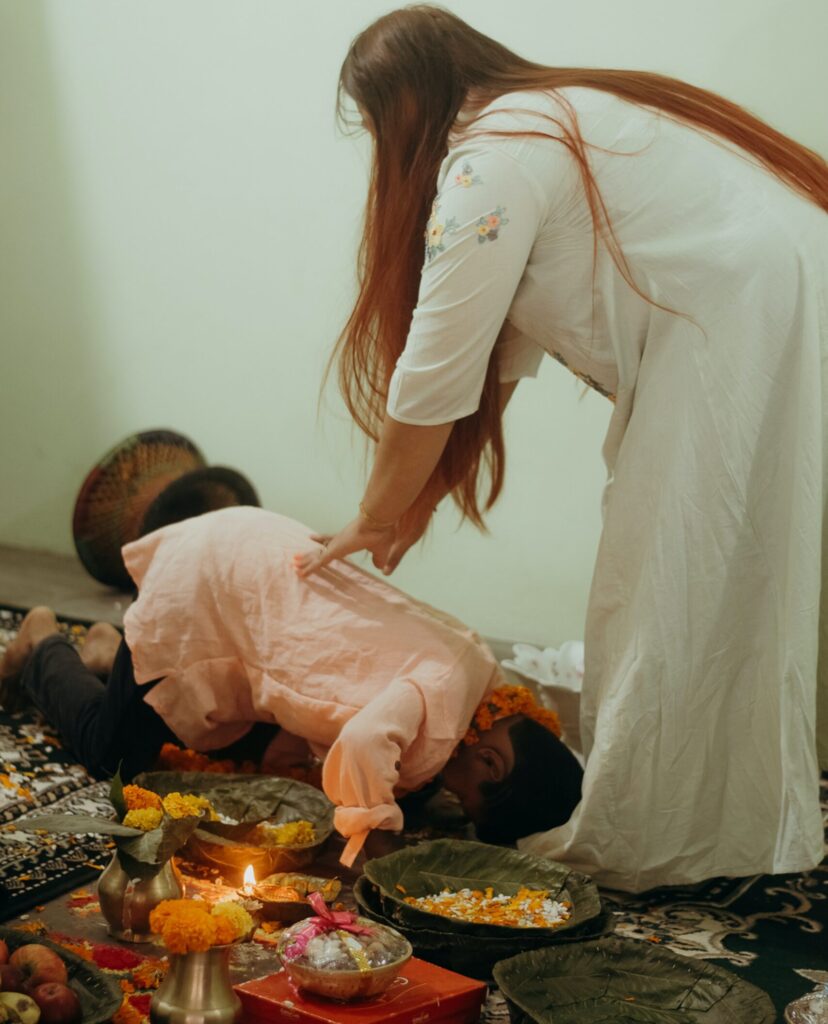 The final day of the celebration is known as Bhai Duj, Bhau Beej, Bhai Tilak, or Bhai Pher (literally, "brother's day"), similar to Raksha Bandhan in spirit. It honours the sister-brother bond by having the brother travel to visit the sister and her family. Some see this joyful day as a sign of Yama's sister, the Yamuna, presenting Yama with a tilaka. In contrast, others see it as Krishna's entry into the house following the defeat of Narakasura.
On this day, the ladies of the family meet, hold a puja, and offer prayers for the welfare of their brothers before returning to the custom of feeding and gift-giving for their brothers.
Highlights of Diwali Celebration:
Diwali Lights – Lighting Lamps or Diyas: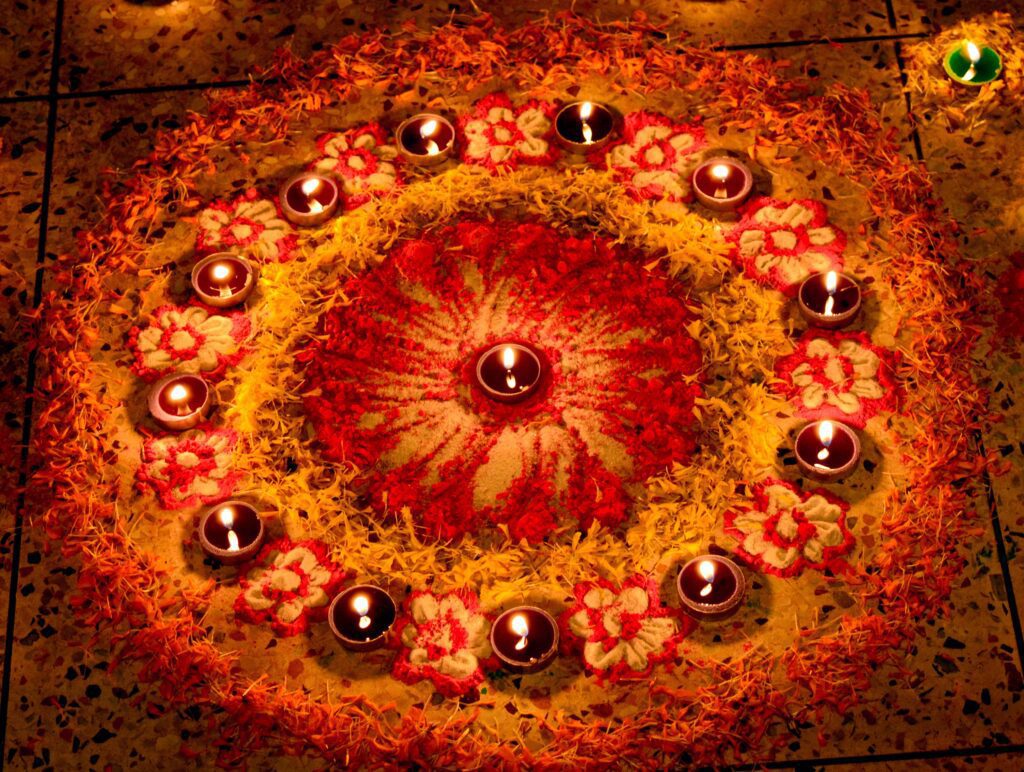 As we know. Diwali is the festival of lights, and it is a time when people light lamps or candles, decorate their homes with lights, and play music and dance in households. In earlier days, the tradition was to light only earthen lamps or mud lamps( Diya or Deepa). Gradually the lamps took a modern touch, and few people use candles or electric bulbs during Diwali. Thanks to technology.
It is believed that lighting the lamps or Diya represents the brightness in our lives against darkness. The oil used to light these lamps symbolizes the sun's rays, symbolizes hope and prosperity, and brings energy and happiness. Lamps illuminate houses in India during dawn on Diwali Day.
Diwali Cleaning and Shopping – Purifying the House: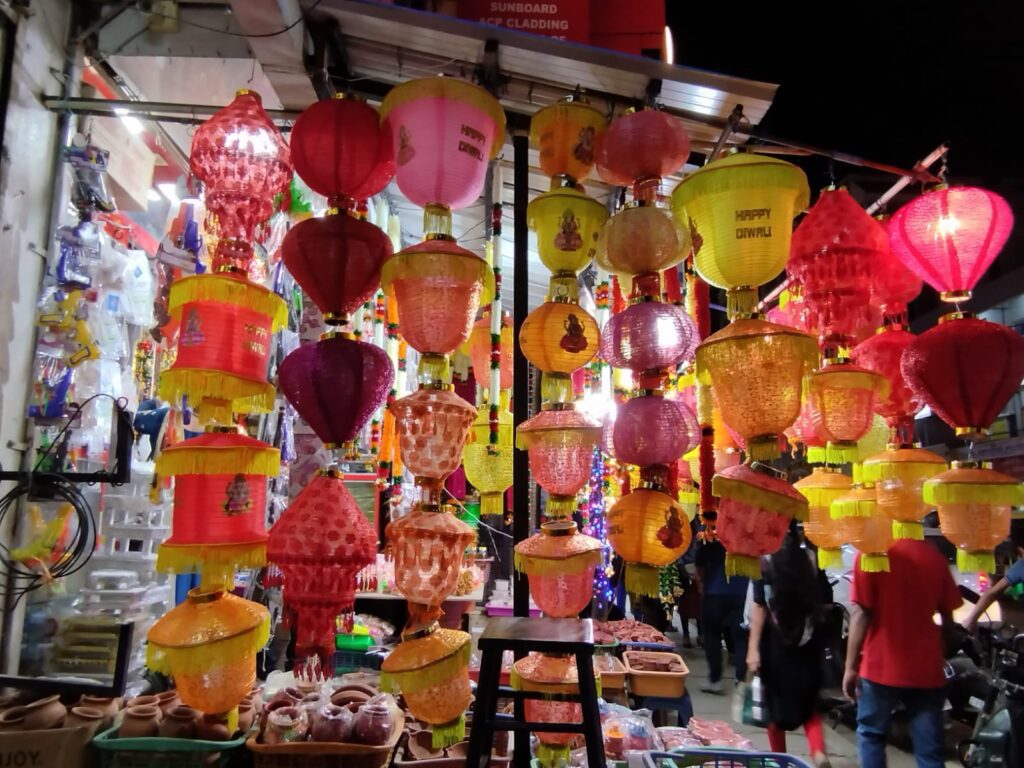 On Day 1 of Diwali, people clean their houses, paint and decorate with new items shopped for Diwali. It is believed that cleaning and throwing out all the old or worn-out things purify the house and welcomes new and fresh things in life. People also shop for new clothes, to dress up on Diwali, and gifts for others.
Diwali Rangoli – Decorating and inviting the Goddess.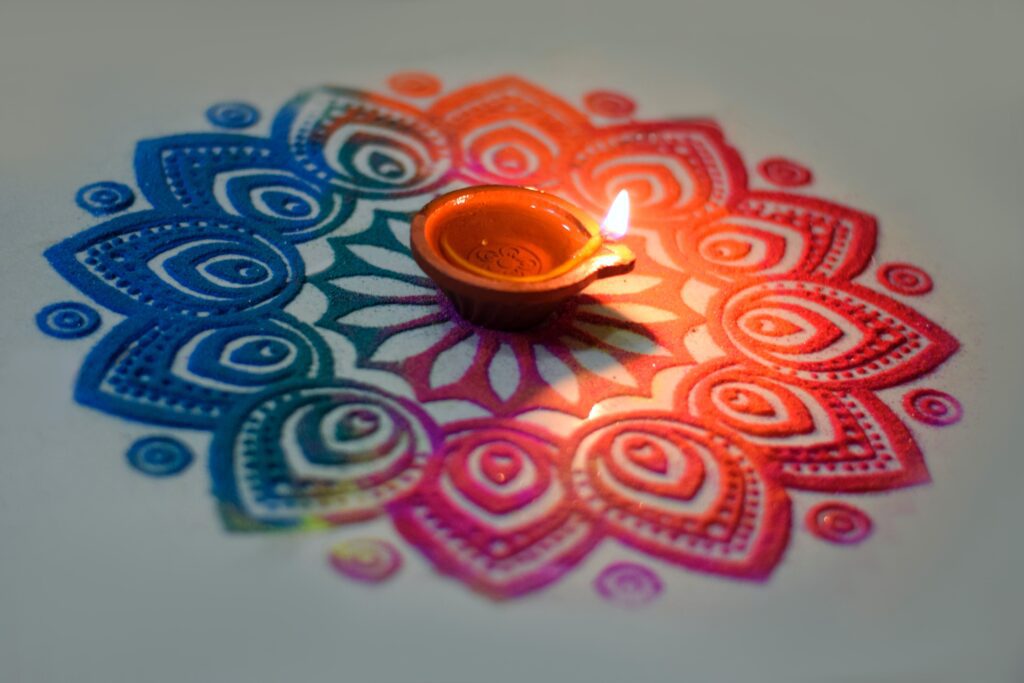 Rangoli is a decorative art traditionally painted on floors or house entryways. It is said to welcome guests and bring good fortune, wealth, and success to the home and family. Not just on Diwali but also on other festival occasions like Onam and Pongal, and everyday morning, Indian women perform this ritual as a routine.
The Rangolis are decorated with various patterns, most frequently a flower and rangoli powder. At the entrances of homes and businesses, colourful Rangolis made of flowers or coloured powder are displayed.
Crackers – Keep Evils Away: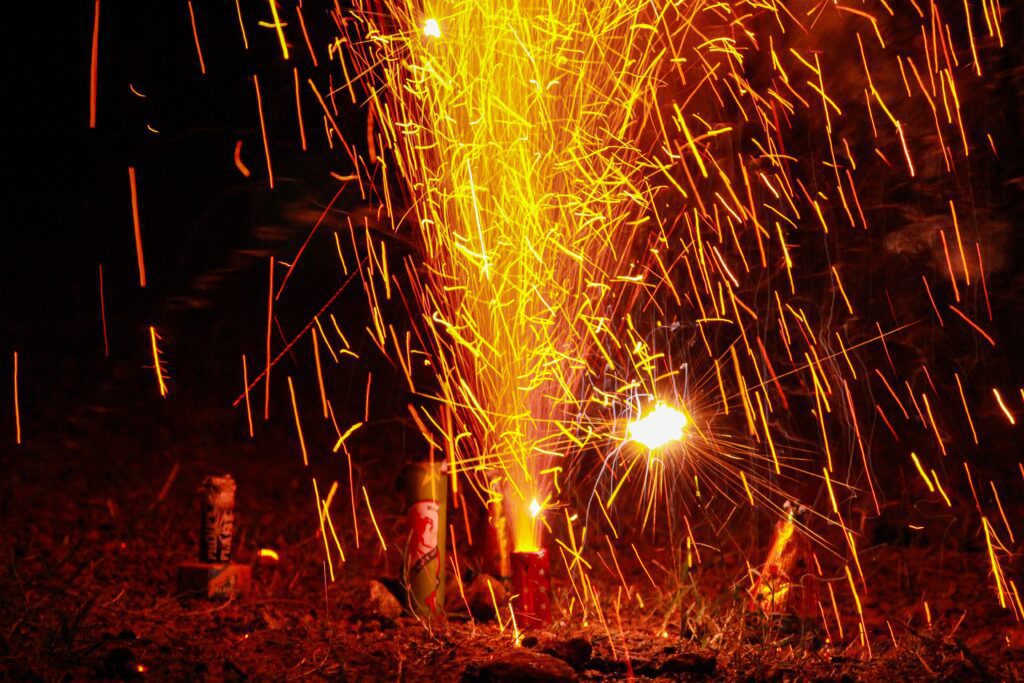 Many celebrate Deepavali during Laxmi pooja by bursting the crackers or some fireworks. It is believed that the Sound of bursting crackers keeps evil away. There is not enough historical and mythological evidence on how bursting the crackers came into Diwali celebrations, but children and youngsters enjoy this activity on Diwali. And the whole sky looks colourful and bright with crackers.
Diwali Sweets – Sharing Happiness: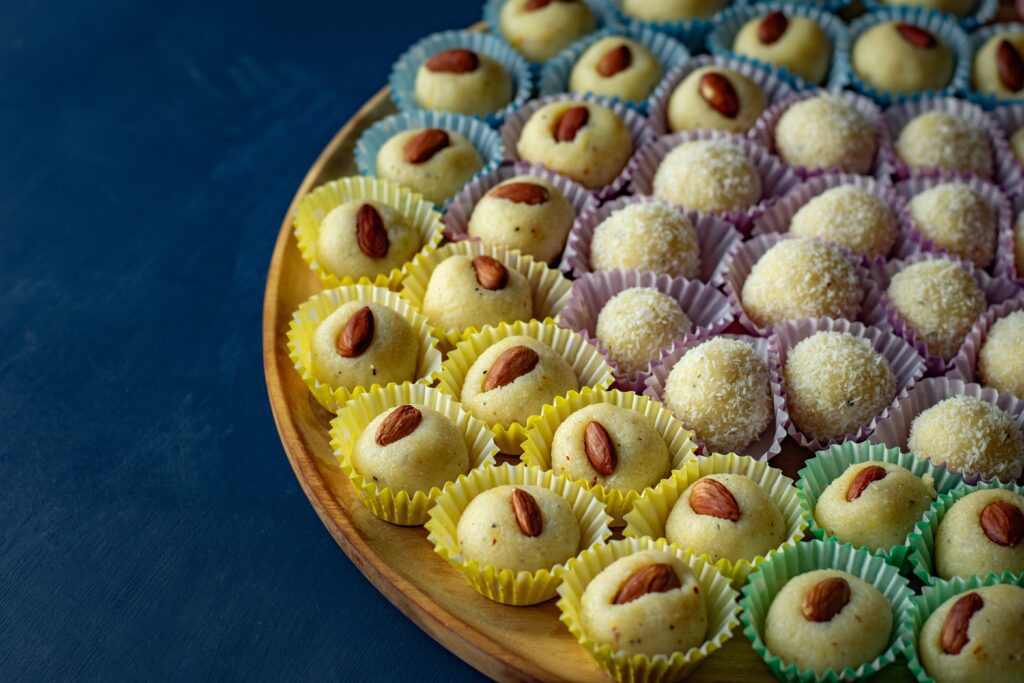 Exchanging and eating sweets is an integral part of Diwali in any religion. People exchange happiness by exchanging sweets with their family and friends. Flour, semolina, rice, chickpea flour, powdered or pasted dry fruit pieces, milk solids (mawa or khoya), and clarified butter(ghee) are used to make a variety of Diwali sweets/desserts.
These are subsequently formed into various foods, including rolled and stuffed delights like karanji, shankarpali, susiyam, and pottukadalai, as well as laddus, barfis, halwa, kachoris, and Sandesh. On occasion, this is covered in edible silver foil. Calories don't count on this happy day, and most of the ingredients used in these sweets are healthy.
Diwali Wishes And Diwali Greetings:
Another major part of Diwali or Deepavali celebrations is exchanging Diwali greetings and wishes with family and friends. I still remember when I used to shop for Diwali greetings in the market a week before the celebration started. Also, most of us prepared Diwali greetings on our own during school days. We start surfing for Diwali wishes, images and quotes online when the Diwali season appears.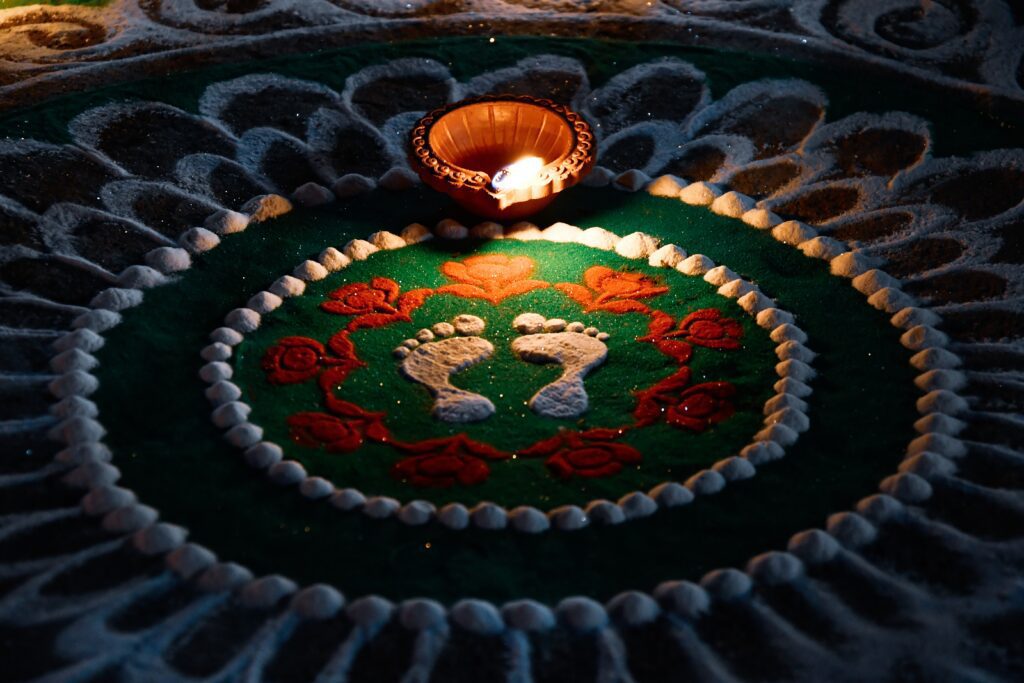 To simplify your search, I have collected some good Diwali Wishes; happy Diwali Wishes for you here. 
Let's thank this Diwali for everything we have to be grateful for: our health, our loved ones, our friends, and God's everlasting grace. Happy Diwali 2022!

This glorious Diwali, may these fireworks burn away all of our worries, concerns, and sorrows while illuminating our lives with happiness, joy, and serenity.

Hope this Diwali offers new smiles, uncharted paths, fresh perspectives, and boundless happiness, much like the rangoli's vibrant colours – Happy Diwali.

May your life be illuminated by Diwali lights, brightened by rangoli colours, sweetened by wonderful Diwali delicacies, and blessed by Goddess Lakshmi with everything you have asked for.

I wish you and your family the best blessings from Goddess Lakshmi and Lord Ganesha. May your life fill with success, money, wisdom, and prosperity. A happy Diwali 2022 to you!
Controversies around Cracker burning during Diwali:
Though many enjoy burning crackers on Diwali, there are arguments to stop this tradition and ban it from burning on Diwali, as it leads to other issues. During Diwali in India, there are also more burn injuries due to the use of fireworks. Adults are the typical victims of these injuries, linked to a specific firework, "anar (fountain)", which has been determined to be to blame for 65% of them. Most of the wounds of the Group I variety are mild burns that need outpatient treatment.
Another issue associated with Diwali crackers is air and Sound pollution. After the crackers, tiny dust particles fall on nearby surfaces covered in pollutants, including sulfur and nitrogen oxides and compounds like copper, zinc, sodium, lead, magnesium, and zinc oxide. The environmental impact of these invisible yet dangerous particles is high, which endangers people's health. While many argue that one day of burning crackers does not significantly impact the environment, many other climate issues must be resolved first.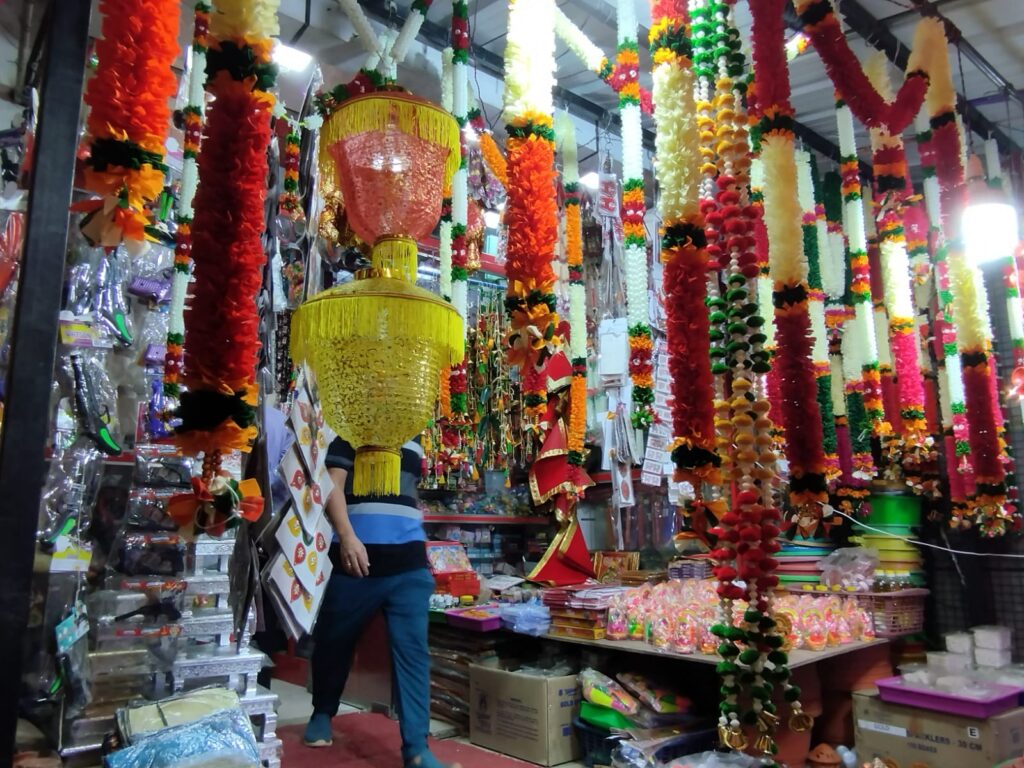 The whole of India begins the countdown to welcome Diwali 2022. Stay careful while burning crackers, and do not allow children to burn the crackers without parents' guidance. Wish you all a Happy and Safe Deepavali, May Goddess Laxmi and Lord Ganesh bless you all abundantly.
You have already planned to visit India this Diwali. Make sure you don't miss visiting these places in India to experience the best Diwali 2022 celebration in India.
HAPPY  Deepawali