We all dream of traveling the world and exploring new destinations always. But the main concern we face here is our travel budget. So we all basically want to travel without breaking the bank. And, trust me, that's not a bad idea. To travel on a budget, we must look for more affordable travel plans and strategies. And the most significant part of our travel plan is booking flight tickets. In fact the cheap flight tickets.
Well, here I have created a comprehensive guide to booking cheap flight tickets. Let me provide you some valuable information and tricks to help you find the best deals on flight bookings.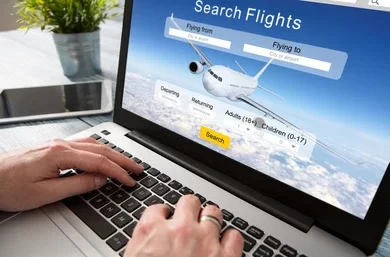 Power of VPN for Cheaper Flight Prices
If you're looking to outsmart airline dynamic pricing, a VPN (Virtual Private Network) can be your secret weapon. By changing your IP address and appearing to browse from a different location, you can potentially unlock better deals. Consider using a reliable VPN service like ExpressVPN, which offers a wide range of server locations to choose from.
Optimize Your Travel Schedule for Savings – Travel Dates
Flexibility is another key element in finding affordable airfares. Consider adjusting your travel dates to off-peak seasons or midweek flights when demand is lower. These less popular travel times often come with discounted prices. Explore the calendar and be ready to adjust your plans for substantial savings.
Set Price Alerts to Stay Informed
Airlines often keep changing prices depending on various factors. So taking advantage of the price fluctuations will definitely help in booking cheap flight tickets. To do that, we should set flight price tracking alerts to stay updated on price changes. Most of the airline's applications, websites, and travel agencies offer this option, to send price change alert notifications. Setting it on will alert you as soon as they become available, ensuring that you don't miss out.
Utilize special debit and credit card offers
Many banks offer exclusive discounts and codes for flight bookings. Take advantage of these offers by searching for "bank name + flight discounts code" to find special codes that provide additional discounts. By using your bank card, you can unlock additional savings on your flight tickets.
Make use of wallet cash
Virtual wallets offered by platforms like MakeMyTrip, Goibibo, and Yatra allow you to earn cashback that can be used to lower the cost of your flight tickets. These virtual wallets provide an easy way to save money on flights, hotels, and other bookings.
Reap the Benefits of Airline Rewards Programs
Joining airline rewards programs can be highly beneficial for frequent flyers or even occasional travelers. These programs offer perks such as free upgrades, priority boarding, and exclusive access to discounted fares. By accumulating miles or points through your travels or credit card purchases, you can redeem them for future flights or other travel-related benefits. Research different airlines' rewards programs and choose the one that aligns with your travel patterns.
Use mobile apps for booking
Booking flights through mobile apps can provide exclusive discounts and cashback offers. Many travel websites offer app-specific coupon codes that can further reduce the cost of your flight tickets. Additionally, airline apps often provide extra discounts on in-flight meals and other services.
Off-Peak Travel
Exploring Discounts during Low Seasons Traveling during off-peak seasons can lead to substantial savings. Destinations experience fluctuations in demand throughout the year, resulting in lower fares during less popular periods. Embrace the beauty of quieter travel seasons and enjoy significant discounts.
Book two single flights from different providers
For maximum savings, consider booking two one-way flights instead of a round-trip or connecting flight. This strategy allows you to maximize the cashback and discounts offered by different providers. Although it may require more effort, it can result in significant savings for higher-value or international flights.
Book directly from the airline's website
If you're not finding any appealing cashback or discount offers on intermediary websites, it's worth checking the prices directly on the airline's website. In some cases, the prices on the airline's website may be slightly cheaper, as they don't include the convenience fees charged by intermediaries.
The Early Bird Catches the Best Deals
One of the crucial factors in securing cheap flight tickets is planning ahead. By booking your tickets well in advance, you increase your chances of finding the best deals available. Airlines often release discounted fares several months before the departure date. To take advantage of these offers, it is recommended to start your search at least 6-8 weeks prior to your desired travel date.
The Power of Price Comparison Websites
In the digital age, price comparison websites have become invaluable tools for travelers. These platforms aggregate flight information from various airlines and display them side by side, allowing you to easily compare prices and choose the most cost-effective option. Google Flights, Kayak, and Skyscanner are a few well-known flight search engines. To guarantee you're getting the greatest deal available, visit several websites.
Make Your Search in Incognito Mode
When browsing for flight tickets, it's essential to know that airlines and travel websites often track your search history and may increase prices based on your repeated visits. Use your browser's incognito mode or delete your cookies before starting a fresh search to avoid this. By doing this, you can make sure that the rates you are viewing are true and impartial.
Red-Eye Flights
If you are okay traveling at night, then it's an advantage to booking cheap flight tickets. Choosing overnight flights over the daytime can significantly reduce flight costs. These overnight flights are generally called "Red-eye flights." They usually takeoff late at night and land early morning. It also helps in reducing hotel charges as it maximizes your day.
Additional Tips for Budget Travelers
Fly with Budget Airlines
Consider flying with budget airlines that offer lower fares compared to full-service carriers. While these airlines may not provide all the amenities, they can significantly cut down on your travel expenses.
Be Open to Layovers
Opting for flights with layovers can often result in significant savings. Just make sure to check the duration of the layover to ensure it's reasonable and doesn't cause inconvenience.
Pack Light and Avoid Extra Fees
To avoid additional charges, travel with carry-on luggage whenever possible. Most budget airlines charge for checked bags, and these fees can quickly add up. Packing light not only saves you money but also makes your travel experience more hassle-free.
In conclusion, by following the insider tips shared in this article, you'll be well-equipped to book cheap flight tickets. Remember to plan ahead, stay flexible, utilize price comparison websites, and take advantage of airline rewards programs. Additionally, be mindful of using incognito mode during your search and consider budget airlines for cost-effective travel. By implementing these strategies, you can save money on your flights and make your travel dreams a reality. Bon voyage!
Are budget airlines reliable for cheap flights?
Budget airlines can offer significantly lower fares, but it's essential to research their reputation and read reviews before booking. Some budget airlines may have stricter baggage policies or provide fewer amenities compared to full-service carriers.
Is it better to book one-way or round-trip tickets?
Booking One-way or round-trip totally depends on one's itinerary. But booking two separate tickets, sometimes from individual airlines is more beneficial than booking round-trip.
Why should I use incognito mode when searching for flight tickets?
Airlines and travel websites may track your search history and potentially increase prices based on repeated visits. Using incognito mode or clearing your cookies helps ensure that you see accurate and unbiased prices.