Welcome to the fascinating city of Bangkok! Still confused about where to do and what are the must places To Visit In Bangkok? Here we have listed the top 15 locations that will wow you. Bangkok is a hidden gem just waiting to be found with its colorful markets, rich history, and mouthwatering street food. So gather your traveling friends and get ready to see Bangkok's secret attractions.
Top 15 Places To Visit In Bangkok
The Grand Palace: Where Royalty Meets Splendor
Prepare to be captivated by the mesmerizing allure of The Grand Palace. Step into a world of intricate architecture, dazzling golden spires, and tales of ancient royalty. As you wander through its hallowed halls, you'll discover the fabled Wat Phra Kaew, home to the revered Emerald Buddha statue that sparkles with an ethereal glow.
Wat Arun: A Stairway to Architectural Wonder
Behold the awe-inspiring Wat Arun, also known as the Temple of Dawn. Climb its towering prang, and let the breathtaking panorama of Bangkok's skyline and the meandering Chao Phraya River take your breath away. As the sun sets, witness the temple's facade shimmer in hues of gold, creating a magical ambiance.
Wat Phra Kaew: The Emerald Beauty
Nestled within The Grand Palace, Wat Phra Kaew is a true gem of Bangkok. Prepare to be mesmerized by its intricate details, vibrant colors, and the esteemed Emerald Buddha. Carved from a single block of jade, this sacred statue holds centuries of history and devotion within its graceful form.
Chatuchak Weekend Market: A Shopper's Paradise
Calling all shopaholics! Get ready to unleash your inner bargain hunter at the renowned Chatuchak Weekend Market. With its labyrinthine alleys, bustling stalls, and treasure trove of unique finds, this market promises a shopping experience like no other. From trendy fashion to quirky souvenirs, let your senses wander amidst the vibrant tapestry of sights, sounds, and aromas.
Wat Pho: Home to the Reclining Buddha
Prepare to be humbled by the sheer magnificence of Wat Pho. Enter a realm of tranquility as you marvel at the colossal Reclining Buddha, exquisitely adorned with gold leaf. Explore the temple's serene courtyards, and ornate stupas, and be greeted by the gentle rustling of saffron-clad monks.
Chinatown: Where Culture and Culinary Delights Collide
Step foot into the bustling streets of Bangkok's vibrant Chinatown, where an explosion of colors, scents, and flavors awaits. Immerse yourself in the lively atmosphere as you navigate through narrow alleyways adorned with red lanterns. Indulge in a culinary adventure, savoring delectable street food, from steaming dim sum to aromatic stir-fries, and experience the vibrant fusion of Thai and Chinese cultures.
Jim Thompson House: Tales of Silk and Intrigue
Discover the intriguing legacy of Jim Thompson, the American silk entrepreneur, at the captivating Jim Thompson House. Admire the traditional Thai architecture, wander through lush gardens, and immerse yourself in a collection of Asian art and artifacts. Let the whispers of silk and the enigmatic tales of Thompson's life transport you to a bygone era.
Floating Markets: Sail into a World of Flavors
Embark on an adventure to the captivating floating markets of Bangkok. Cruise along the picturesque canals as vendors in traditional wooden boats peddle their wares. Immerse yourself in a kaleidoscope of colors, flavors, and scents as you sample fresh tropical fruits, sizzling stir-fries, and mouthwatering Thai delicacies. Let the vibrant energy of the markets envelop you, creating memories that will last a lifetime.
Khao San Road: The Beat of Bangkok's Nightlife
Looking for a taste of Bangkok's nightlife? Look no further than the legendary Khao San Road. This bustling street comes alive at night, pulsating with energy and an eclectic mix of backpackers, locals, and street performers. Lose yourself in the rhythm of live music, sip on refreshing cocktails, and dance the night away under the neon lights.
Chao Phraya River: A Serene Journey through the Heart of Bangkok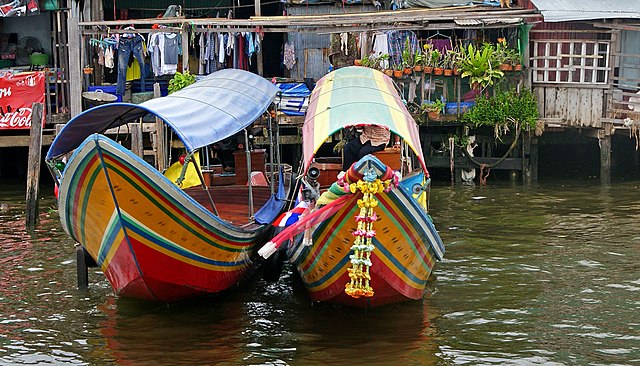 Start off on a serene journey along the Chao Phraya River, the lifeblood of Bangkok. Hop on a river taxi or indulge in a dinner cruise to witness the city's iconic landmarks shimmering under the night sky. Immerse yourself in the tranquility as you glide past ancient temples, lush greenery, and vibrant neighborhoods, capturing the essence of Bangkok's soul.
Lumpini Park: Oasis of Tranquility in the Urban Jungle
Escape the hustle and bustle of the city and relax at Lumpini Park, Bangkok's largest green oasis. Take a leisurely stroll, rent a paddleboat on the lake, or join a free outdoor exercise class. The park offers a serene retreat in the heart of the city.
Siam Paragon: Shop Till You Drop in Style
Indulge in a luxurious shopping spree at Siam Paragon, the epitome of elegance and style in Bangkok. Explore the vast array of high-end boutiques, indulge in gourmet delights at world-class restaurants, and catch a movie at the state-of-the-art cinema. Lose yourself in the sophisticated ambiance and let the allure of designer fashion sweep you off your feet.
MBK Center: Where Bargains and Buzz Coexist
For a shopping experience that caters to all budgets, head to the bustling MBK Center. This sprawling mall offers an eclectic mix of affordable fashion, electronic gadgets, and local handicrafts. Get ready to unleash your bargaining skills as you navigate through the maze of shops and discover hidden gems at unbeatable prices.
Asiatique The Riverfront: A Riverside Wonderland
Located along the Chao Phraya River, Asiatique The Riverfront combines shopping, dining, and entertainment in a unique open-air setting. Browse through boutique stores, savor international cuisines, and enjoy live performances at the waterfront stage. The Ferris wheel offers a stunning view of the cityscape.
Terminal 21: Travel the World Under One Roof
Embark on a global journey without leaving Bangkok at Terminal 21, a uniquely themed shopping mall. Each floor transports you to a different city with iconic landmarks and authentic cuisine. From Tokyo to Paris, immerse yourself in the vibrant atmosphere, indulge in retail therapy, and discover treasures from around the world. And this is one of the must places to visit in Bangkok.