Floating Market Bangkok – Welcome to Bangkok's unique and captivating Floating Markets! Here, you'll find a bustling and vibrant atmosphere filled with locals selling fresh produce and goods.
There's something for everyone, from abundant fruits, vegetables, and spices to handmade souvenirs. Whether you're just visiting or a local looking for a unique shopping experience, you'll be delighted with what these markets offer.
In this article, you'll find everything you need to know about the Floating Markets of Bangkok. We'll cover the history, what to buy, how to get there, tips for visiting, and the nearby attractions.
Let's dive right in!
History of the Floating Market Bangkok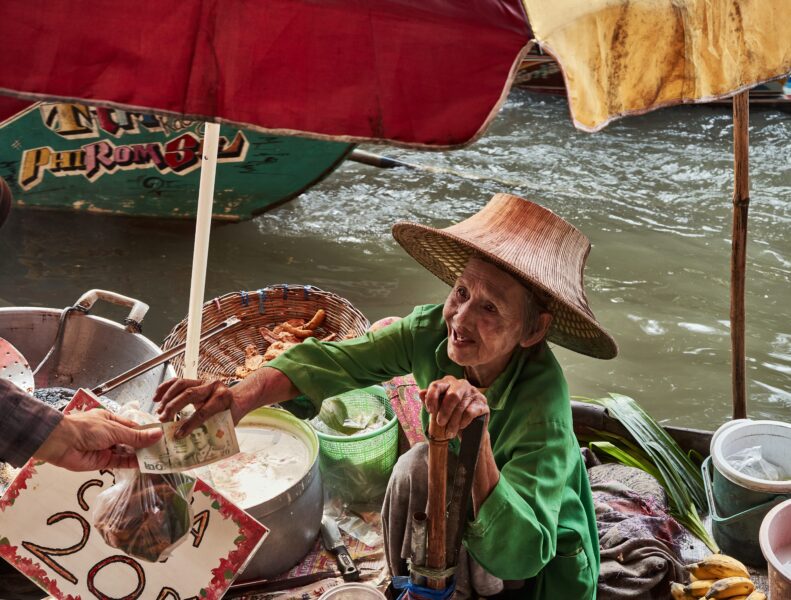 Floating Markets in Bangkok have a very long history. As the city is located near the Chao Phraya River, The city's waterways served as important transportation routes, allowing people to travel and transport goods easily back then.
Floating markets evolved as a practical solution for locals to sell their agricultural produce and other goods directly from small boats. These markets played a vital role in the local economy, offering a convenient way for farmers and merchants to connect with customers and trade their goods.
Over time, as Bangkok developed and modernized, many of the canals were paved over to make way for roads and buildings. However, some traditional floating markets managed to survive, adapting to the changing times and catering to locals and tourists.
A trip to this bustling destination would only be complete with delving into its storied past, which includes the fascinating history of its floating markets.
These markets are said to have been around since the 1800s and are an integral part of the culture and heritage of Bangkok. Street vendors would use boats to transport their goods from one canalside market to the next, moor up alongside the canals, and set up shop.
The floating markets are essential to Bangkok's cultural heritage and offer a unique and diverse shopping experience. Visitors can find everything from fresh produce and spices to clothing and souvenirs sold from boats.
The markets also provide an opportunity to experience local cultures and customs as vendors work the canals and interact with customers. It's an exciting and vibrant shopping experience unlike any other.
What to Buy at the Floating Market Bangkok
You'll be spoilt for choice at the market with various available things! The Bangkok Floating Market is a popular tourist attraction that offers a unique insight into the local culture of Thailand.
You can buy authentic items here, from traditional handmade souvenirs to fresh local produce. You can also find several typical market items, such as clothes, bags, and jewelry.
The Bangkok Floating Market also offers an impressive selection of food and drinks. You can try a range of tasty Thai snacks such as mango sticky rice, mango with coconut milk, and deep-fried bananas.
You can find various popular dishes for a more substantial meal, from Pad Thai and Tom Yum soup to fried rice and noodles. And to quench your thirst, there are various fruit juices and smoothies.
How to Get to the Floating Markets in Bangkok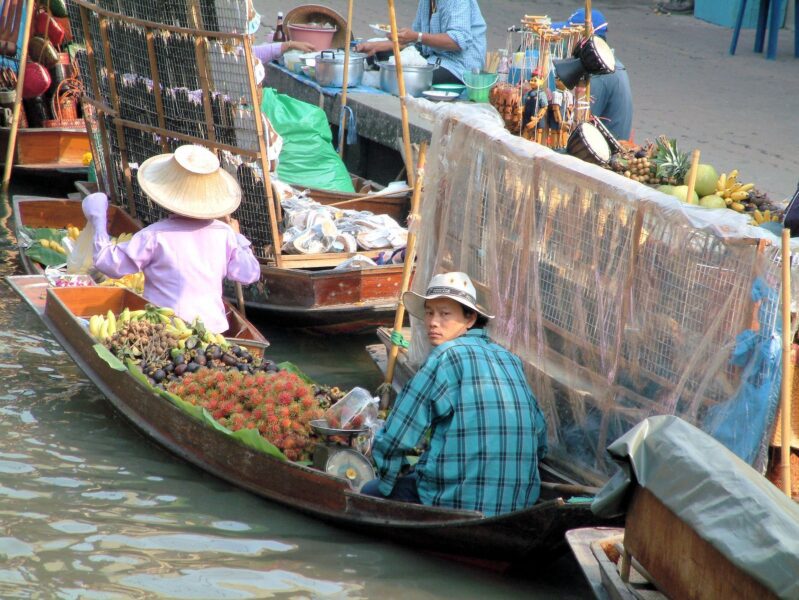 If you're looking for a unique cultural experience, visiting the delightful shopping district on the river is just what you're after. Bangkok's floating markets allow you to shop for all sorts of goods, from fresh produce to souvenirs.
But you must know how to get there before you can do that. The best way to get to the floating markets is to take a ferry. You can find shipping routes that will take you to the market, and there are also ferry times that you can look up to get an idea of when the boats are running.
Depending on the time of day and how busy the market is, you may need to wait for a ferry to arrive. Once you get to the market, you can explore the area and find the perfect souvenirs and gifts to take home.
Tips for Visiting the Floating Market Bangkok
Experience the vibrant atmosphere of the river district as you shop 'til you drop at the delightful floating markets. Whether it's frugal shopping or a cultural immersion you're after, the Bangkok floating markets are a must-see.
Before you head out, there are a few tips to keep in mind to make your visit to the floating markets enjoyable and hassle-free. Wear comfortable shoes and bring a hat to keep the sun off your head. Carry a backpack for all your purchases, and pack a few snacks if you get hungry.
Bring cash with you, as some vendors may not accept credit cards. Arrive early in the morning, as the markets get pretty crowded in the afternoons. And most importantly, remember to haggle! It's the key to getting the best price and having an unforgettable shopping experience.
Exploring the Nearby Areas
Discover the secrets of the river district and explore the area's hidden gems around the floating markets – and you won't regret it! With its beautiful scenery, rich cultural history, and well-preserved architecture, the river district around the floating markets is the perfect place to explore.
Sightseeing Tours:
You can take a boat tour around the canals, where you'll see traditional wooden houses, ancient temples, and lively markets.
There are also walking tours around the area, where you can look closer at the local culture and learn more about its history.
Local Cuisine:
The area around the floating markets is full of delicious street food stalls, where you can try dishes like Khao Man Gai, Pad Thai, and Som Tam.
Many local restaurants offer traditional Thai dishes like spicy curries and rice noodle soups.
Exploring the area around the floating markets is a great way to get a taste of local life and uncover the hidden gems of the river district. Whether you prefer sightseeing tours or sampling the local cuisine, you'll find something you'll love in this vibrant part of Thailand.
What are the names of the Famous floating markets in Bangkok?
Damnoen Saduak Floating Market
Amphawa Floating Market
Khlong Lat Mayom Floating Market
Bang Nam Pheung Floating Market
My Final Words,
You'll never forget your visit to the Bangkok Floating Market. It's an experience you'll always remember.
The hustle and bustle of the market is like a symphony of sights, sounds, and smells. It's a delight for all the senses, from the bright and vibrant market stalls to the boat vendors selling delicious treats.
You'll come away with a better understanding of Thailand's culture and the importance of the waterways in the country's history. You'll also have some unique souvenirs and memories to take back home with you.
So, jump right in and explore all the wonders of the floating markets of Bangkok!