Are you looking for a unique way to explore Bangkok in 2023? Look no further! Bangkok is home to some of the world's most vibrant floating markets, with plenty to explore.
From Amphawa to Khlong Lat Mayom, these markets will give you a unique glimpse into the culture and history of Thailand. So come with us and discover all of Bangkok's significant floating needs!
Amphawa Floating Market Bangkok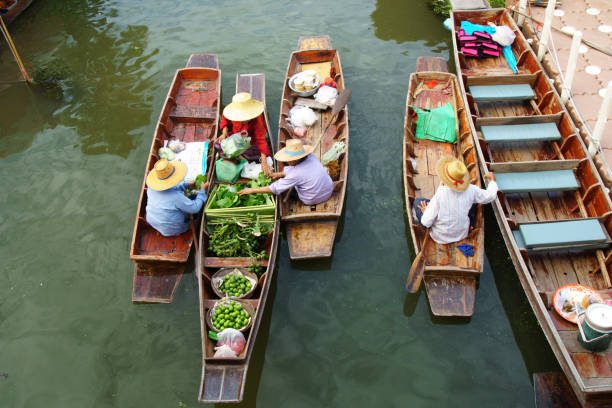 A visit to Amphawa Floating Market in 2023 will surely be a memorable experience that will stay with you for years.
Located near the Mae Klong River, Amphawa Floating Market is a traditional Thai market known for its cultural significance. Every weekend, the market comes alive with vendors talking, boats loading and unloading, and delicious food wafting through the air.
You can take a boat ride through the market and observe the unique way of life the locals still practice. Shopping at Amphawa Floating Market is a one-of-a-kind experience. You can find everything from fresh produce to handmade crafts and souvenirs.
The vendors are friendly and always willing to haggle, so feel free to get creative and negotiate a reasonable price. Plenty of food stalls offer a variety of traditional Thai cuisine. And, at the end of the day, you can take a leisurely stroll along the river and enjoy the beautiful sunset.
Taling Chan Floating Market
Located in the Chao Phraya River, the Taling Chan Floating Market is a must-see in 2023! You'll be able to snap some Instagram-worthy pics of the traditional Thai lifestyle and culture, all while experiencing a little bit of the past.
Here are three experiences you won't want to miss:
1. Enjoy the unique atmosphere of the bustling and vibrant market.
2. Sample the delicious and fresh local produce.
3. Take part in the cultural exchange by interacting with the vendors.
This market will bring a sense of freedom and adventure. From visiting the local produce stalls to learning about the cultural exchange between vendors and customers, the Taling Chan Floating Market offers an unforgettable experience that will leave you with a newfound appreciation for Thai culture. From sampling traditional snacks to learning about the unique way of life, this market will surely be a memorable experience in 2023!
Tha Kha Floating Market Bangkok
Experience Thailand's unique culture and cuisine at the Tha Kha Floating Market – a must-visit in 2023!
Located in the Samut Songkhram Province, this floating market is one of the oldest in the country. It offers a unique insight into the culture of Thailand. It's a great place to glimpse life on the water as vendors sell their wares from boats.
Visiting Tha Kha Floating Market is a great way to taste Thailand's culture and cuisine. Here, you'll find various delicious food, ranging from traditional dishes such as Pad Thai and Som Tum to local specialties like grilled fish and satay. There are also fresh fruits and vegetables and traditional Thai desserts.
Shopping is also a pleasure at the Tha Kha Floating Market, with vendors offering clothing, jewelry, and crafts. You will find something special whether you're looking for souvenirs or something to take home.
For the best experience, it's best to visit the market early in the morning when it's the busiest. This way, you'll get the whole cultural experience and have the best chance of finding the perfect item or dish.
Bang Nam Pheung Floating Market
Discover Bangkok's vibrant culture and tantalizing cuisine at Bang Nam Pheung Floating Market – a must-see in 2023!
This bustling market contains local customs, tourist attractions, and opportunities to sample some of the best Thai food. Tourists can wander through the need for hours and enjoy this vibrant community's sights, sounds, and smells.
The market is full of vendors selling handmade items, fresh produce, and prepared dishes, making it a great place to pick up souvenirs and a tasty snack. The market also offers a unique atmosphere, with a mix of locals and tourists adding to the lively atmosphere.
You can also find plenty of traditional Thai music, performances, and art, giving visitors an authentic taste of Thai culture. There are also several restaurants nearby, offering traditional Thai dishes and desserts.
So whether you're looking to shop for souvenirs or savor some of the best Thai cuisines, Bang Nam Pheung Floating Market is the perfect place to explore in 2023.
Khlong Lat Mayom Floating Market
Immerse yourself in the colorful culture of Khlong Lat Mayom Floating Market, where you can take in a unique community's sights, sounds, and smells and savor the tantalizing flavors of authentic Thai cuisine.
Located on the banks of the Chao Phraya River in Bangkok, this rustic market is the perfect place to experience the river life of Thailand. You'll find vendors in rowing boats selling everything from fresh fruit and vegetables to souvenirs and trinkets. The vibrant colors of the market and the hustle and bustle of the vendors make this a truly unique experience.
The cuisine at Khlong Lat Mayom Floating Market is second to none, and you'll find various dishes. From traditional Thai curries to fresh seafood, there's something for everyone.
You can even participate in a cooking class or hire a guide around the market. You'll surely come away with a deeper understanding and appreciation of Thai culture and cuisine.
Enjoy the sights, sounds, and smells of this unique market and savor the flavors of authentic Thai cuisine.
My Final Words…
Bangkok is a city full of life and culture, and its floating markets are a great way to experience it. In 2023, you'll be able to explore four of Bangkok's unique floating markets: Amphawa, Taling Chan, Tha Kha, and Bang Nam Pheung.
Each brings something unique to the city and its culture, with various products and activities to enjoy. Plus, you can expect to find a wide range of delicious food at each one, from traditional Thai dishes to unique local delicacies.
You'll also get a glimpse of the city's history and culture, as many of these markets have been around for hundreds of years. One interesting statistic is that Taling Chan Floating Market has over 500 vendors, so you can find something special you won't find anywhere else.
Exploring Bangkok's floating markets in 2023 will be a memorable experience.