Mysore Dasara, also called Dussehra in other states of India, is an important festival in Karnataka and some other parts of India, just like Diwali/Deepavali. This royal festival, called Dasara, celebrates the triumph of good over evil. It is believed that, on the Day of Vijayadashami, the goddess Chamundeeswari, also known as Durga, killed the demon Mahishasura.
In Karnataka, especially in Mysore, Dasara is called Nadahabba (State Festival). Every year Dasara is celebrated for 10 Days, starting from the 1st Day of Navaratri and concluding on Vijayadashami on Day 10th. During the Mysore Dasara celebrations, one may fully appreciate the grandeur of Karnataka. This 10-day celebration is held with many ceremonies, drawing visitors from all over the world.
The most amazing Dussehra celebration in India, Mysuru Dasara, features stunning processions, cultural activities, markets, and exhibitions. The celebration is observed during Navratri and culminates on Vijayadashmi. Whether you are a spiritual person or enjoy learning about other cultures and places, Mysuru Dasara will make you incredibly happy.
Celebration of Dasara in Mysore:
Mysore, the Cultural city of Karnataka, ruled by the Wadeyar Dynasty, is renowned for its long-standing custom of lavishly celebrating Dasara. Also known as Nadahabba. The city is decorated and filled with colors. And joy during the 10 days of the Dasara celebration. There is entertainment in the form of music, dance, cultural events. A charming procession, and a torchlight parade. During Dasara, a special music concert featuring the Yuva or young icons.
History and Significance of Mysore Dasara:
The celebration of Mysore Dasara started during Wadeyar King in 1610. Raja Wodeyar I (1578-1617 CE) inaugurated the custom of the Mahanavami (Dasara) festival celebrated in the middle of September 1610 at Srirangapatna, when the Wodeyars of Mysore established a kingdom in the southern regions of the Vijayanagara Empire.
Mysore, earlier known as "Mahishur," said to be named after the demon name "Mahishasur," is where Goddess Chamundeshwari killed the demon, marking the victory of Good over Evil. So the celebration starts at the Chamundeshwari temple on Chamundi Hills(called betta by Mysoreans), with worshipping the Devi Chamundi on Day 1 by the Royal couples. The royal family members and other dignitaries attend the royal assembly(Public Durbar) that follows in the Mysuru palace. The Wadiyar king's successors have faithfully upheld the custom and continue to do so till today.
Mysore Dasara 2023:
Due to the Adhika Masa (Extra Month as per Hindu Calender), Dasara Festival 2023 will start in October mid.
The 2023 Mysore Dasara Festival celebration kicks off on Sunday, October 15, 2023. The first Day of Navaratri, and end on October 24th, Vijayadashami. On 15th October, at 9:00 AM, the Dasara Festivities will start by offering pooja to goddess Chamundeshwari atop the majestic Chamundi Hill.
A complete list of Mysore Dasara Programs 2023 – cultural and other festivities of the Mysore Dasara celebration can be found on the official website here. Make sure to reserve your tickets well before if you don't want to miss out on these terrific events. Starting from October 15th, different music performances by well-known Vidwans will be held in Mysore. Also, the inauguration of the cultural event will be held by our honorable CM, Sri Siddaramaiah, on 16th October. One event that everyone must see is the Torch-light Parade on Day 10(Vijayadashami) at Bannimantapa.
Mysore Dasara Celebration Highlights:
Mysore Palace Illumination
The major attraction of Mysore Dasara is the Mysore Palace lighting, Which attracts tourists from around the world. For all the 10 days of Navaratri and Vijayadashami, the Palace is illuminated with 100,000 light bulbs in the evenings from 7 PM to 10 PM. In front of the lit Palace, a variety of cultural and religious activities are presented that emphasize the dance, music, and culture of the State of Karnataka.
Nearly Rs. 1 crore is spent on the palace illumination part annually, and the authorities change/replace around 25,000 bulbs just before the festivities start.
Jambu Savari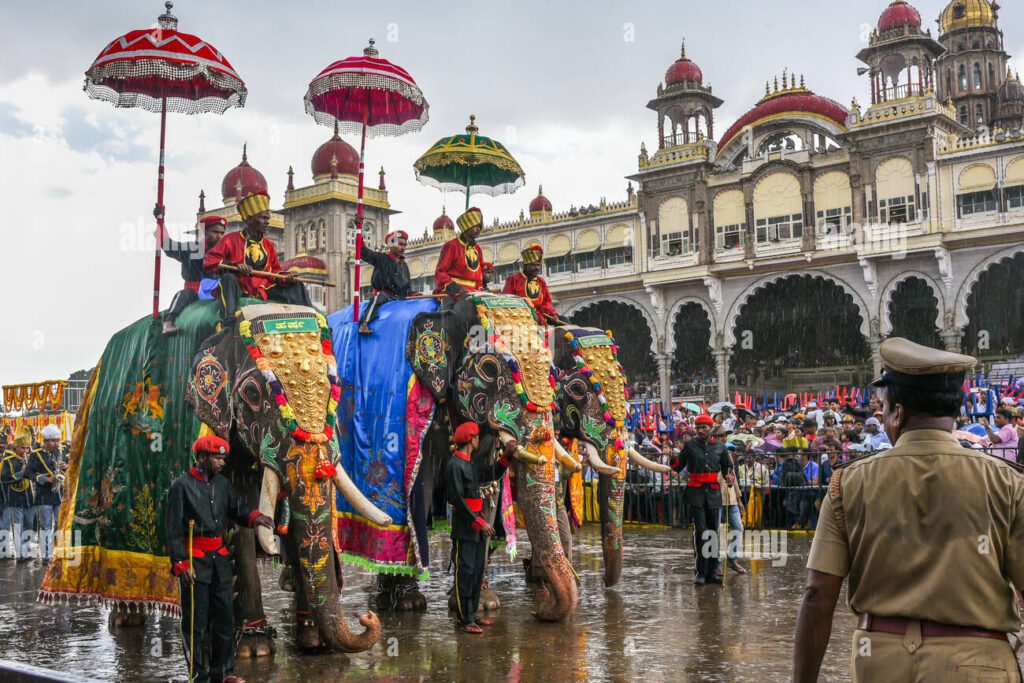 On the 10th Day of the Dasara celebration, a traditional procession called Jambu/Jumbo Savari is held on Vijayadashami. During Jambo Safari, the idol of Devi Chamundeshwari is placed inside the Golden Howrah or Ambari post worship by the royal family, over the trained Elephants, and a procession takes place over all the streets of Mysore.
Jumbo Savari procession starts from the Mysore Palace, around 13:00 hrs, and ends at Bannimantapa or near Banni Tree, where it is worshipped. The old soldiers used to venerate this tree before heading into battle to pray for their victory because it is thought that the tree bestows strength and success. This parade also allows visitors to witness a variety of colorful paintings and pictures, dance groups, armed forces, music ensembles, legends, traditional royal families, painted elephants, camels, and horses.
Once the procession reaches Bannimantapa, a traditional event, a torchlight parade program is held, which is also called Panjina Kavayithu. This event includes a laser show, amazing fireworks, and some stunts performed by well-trained Indian Army soldiers.
Mysore Dasara Exhibition
Another attraction of the Mysore Dasara festival is the Exhibition, which is said to be started by Chamaraj Wadeyar 10 in 1880. And the primary purpose of this Exhibition was to inform Mysore residents of timely developments in the state. The tradition continues, and the Exhibition starts during Dasara and remains till December for about 2 months. Dasara exhibition is held yearly on the Mysore exhibition grounds, opposite the Mysore Palace. Gradually the Exhibition took a modern touch, and stalls that offer goods, including clothing, plastic items, housewares, cosmetics, and food items, are set up now. They draw a sizable crowd of customers.
Cultural Concerts at Mysore Dasara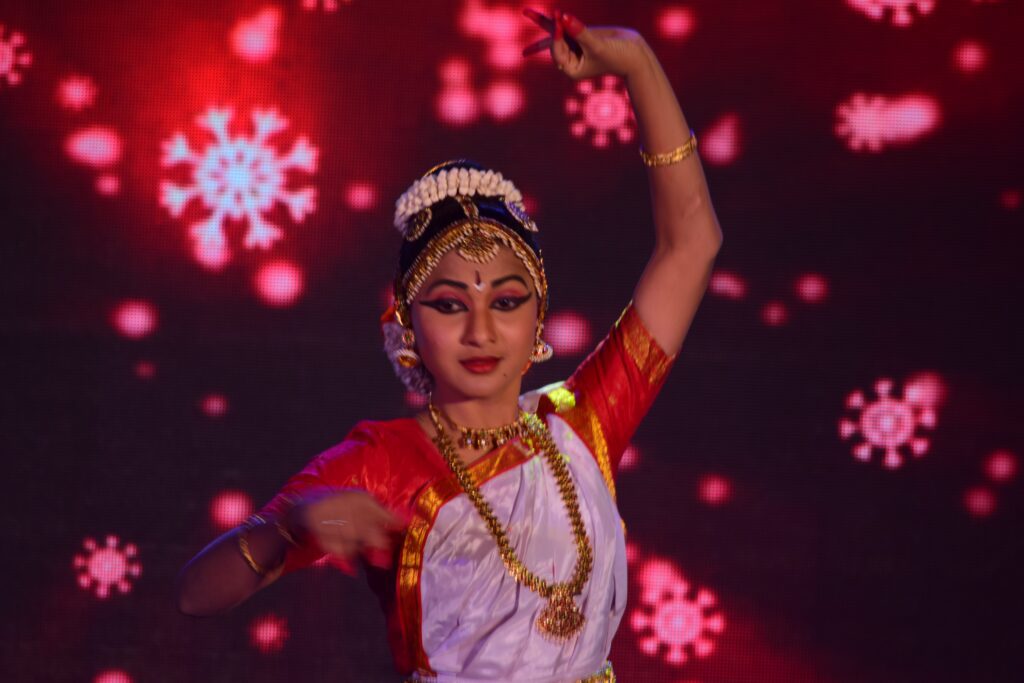 Along with all the above events, another traditional event followed for years is the Kusti Spade or the Wrestling. This invites wrestlers from all over the world to participate. On all the days of the Dasara festival, different cultural activities like music and dance performances take place in different auditoriums of Mysore. n this occasion, musicians and dance ensembles from all over India are invited to perform. Other activities, including bike parades, are held at Bannimantap.
How to Reach Mysore from Bangalore?
Mysore is a well-connected city that is easily commutable from nearby places. And from Bangalore, one can choose any way of transportation, like Bus, Taxi, Train, Bike, and Flight, to reach Mysore, which is around 150 KM from Bangalore.
Many KSRTC and private buses run regularly to Mysore, from Majestic, with ticket costs ranging from Rs.150 to Rs.1500(Luxury buses). As it is just a 2.5 to 3 Hrs journey, I suggest boarding normal KSRTC buses.
If you are a train travel lover, then don't worry. There are frequent trains( every hour) from Bangalore railway station that run daily to Mysore. And Mysore Palace is just 1.2 KM away from the Mysore railway Station. Train ticket prices range from Rs.125 to Rs.1000, depending on your train and seat type. But the train journey is worth taking; you see beautiful farms and water bodies in villages on the way to Mysore.
As Bangalore(Kempegowda International Airport) and Mysore(Mandakalli Airport) both have airports, Bangalore to Mysore flight cost is also affordable, around Rs.1599/-.