Places To Visit In Mysore – This cultural capital of Karnataka is commonly known as Mysuru. A common saying in Kannada goes like this -"Bengaluralli kalasa irabeku, Mysoralli mane irabeku". It means one should have a job in Bangalore and a home in Mysore. It's because it is such a beautiful and peaceful city to stay. Most people wish to settle down in Mysuru after retirement. And not to mention, it is awarded as the second cleanest city in India.
With many historical, cultural, & heritage sites, Mysore has much to offer every traveller. Here's a more detailed explanation of the best ten places to visit in Mysore.
Top 10 Places To Visit In Mysore This September
Mysore Palace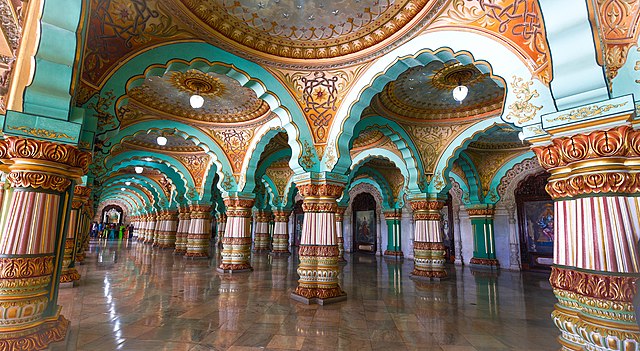 Mysore Palace, also known as Amba Vilas Palace, is a majestic and opulent structure that was the seat of the Wadiyar dynasty. Its Indo-Saracenic architecture blends Hindu, Muslim, Rajput, and Gothic styles. You'll find elaborately carved doors, intricately painted ceilings, and a Durbar Hall with a golden throne inside. The palace is illuminated with thousands of lights during the Dasara festival, creating a breathtaking sight.
Chamundi Hill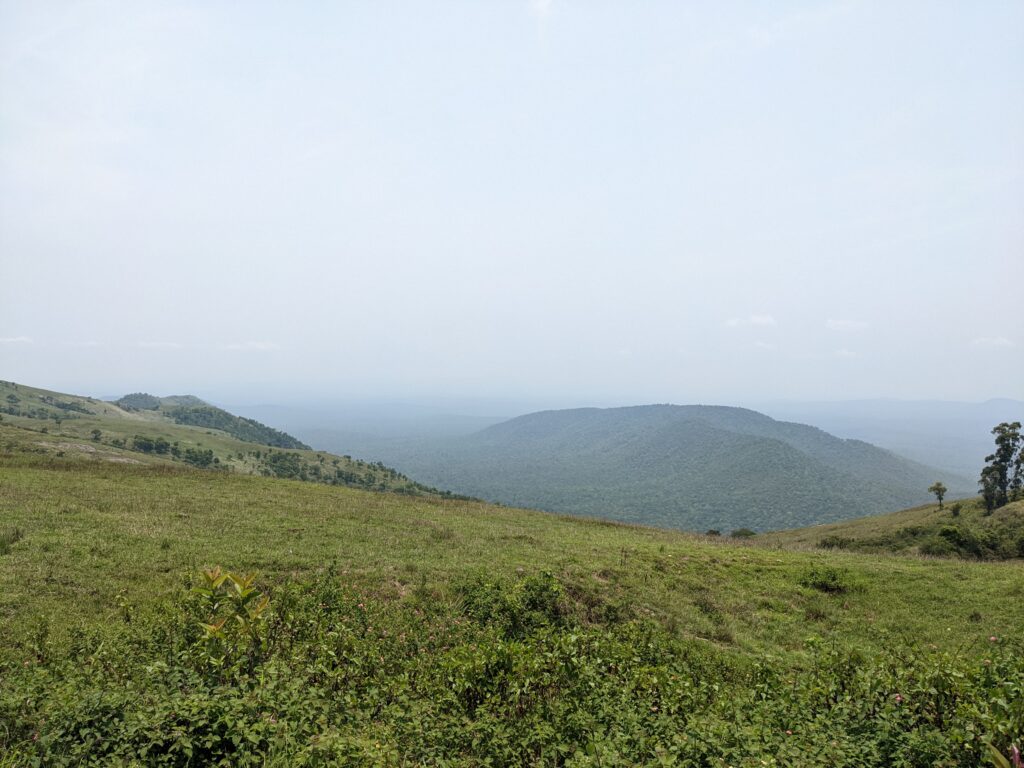 Chamundi Hill is a sacred hill dedicated to Goddess Chamundeshwari, the city's patron deity. The Chamundeshwari Temple atop the hill is an important pilgrimage site. The temple's architecture reflects the Dravidian style, and the 1,000-step climb is a spiritual experience for many devotees. The panoramic view of Mysore from the hilltop is simply mesmerizing.
Brindavan Gardens
The Brindavan Gardens are a mesmerizing display of horticultural artistry. Inspired by the famous Shalimar Gardens of Kashmir, these gardens feature a symmetrical layout with terraced lawns, flowerbeds, and ornamental plants. The musical fountain show in the evening is a highlight, where water dances in synchronization with melodic tunes and vibrant lights. The charming ambience provides a perfect backdrop for a stroll.
St. Philomena's Church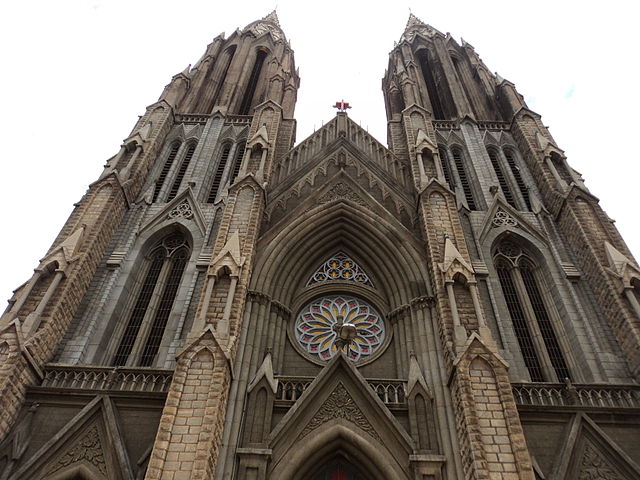 St. Philomena's Church is a stunning architectural masterpiece that boasts a neo-gothic style. As you enter, the grandeur of the nave, the intricate stained glass windows that depict biblical scenes, and the serene ambience create a sense of awe and reverence. The church is a testament to Mysore's rich Christian heritage and offers a peaceful space for reflection.
Mysore Zoo
The Sri Chamarajendra Zoological Gardens, popularly known as Mysore Zoo, offers an immersive wildlife experience. The zoo's naturalistic enclosures provide animals with ample space to roam. You can observe majestic big cats, playful primates, and avian species. The zoo contributes to conservation efforts and is an educational platform for visitors of all ages.
Devaraja Market
Devaraja Market is a vibrant tapestry of colours, aromas, and local culture. Stalls overflow with fresh produce, aromatic spices, fragrant flowers, and traditional handicrafts. It's a captivating experience to engage with local vendors, sample regional delicacies, and witness the dynamic energy of daily life in Mysore.
Chamundi Hill Road
This bustling street is more than just a shopping district; it reflects Mysore's distinct charm. Alongside shops selling exquisite Mysore silk sarees and intricately carved sandalwood artefacts, street vendors offer local street food and snacks. It's an opportunity to immerse yourself in the city's vibrant commercial pulse.
Karanji Lake
Karanji Lake is a haven of tranquillity within the urban landscape. Beyond the serene waters lies a nature park that houses a diverse ecosystem. You can indulge in boating on the lake, explore the park's walking trails, and engage in birdwatching. The Butterfly Park's added attraction introduces you to these winged creatures' delicate beauty. With its natural serene, Karanji Lake is a among the top places to visit in Mysore.
Ranganathittu Bird Sanctuary
Situated along the Kaveri River, Ranganathittu Bird Sanctuary is a sanctuary for both resident and migratory birds. The boat ride through the refuge offers an intimate view of nesting sites and bird behaviour. Look for painted storks, spoonbills, and the majestic Indian river tern. The sanctuary's lush vegetation and calm waters create an idyllic setting for bird enthusiasts.
These detailed explanations help you envision the captivating experiences in Mysore. Enjoy your journey through the city's historical, cultural, and natural treasures!
Best Time to Visit Mysore
Summer (March to June): The summer months are relatively warm in Mysore, with temperatures ranging from 20°C to 35°C (68°F to 95°F). It's a great time for sightseeing, especially in the mornings and evenings. The Mysore Palace and gardens are excellent during this time. Do carry light clothing and sunscreen to stay comfortable.
Monsoon (July to September): Monsoon brings moderate to heavy rainfall, rejuvenating the city's lush greenery. The weather is more relaxed, and the rain-washed landscapes offer a serene backdrop for exploration. Don't forget to carry an umbrella or raincoat and suitable footwear for walking in wet conditions.
Winter (October to February): Winter is the best time to visit Mysore, with temperatures ranging from 10°C to 30°C (50°F to 86°F). The weather is pleasant, making it ideal for outdoor activities and sightseeing. The festive season of Dasara in October is a significant attraction, and the evenings are relaxed and comfortable.
Bangalore to Mysore – How to Reach Mysore
The journey from Bangalore to Mysore is a popular route that can be conveniently covered by various modes of transportation:
By Bus: Regular state-run and private buses operate between Bangalore and Mysore. The Karnataka State Road Transport Corporation (KSRTC) offers comfortable buses in different categories, including Airavat and Rajahamsa. The distance of approximately 150 km can be covered in about 3-4 hours, depending on traffic and the type of bus.
By Train: Several trains connect Bangalore and Mysore, making train travel convenient. The Mysore Shatabdi Express is a popular choice for its speed and comfort. The journey offers scenic countryside views and takes around 2.5 to 3 hours.
By Car: If you prefer a self-drive experience, you can take National Highway 275 (NH275) from Bangalore to Mysore. The route is well-maintained and allows stopping at attractions along the way. The journey typically takes 3-4 hours, depending on traffic conditions.
By Air: While there is no direct flight between Bangalore and Mysore, you can fly from Kempegowda International Airport in Bangalore to Mandakalli Airport in Mysore. You can hire a cab or take a bus from the airport to the city.
Resorts in Mysore for Stay
Windflower Resort and Spa: Nestled amidst lush greenery, this resort offers a serene escape. It features luxurious rooms, a spa, and a pool. The eco-friendly design and tranquil surroundings make it a perfect retreat.
The Village Resort: This rustic-themed resort blends modern comfort and traditional charm. It offers cottages, a swimming pool, and outdoor activities in a village-like ambience.
Royal Orchid Metropole: A heritage resort with a colonial-era charm, it offers elegantly designed rooms, a courtyard restaurant, and a bar. The historical significance and classic architecture add to its appeal.
Grand Mercure Mysuru: Known for its contemporary style, this resort offers spacious rooms, a rooftop pool, and modern amenities. Its central location makes it convenient for exploring the city.
Silent Shores Resort & Spa: Situated by a lake, this resort boasts scenic views and a peaceful ambience. It offers comfortable rooms, a pool, and recreational facilities, making it suitable for leisure and business travellers.
These resorts offer a range of amenities and experiences to make your stay in Mysore comfortable and memorable. Whether you seek relaxation, luxury, or a cultural experience, these options cater to various preferences.
Mysore's climate allows year-round visits, each season offering a unique experience. Whether you prefer the vibrant festivities of Dasara in October, the lush beauty of monsoon, or the pleasant winter weather, Mysore has something to offer every season.