Devkund Waterfall, located near Bhira in the Raigad district of Maharashtra. It is a magnificent 'plunge' waterfall that cascades with tremendous force onto the rocky surface below. This natural wonder has gained immense popularity as a spot for one-day picnics, drawing tourists and adventure enthusiasts from various regions.
Discovering the Location
Devkund Waterfall lies in the picturesque Bhira Patnus region, which, thanks to its social media fame, has become a bustling and sought-after destination. The waterfall marks the confluence of three streams and is believed to be the origin of the Kundalika River. To reach this enchanting spot known as 'Devkund,' one must embark on a thrilling three-hour trek from the base village, traversing through dam backwaters and dense forests. The route follows the river's path, offering captivating views and an immersive experience amidst nature's embrace. Due to the wilderness and challenging terrain, it is essential to have a knowledgeable guide accompany you during the trek.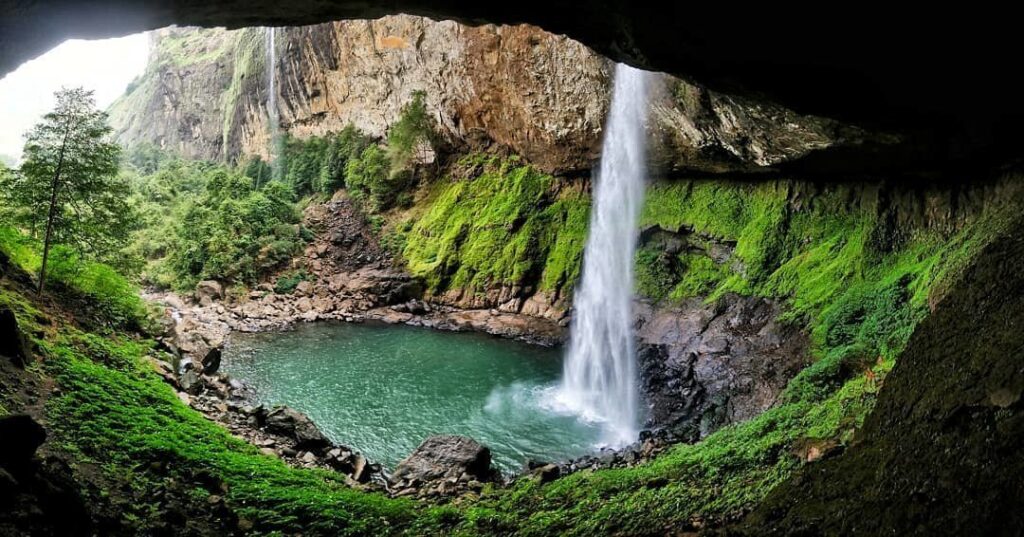 The Trek to Devkund
The trek takes 1.5 to 2 hours, covering around 6.5 km (one-way)—moderate difficulty with life-threatening challenges during heavy monsoons, crossing three streams. Moderate endurance is required, but the breathtaking views make it worthwhile.
The journey begins from the base village, and a thrilling three-hour trek awaits through dam backwaters and dense forests. The river guides your path as you traverse the picturesque surroundings. A knowledgeable guide is a must for this wilderness adventure.
How to Reach Devkund Waterfall – Getting There
Planning your visit? Here are some distances to consider:
From Pune: Approximately 110 km

From Mumbai: Approximately 170 km

From Lonavala: Approximately 52 km
Pune and Mumbai airports are the nearest, while Mangaon railway station (30 km away) and Lonavala railway station (82 km away) offer convenient access.
Bathing Bliss at Devkund Waterfall
Devkund welcomes you to unwind in its refreshing waters. A perfect spot to take a bath amidst nature's grandeur. Remember, it's essential to keep the water source pollution-free.
Safety First
Prioritize safety, especially during the monsoon when water volume increases rapidly. Authorities have sometimes implemented restrictions for visitor safety. Respect the rules and cherish the beauty of Devkund Waterfall.
Quick FAQs
Is Devkund Waterfall Open?
Devkund Waterfall is open for visitors during specific periods, but staying updated on local announcements and restrictions is essential. Authorities may close access to the waterfall during heavy monsoons or for safety reasons, so it's crucial to plan your visit accordingly.
How to Reach Devkund Waterfall from Pune?
Devkund Waterfall is approximately 110 km away from Pune. To get there, you can opt for private transportation or public buses to reach the base village. From there, the thrilling trek through dam backwaters and dense forests will lead you to the stunning waterfall.
Is Devkund Waterfall Safe?
While Devkund Waterfall offers a thrilling adventure, safety should always be a priority. During heavy monsoons, the water volume can increase rapidly, making it unsafe to visit the waterfall; following safety guidelines and being cautious while trekking is essential, especially when crossing the three streams. Hiring a knowledgeable guide is highly recommended for a safe and enjoyable experience.