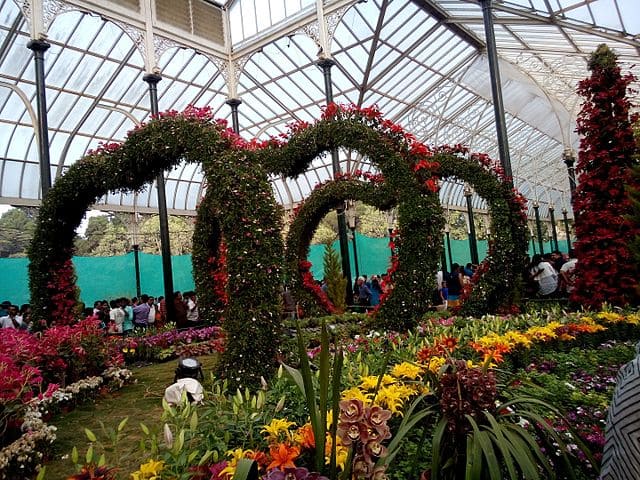 Bengaluru and the Lalbhag Botanical Garden prepare for the Annual Independence Day Flower Show. The Horticulture Department, in partnership with several not-for-profit organizations in the city, is gearing up for the highly anticipated annual Independence Day flower show at Lalbagh. This year, the focus is on making it a zero-waste event, aiming to surpass the previous year's success.
Increasing Ground Forces for Enhanced Impact
Officials from the department recognize the need for more substantial efforts this year compared to the last event. They observed that during the Independence Day flower show in 2022, a considerable amount of ten loads of garbage was generated. However, this figure was reduced to only two loads after earlier this year's Republic Day event. For the upcoming 2023 Independence Day show, the goal is to decrease waste generation to less than two loads. To achieve this, the department plans to deploy 150 ground staff members dedicated to ensuring that visitors refrain from using single-use plastic bottles. Dispose of garbage in designated litter bins, and leave the garden pristine after the event concludes with no litter.
Stricter Regulations for a Cleaner Event
Kusuma G, the deputy director of Horticulture at Lalbagh, reveals that the 12-day-long flower show will commence on August 4. The officials are determined to enforce more stringent rules this year. Transforming the event into a zero-plastic and zero-littering extravaganza.
A thorough check of the visitor's bag will be done, to ensure they do not carry any single-use plastic items. Only steel bottles or reusable water bottles will be allowed inside the venue. The dustbin rule will be more rigorously enforced for visitors and vendors. With vendors without a litter bin in front of their stalls facing fines. To further support clean-up efforts, all vendors will be charged Rs 100 per day, contributing to the resources needed for ground staff to maintain cleanliness.
Targeting Less Than One Load of Garbage
The Horticulture Department aims to surpass its previous achievements. In 2022, the Independence Day flower show generated ten loads of garbage, while the Republic Day flower show in 2023 reduced it to two loads. The objective is to push it further to less than one load of garbage during the upcoming event.
Combating Spitting and Raising Awareness
Odette Katrak, the co-founder of Beautiful Bharat, a not-for-profit organization supporting the Horticulture Department in maintaining a litter-free botanical garden during the flower show, highlights their commitment to eradicating spitting in public areas.
To achieve this goal, they will have a strong presence at the venue, ensuring a spit-free environment. The team will collaborate with BBMP's marshal team to effectively address spitting instances. During a recent meeting with the department on garbage management, experts emphasized that nearly 10,000 people in Karnataka suffer from multi-drug-resistant tuberculosis, underscoring the importance of spreading awareness about such findings and studies. Odette Katrak's team ensures that public spitting is strictly prohibited.
In conclusion, the Horticulture Department, along with its valuable partners, is fully committed to making the upcoming Independence Day flower show at Lalbagh a resounding success in terms of waste management. With increased ground forces, stricter regulations, and dedicated efforts to combat spitting, the event promises to exemplify a zero-waste celebration of nature's beauty. Let us all come together to make this event an inspiration for future eco-friendly festivities.