Welcome to the enchanting world of ISKCON Sri Radha Krishna Temple. A cultural complex dedicated to Krishna Consciousness and spirituality. Nestled in the heart of Rajajinagar, Bangalore, this revered temple showcases the divine presence of Lord Krishna and offers a rich spiritual experience for devotees and visitors alike. ISKON Temple is a must place to visit when in Bangalore.
A Cultural Complex of Divine Grace
Inaugurated in 1997, ISKCON Bangalore is not just an ordinary temple; it is a spiritual haven housing various shrines dedicated to Sri Radha Krishnachandra, Sri Krishna Balarama, Sri Nitai Gauranga, Sri Srinivasa Govinda, Sri Prahlada Narasimha, Bhakta Hanuman, Garudadeva, and Srila Prabhupada, the Founder-Acharya of ISKCON. The temple complex spans a sprawling area, captivating visitors with its architectural grandeur and tranquil ambiance.
Unveiling the History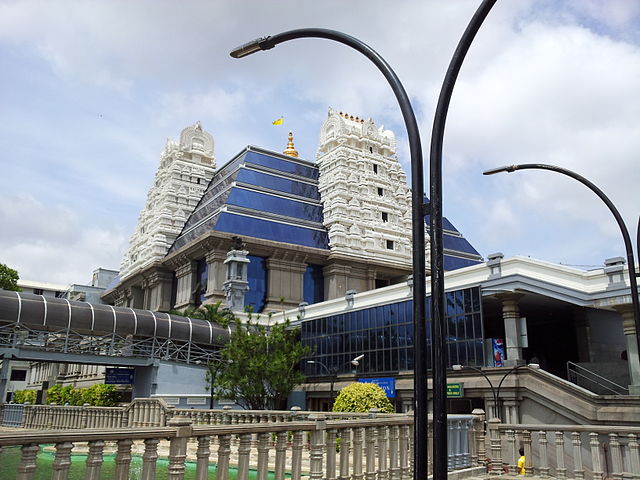 The journey of ISKCON Temple Bangalore began in 1987 when the charitable society was registered under the Karnataka Societies Registration Act, of 1960. The leaders of the society approached the Bangalore Development Authority, and on August 3, 1988, a seven-acre hillock with a majestic rock at its core was allotted for the construction of the temple. To bring their vision to life, Sri Madhu Pandit Dasa, a qualified civil engineer and president of the ISKCON Bangalore Society, collaborated with Sri Jagat Chandra Dasa, an architect. Construction commenced in 1990, and after seven years of relentless dedication from six hundred skilled artisans, the magnificent ISKCON temple and cultural complex were inaugurated by the esteemed President of India, Dr. Shankar Dayal Sharma, on May 31, 1997.
Architectural Marvel and Serenity
The architecture of ISKCON Bangalore is a testament to magnificence and spirituality. As one approaches the temple, the awe-inspiring gold-plated flag post, standing tall at 17 meters, and the gilded Kalash Shikharas at a height of 8.5 meters capture the attention. Adorned with neoclassical stone carvings, the main shrine, known as Rajagopuram, welcomes devotees with its beautiful archways and elegant water fountains. Inside, the temple showcases exquisitely ornamented idols of Shri Radhe Krishna, radiating divine grace and spiritual bliss.
Festivals & Spiritual Engagement At ISKCON Temple Bangalore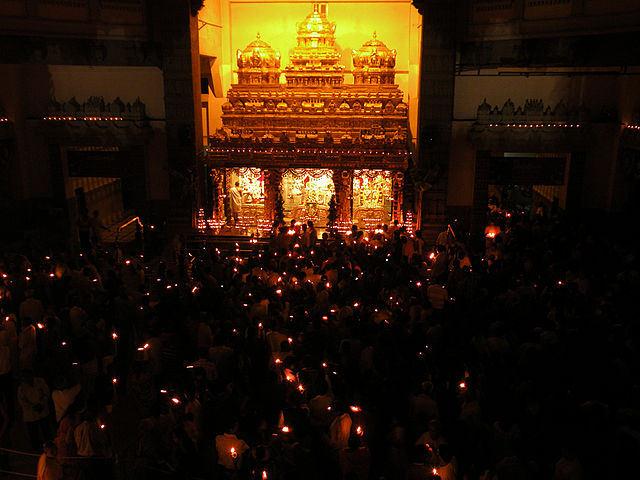 ISKCON Temple is renowned for its vibrant festivals and engaging activities that immerse devotees in the realm of Krishna consciousness. Throughout the year, the temple hosts various festivities, starting with the grand celebration of Sri Sri Krishna Balarama Ratha Yatra, where beautifully decorated chariots carry Lord Krishna and Balarama to bless their devotees. The calendar also includes the festivities of Sri Nityananda Trayodashi, Sri Gauri Purnima, Ram Navami, Brahmotsav, Sri Narasimha Jayanti, Sri Hanuman Jayanti, Panihati Chita Dahi, Garuda Panchami, Shri Radhashtami, Jhulan Utsav, Sri Balarama Purnima, Shri Krishna Janmashtami, Vamana Jayanti, Deepotsav, Govardhan Puja, and Shri Vaikuntha Ekadashi. These joyous occasions are marked by processions, prayers, and spiritual discourses that evoke a sense of devotion and unity.
Activities and Spiritual Enlightenment
The temple community of ISKCON Bangalore strives to create a conducive environment for spiritual growth and harmony. They organize cultural education classes for children, youth programs. And spiritual sessions like Krishnashraya and Life Sublime in different locations. Foster a deep connection between individuals and Lord Krishna. Moreover, the temple community actively promotes cow protection. And provides better living conditions for cows, which hold a special place in the heart of Lord Krishna.
Heavenly Prasada and Philanthropic Initiatives
The ISKCON Temple complex offers divine prasada and delectable food services that leave a lasting impression. Nitya Annanda serves a sumptuous lunch from 11:30 am to 2:00 pm, while Krishnamrita prepares delicious food using Sattvic techniques. Additionally, the temple contributes to society through the Akshaya Patra program. It provides mid-day meals to underprivileged children in collaboration with various government and government-aided schools.
Plan Your Visit to ISKCON Temple Bangalore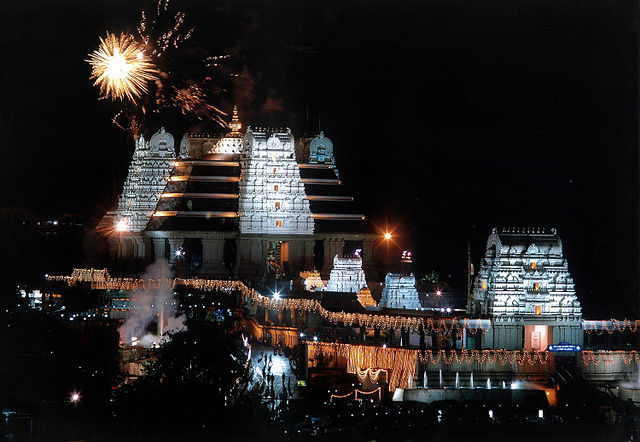 If you're planning to visit ISKCON Temple, here are a few tips and details to keep in mind:
Isckon Temple Bangalore Timings: The temple is open from 4:15 am to 5:00 am, 7:15 am to 1:00 pm. And 4:00 pm to 8:30 pm in the evening.
Temple Entry Fee: There is no entry fee to visit the temple.
Isckon Location: ISKCON Sri Radha Krishna Temple is situated at Hare Krishna Hill, Chord Road, Rajajinagar, Bengaluru 560010, Karnataka, India.
How to Reach ISKCON Temple Bangalore
The temple is conveniently accessible through various modes of transport:
Nearest Airport: Kempegowda International Airport, Bengaluru – 33 km
Railway Stations: Bangalore City Railway Station – 6.9 km, Yeshwantpur Railway Station – 2.2 km
Metro Stations: The temple is a mere 10-minute walk from 'Mahalakshmi' and 'Sandal Soap Factory metro stations.
BMTC City Buses: From Kempegowda Bus Station (Majestic) – 80, 80A, 80B, 80E, 80F, 80G, 252F. From City Market – 77, 77E, and from Shivajinagar – 79E. Reach at the 'Mahalakshmi Layout Entrance' stop, and a short 10-minute walk will lead you to the temple.
How many ISKCON are there in Bengaluru?
There is one ISKCON temple in Bengaluru, which is the ISKCON Sri Radha Krishna Temple located in Rajajinagar.
What time to visit ISKCON Temple Bangalore?
The ISKCON Temple in Bangalore is open for visitors from 4:15 am to 5:00 am, 7:15 am to 1:00 pm, and 4:00 pm to 8:30 pm.
Why is ISKCON Bangalore separated?
ISKCON Bangalore is a separate branch of the International Society for Krishna Consciousness (ISKCON) due to historical and administrative reasons. It operates independently under the guidance of its local leadership.
How can I go to the ISKCON temple in Bangalore?
All ways of transportation are mentioned above. Please refer.