The people of North Karnataka feel that, in comparison to South Karnataka, the government is neglecting their region, even though there are several historical monuments and significance. Many significant tourist destinations are not properly preserved (perhaps because of a lack of resources), and a few, like Hampi, are deserted. Not simply from the perspective of tourism but also in the fields of employment and education. It isn't easy to locate any MNCs in the North Karnataka region. Unlike Bangalore, Mysore, and a few other areas of Karnataka. This may explain why the bulk of residents of this region move to South Karnataka for employment and educational opportunities.
Keeping these things aside, one such heritage site of North Karnataka, which is less known to the world, is "Badami Cave Temples or Badami Caves." Badami is a Taluka place in the Bagalkot district of North Karnataka, around 550 Km from the capital city – Bangalore. These are called Cave Temples because they are built or carved in huge red sandstones in the form of caves. Can you imagine a single rock-cut building or cave as huge as the multi-story apartments of modern times? Well, that's the specialty of Badami Cave Temples – also called Menabasadi.
History and Architecture of Badami Caves Temple: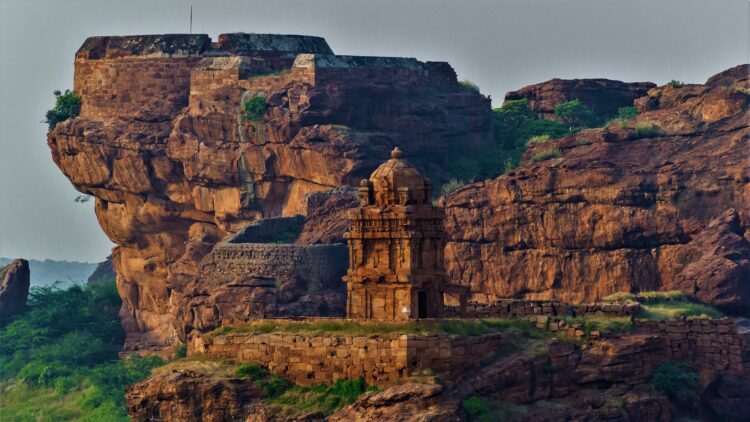 The Badami cave temples take you back to the 6th – 8th century when the Chalukya Dynasty ruled most of the Karnataka region. Some of the earliest known examples of Hindu temples in the Deccan region can be found in the Badami cave temples. Badami Cave temples are a great example of Indian rock-cut architecture, especially Chalukya architecture. For those who don't know what rock-cut architecture is, it's a form of art that creates a structure by carving natural solid rocks. Other examples of rock-cut architecture in India are – Barabar Caves, Varaha cave temple, Belum caves, Udaygiri caves, Ajanta & Ellora caves, and many others.
The exact date of these Badami cave temples' construction is unknown. However, in Cave 3 (one of the four caves complex), an old inscription is found, which indicates the donation of the Vishnu shrine by king Mangalesha back in 578/579 CE. These rock cave temples' script, which was written in the ancient Kannada language, allowed for their dating to the sixth century. The cave is now India's oldest firmly-dated Hindu cave temple.
Badami Cave Temples – An UNESCO designated World Heritage Site Candidate:
Badami, known as "Vatapi, Vatapinagari, Vatapipura, and Agastya Tirtha" in ancient times, was the capital of the Chalukya Dynasty. Because of its historical importance and the great Chalukya architectural style, The Badami Caves complex is a part of the Malaprabha river valley's "Evolution of Temple Building – Aihole-Badami-Pattadakal," a candidate for UNESCO's World Heritage Site. This area is regarded as a cradle of temple architecture that served as a model for later Hindu temples.

Badami Cave Temples Complex:
The Badami Caves temple is a complex of four caves – Cave 1, Cave 2, Cave 3, and Cave 4. In order of their creation, the numbering of 1 through 4 is done. Each of these caves has great planning back in those days. They comprise a Mukha Mantapa, called a Verandah with an entrance. They were followed by the main hall, called "Maha mandapa," supported by rock brackets and columns. And then, a square-shaped Sanctum or a shrine called "Garba Gudi" is carved deep inside the cave. These caves are interconnected by steep rock steps, which also take to the terraces overlooking the lake and Badami city.
Cave 1 – The Shaivite cave
Cave 1 in the Badami cave temples is the Shaivite cave, dedicated mainly to the lord Shiva. It is located 18 m from the group level and has a five-columned Verandah (Mukha Mantapa) sculpted with flower garlands, foliage, and jewelry. The interior measurement of the verandah is 70 feet (21 m) by 65 feet (20 m).
Some of the main sculptures or carvings of Cave 1 are:
Nataraja Carving – This 5 feet tall, 18-armed Nataraja Carving is the main attraction of Cave 1, symbolizing the different dance positions.
Mahisasura Mardini Carving – Next to the Nataraja carving, there presents a Chaturbhuja (four hands) Mahishashura Mardhini carving, depicting the Mahishashura damana (killing the demon Mahishashura) by Goddess Durga.
Other important carvings in Cave 1 are the Harihara carving – A sculpture of Half Shiva, Half Vishnu) and the Ardhanareshwara Carving – a focused image of Lord Shiva and his companion Devi Parvati. A serpentine theme and various carved sculptures decorate the ceiling.

Cave 2 – The Vaishnavite Cave
Climbing the 65 rock steps from cave 1 will bring you to Cave 2, which is east of cave 1 and faces north. Lord Vishnu is the primary deity of this cave. Four square pillars with carvings of the monolithic stone face divide the porch that serves as the entrance to the shelter. The pillars include friezes of ganas (mythical dwarfs) with varying facial expressions as decorative carvings. The panels of Trivikrama and Bhuvaraha are among the Lord Vishnu avatars present in this cave. The ceilings have carvings of Anantasayana, Brahma, Vishnu, Shiva, and other Ashtadikpalas.

Cave 3 – Biggest of the 4 Caves
The biggest, oldest, and finest of all the 4 caves is cave 4. Taking 64 steps from Cave 2 will bring you to cave 3. Along with other representations of the Vaishnava pantheon, it contains enormous images of Lord Vishnu perched on a coiling serpent. Every square inch of the roof and pillars has engravings, much like in other caves. A fine engraving style is used for the panels of Trivikrama, Narasimha, Shankaranarayana, Bhuvaraha, Anantasayana, and Harihara. An inscription discovered here attests to Mangalesha's construction of the shrine in 578 AD. The roof of Cave 3 also features fresco murals, some of which are damaged and faded. These are some of the oldest surviving examples of fresco painting in Indian art that are known to exist.
Cave 4 – Jainism Dedication
Cave 4 is the smallest of the other four caves and is a complete dedication to Jainism, with carvings of Jain Tirthankaras. Major carvings of Bahubali, Parshvanath, and Mahavira, along with a symbolic display of other Tirthankaras, are present inside the cave.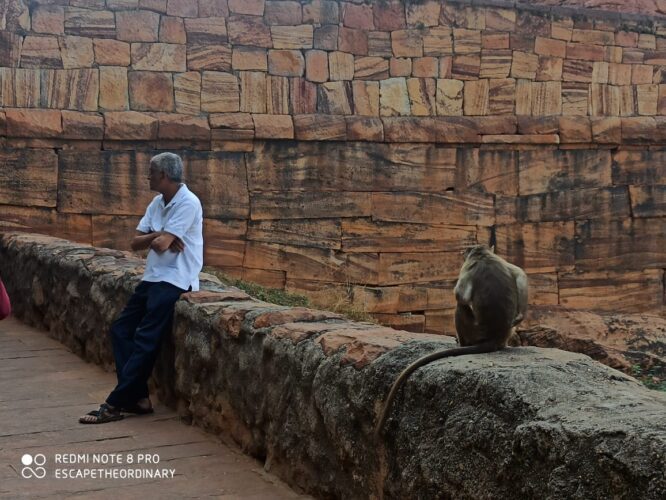 Not just these four cave temples; Badami is host to many other cave temples and historical monuments that are worth visiting during your trip. Some of the other tourist attractions in Badami are as below.
Banashankari Amma Temple

Aihole

Pattadakal

Agastya Lake

Badami Fort

Bhutanatha Temples

Archaeological Museum
Things to do in Badami:
Take Tanga Rides
Due to modernization, it isn't easy to sight Tangas now a day. Tanga is also a way of transportation; in the olden days, a horse drew a carriage. Badami still has Tangas, and Tangawalas still take minimal charges for rides from Badami to Banashankari and other places. Don't forget to experience this fun Tanga ride on your visit to Badami.
Taste the North Karnataka Cuisine
When you are in North Karnataka, you must not miss tasting the authentic North Karnataka cuisine – Jolada Rotti Oota. Jolas rotti is a kind of flatbread made from Jowar flour, which doesn't involve any fat/oils. Jolad rotti is the most common yet compulsory needed food meal item of North Karnataka people.
Eat outside the Banashankari Temple
Banashankari Amma temple, which is 5 KM distant from Badami, is another sacred Hindu temple one must visit. And this is the birthplace of the goddess Banashankari as per stories. Outside the Banashankari temple Badami, many aged ladies (ajji or amma) serve homemade fresh Jolad Rotti meals. They serve freshly made Jolad rotti with homemade thick curd, chutney, and sprouts. It will be a memorable lunch on the banks of Banashankari Honda.
Visit Archeological Museum
Near Cave temples Badami, there is Archeological Museum, which has many stone formation-related articulates, historical inscriptions, rock carvings, and many interesting facts about Chalukya Dynasty.
Badami Rock climbing
Due to the mountain cliffs and various Cave temples, rock climbing is another interesting thing in Badami.
How to reach Badami Cave Temples?
Badami Cave Temples has a very good connection to Badami, situated at 1KM from the main city bus stop. Badami a small town in the Bagalkot District of Karnataka state. The nearest airports to Badami city are Belagavi airport (130 Km away) and Hubli Airport (110 Km away). Badami has very good bus and trains connectivity from almost all Karnataka and Bangalore cities. It has a railway station too.
What are the Badami Cave Temples' visit hours?
Badami Cave Temples are open all days of the week from morning 9 AM to evening 5 PM.
What are the other attractions near Badami Caves?
Visitors can also plan for nearby tourist attractions like Banashankari, Aihole, Pattadakal, Agastya Lake, Badami Fort, and Bhutanatha Temples.
How many days are enough to see Badami?
Normally, 1-2 days are enough to cover the places in and around Badami. And it depends on your taste and the time spent at each location.
Which is better, Hampi or Badami?
Hampi and Badami are both unique and have their significance comparing. Badami is from 6th-century architecture, while Hampi is from the 15th to 16th century.
What is famous in Badami?
The Chalukya period's rock-cut architecture, Badami cave temples, and many other historical monuments make Badami a famous place.
What is the best time to visit Badami?
Badami receives little high rain during rainy seasons. And Badami temperature ranges between 23 to 30 degree Celsius. So the best time to visit Badami is between July to September.
Please read my blog about 12 Jyotirlinga in India.