Goa – A place of craziness for many. It is not just famous among Indian travellers but also attracts people from foreign countries. And youngsters? Every one of you may have created WhatsApp groups several times just for the Goa trip planning. It is because Goa has a totally different charm. Some may prefer going to the party-filled beaches. And some go to get relaxation on the pristine beaches.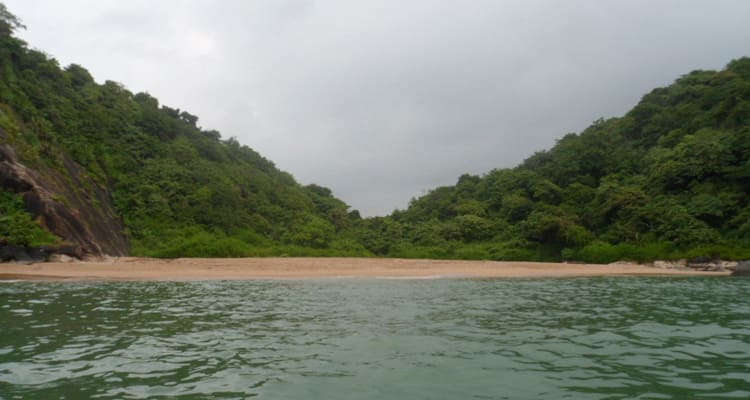 Nonetheless, Goa has a lot to offer every taste of travellers. And generally, people divide their Goa trip as "South Goa trip" or "North Goa Trip". That is because of the different types of experiences they have. And whether to choose South Goa or North Goa depends on travel preferences and the kind of experience you seek.
If solitude, relaxation, and unspoiled beauty beckon, South Goa's tranquil beaches and serene atmosphere await your discovery. On the other hand, if you're drawn to vibrant energy, water sports, and a lively cultural scene, North Goa's bustling beaches and dynamic markets promise an adventure like no other.
So in this article, we will take you to the top 15 places to visit in North Goa on your next trip.
15 Must Places To Visit In North Goa
North Goa is a place for relaxation and adventure, with its lovely atmosphere and scenic landscapes. It entertains everyone – a beach lover, a history buff, or simply seeking vibrant experiences. In this article, we'll guide you through the must-visit places that will ensure your trip to North Goa is unforgettable.
Baga Beach
Baga Beach is not just a beach; it's an experience that encapsulates the spirit of Goa. The pristine shoreline is adorned with shacks serving delectable seafood and refreshing beverages. As the sun dances on the Arabian Sea, adventure enthusiasts can indulge in thrilling water sports such as parasailing, jet skiing, and banana boat rides. When the night falls, Baga transforms into a party haven with neon lights, music, and dance until dawn.
Calangute Beach
Adjacent to Baga Beach lies Calangute Beach, often called the "Queen of Beaches." This stretch of coastline offers a medley of activities and experiences. Whether strolling along the shoreline, basking in the sun, or participating in water sports like windsurfing and parasailing, Calangute caters to every beach lover's desire. The beach is also flanked by bustling markets, where you can shop for souvenirs and traditional handicrafts.
Anjuna Flea Market
Embrace the vibrant and colourful atmosphere of the Anjuna Flea Market. Every Wednesday, this bustling market comes to life with a kaleidoscope of stalls offering an eclectic range of products. From clothing and accessories to jewellery and home decor, the market is a treasure trove for shoppers seeking unique, handmade items. It's not just a shopping expedition; it's a cultural experience that showcases the bohemian side of Goa.
Fort Aguada
Fort Aguada is a must-visit destination for a taste of history and panoramic views of the Arabian Sea. Built-in the 17th century by the Portuguese, this fortress stands as a sentinel guarding the coastline. The fort complex houses a lighthouse and several impressive structures, including a freshwater reservoir that could store up to 10 million litres of water. As you explore the fort's stone pathways and cannons, you'll be transported to a time when Goa was a strategic trading hub.
Chapora Fort
Chapora Fort is a historical monument and an iconic spot for Bollywood enthusiasts. Perched atop a hill, the fort offers breathtaking views of the Vagator Beach and the Chapora River. The fort's ruins exude a rustic charm, and visitors often reminisce about the iconic scenes from the movie "Dil Chahta Hai" filmed here. The trek up to the fort is rewarding hikers with a sense of accomplishment and stunning vistas.
Dudhsagar Waterfalls
Hidden amidst the Western Ghats, the Dudhsagar Waterfalls present a breathtaking natural spectacle. The falls, which translate to "Sea of Milk," cascade down from a height, creating a frothy white appearance. Dudhsagar is a favourite spot for nature enthusiasts and photographers, surrounded by lush greenery and a picturesque landscape. Whether swimming in the cool waters or simply soaking in the view, Dudhsagar is a testament to the raw beauty of Goa's wilderness.
Mapusa Market
For an authentic Goan shopping experience, Mapusa Market is a vibrant hub of activity. This bustling market is a sensory delight, with stalls offering everything from fresh produce and spices to textiles and antiques. Engage in friendly haggling as you explore the narrow lanes brimming with colour and culture. The market provides a glimpse into the daily lives of locals, and you can immerse yourself in the sights, sounds, and flavours of Goa.
Basilica of Bom Jesus
The Basilica of Bom Jesus is a testament to Goa's spiritual heritage and architectural marvels. This UNESCO World Heritage site is a sublime example of Baroque architecture. It houses the mortal remains of St. Francis Xavier. The ornate interiors and serene ambience create a profound sense of reverence, making it a pilgrimage site for devotees and history enthusiasts alike.
Museum of Christian Art
Nestled within the Basilica complex, the Museum of Christian Art is a repository of artistic and historical treasures. The museum showcases a captivating collection of artefacts that illustrate the fusion of Christian influence with Indian art forms. From intricately carved ivory sculptures to Portuguese paintings, the exhibits offer insights into the cultural crossroads Goa has witnessed over the centuries.
Candolim Beach
For a serene beach experience, head to Candolim Beach. This stretch of shoreline offers a peaceful ambience, perfect for leisurely walks and moments of introspection. The beach is fringed by swaying palm trees, and its gentle waves invite you to dip your toes into the Arabian Sea. Candolim Beach is an oasis of serenity away from the bustling crowds, where you can unwind and rejuvenate.
Morjim Beach
Morjim Beach, often called "Turtle Beach," is a sanctuary for nature enthusiasts and wildlife lovers. Apart from its golden sands and azure waters, the beach is a nesting ground for the endangered Olive Ridley sea turtles. Visitors can witness the unique sight of baby turtles making their way to the sea, a poignant reminder of the delicate balance between human activity and nature's wonders.
Vagator Beach
Vagator Beach seamlessly blends the rhythm of the sea with the beats of music festivals. The beach is renowned for its vibrant nightlife and is a hotspot for music enthusiasts. It hosts various events, from trance parties to electronic dance music festivals. The iconic Chapora Fort in the backdrop adds to the charm of the beach, creating a picturesque setting for memorable evenings.
Ashwem Beach
Ashwem Beach is a tranquil haven that invites you to unwind and soak in serenity. The beach's pristine sands and clear waters offer a serene escape from the hustle and bustle. It's ideal for sunbathing, leisurely strolls, and reflective moments by the sea. The absence of large crowds ensures a peaceful retreat, connecting you with the natural beauty that defines Goa's coastline.
Arambol Beach
Arambol Beach is a bohemian paradise that captures the free-spirited essence of Goa. Known for its artistic and alternative vibe, the beach hosts vibrant drum circles, live music performances, and yoga sessions. It's a favourite among backpackers and creative souls seeking a unique blend of relaxation and artistic expression. The laid-back atmosphere and breathtaking sunsets make Arambol a truly enchanting destination.
North Goa's charm lies in its diverse offerings, from lively beaches and historical sites to serene getaways. It caters to different preferences, making it an ideal destination for a fulfilling vacation. So pack your bags and get ready to immerse yourself in the captivating beauty of North Goa.